On the Road is a weekday feature spotlighting reader photo submissions.
From the exotic to the familiar, whether you're traveling or in your own backyard, we would love to see the world through your eyes.
It must officially be fall if we are heading into Fall in Flyover Country with Albatrossity!  For the rest of the week we have Le Comte de Monte Cristo, BillinGlendaleCA, and the final two frosty posts from his months-long travels to parks all over the country.  Thanks, frosty, for all the trips to the parks!
Albatrossity
September brings a plethora of birds to Flyover Country, with summer residents heading out, winter residents settling in, and arctic passage migrants working their way to warmer and more hospitable climes. Here's a selection of some of those.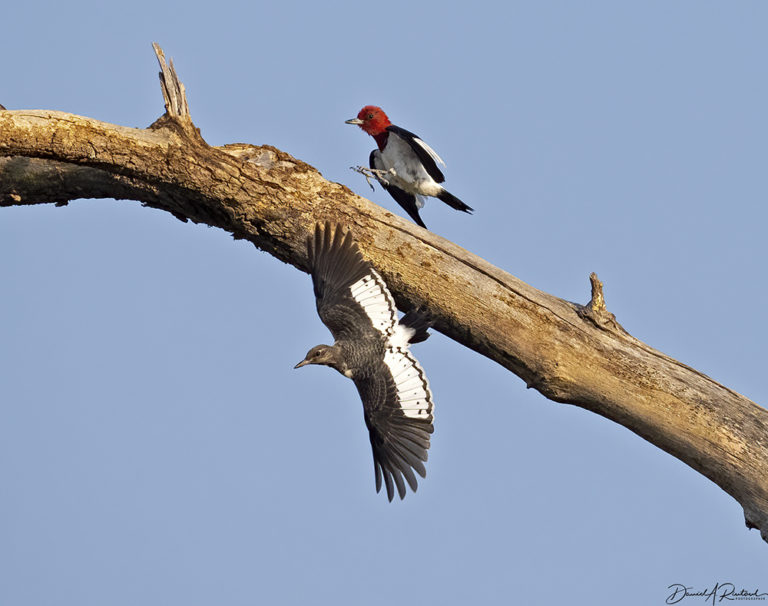 Near Manhattan KS
September 6, 2021
One of the more spectacular birds in North America is the Red-headed Woodpecker (Melanerpes erythrocephalus). With its crimson, white, and glossy black coloration, it is nearly the Platonic ideal woodpecker, and readily identifiable whenever or wherever it is seen. But the young birds can be a puzzle for birdwatchers, since they have a gray, rather than red, head. Here is a comparison shot, with an adult bird chasing a youngster away from its preferred perch on a dead cottonwood branch.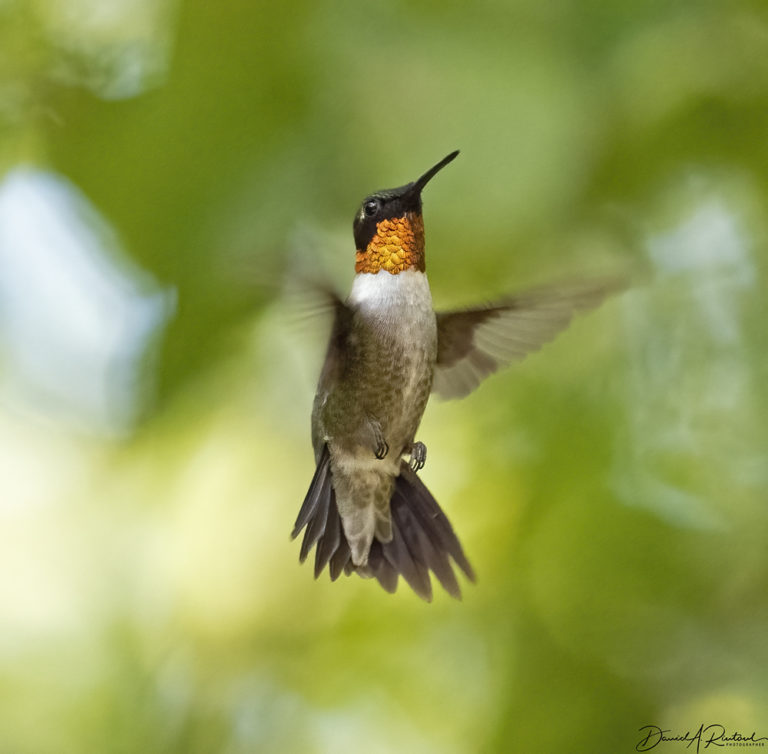 Manhattan KS
September 6, 2021
Hummingbird migration through Flyover Country peaks in September, and most of our migrants are young birds, which are not as flashy as the adults. But some of them are adult males, like this Ruby-throated Hummingbird (Archilochus colubris) ,who dominated our feeder for a couple of days.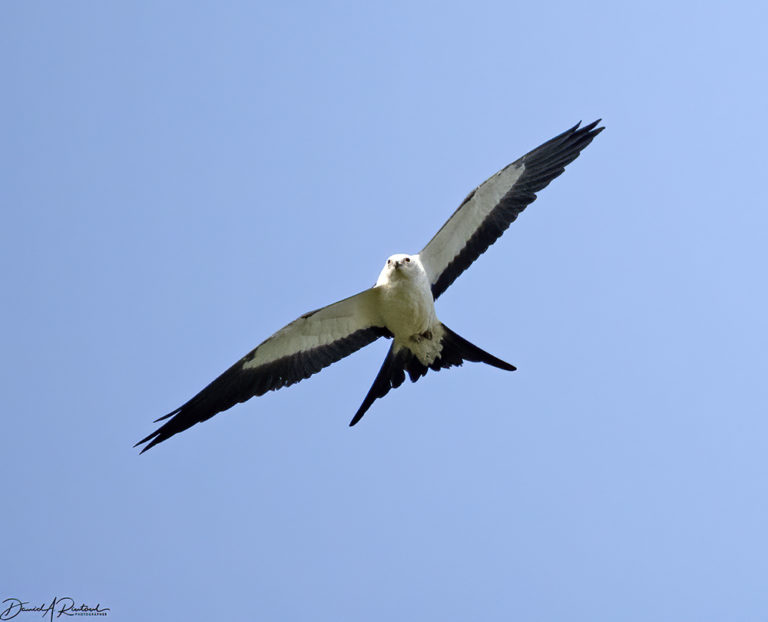 Near Manhattan KS
September 7, 2021
Swallow-tailed Kites (Elanoides forficatus) are not found in Kansas, if you follow the maps in the field guides, but in recent years we have had numerous sightings in the August/September time frame. This bird was one of a pair that hung around for a few days in a rural area near my home, snagging cicadas and dragonflies over the grasslands there.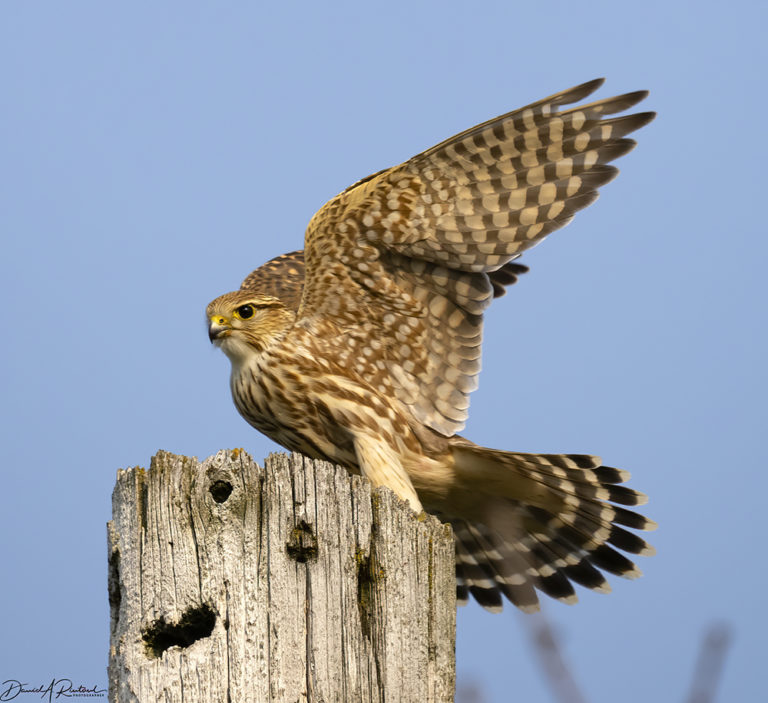 Near Manhattan KS
September 10, 2021
September is also the time when the first Merlins (Falco columbarius) appear in Flyover Country. These northern falcons are often just passing through, but many will stay for the winter, harassing the blackbird and Horned Lark flocks that winter on the native prairies and agricultural fields of the region.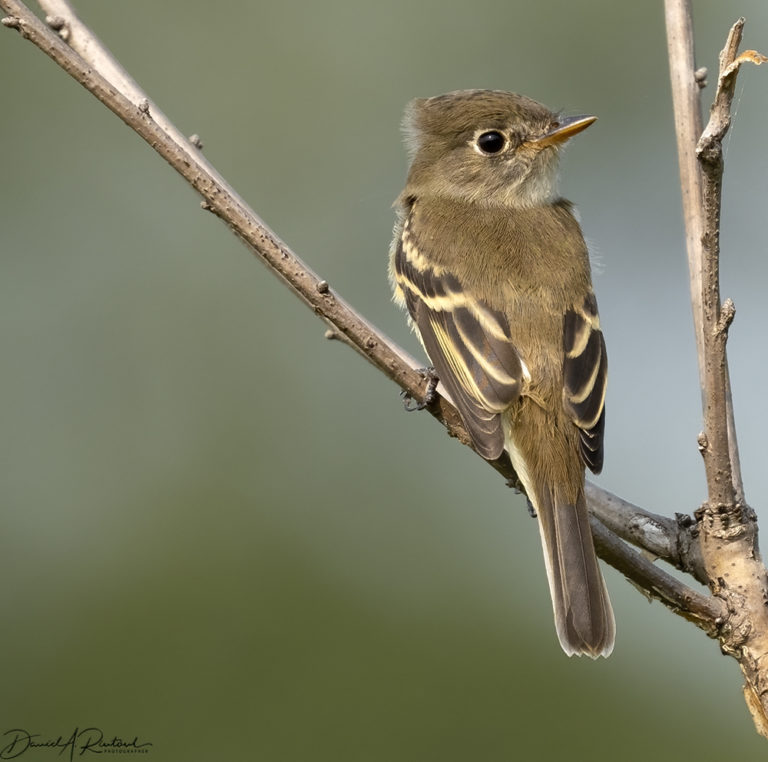 Near Manhattan KS
September 10, 2021
I've shared photos of our most common migrant Empidonax flyctacher here already, but this adult Least Flycatcher (Empidonax minimus) perched and posed so sweetly for me that I thought you all needed to see it as well. I wish we had them here all summer; their visits in spring and fall are too short!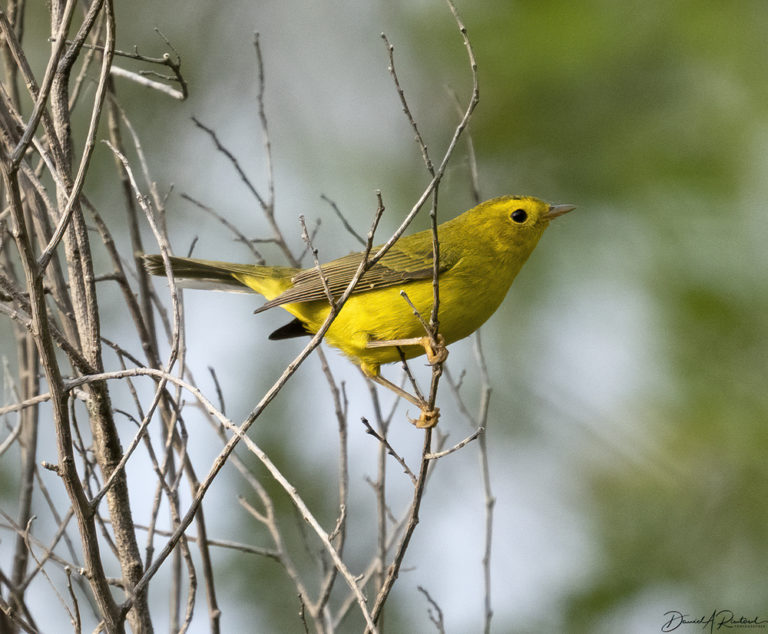 Near Manhattan KS
September 14, 2021
Wilson's Warblers (Cardellina pusilla) are more common in the western part of North America than they are in the east, but birders across most of the continent have a chance to see them in the fall. This one was unusual in that she had a single white tail feather, which attracted my attention as she hid in the underbrush and flicked and flipped her tail repeatedly. This odd feather coloration can result from an injury or infection in the feather follicle as the new feather is growing out, and often the feather will be normally colored after the next molt.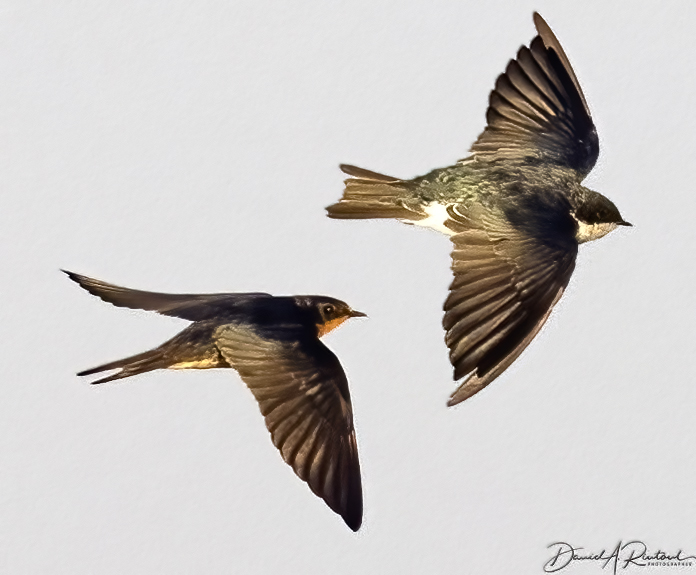 Quivira National Wildlife Refuge
September 17, 2021
Mixed flocks of swallows patrol the Quivira marshes in the fall, feasting on the abundant mosquitoes and midges. So I made a composite image of some swallows in flight, with a Barn Swallow (Hirundo rustica) at left and Tree Swallow (Tachycineta bicolor) at right.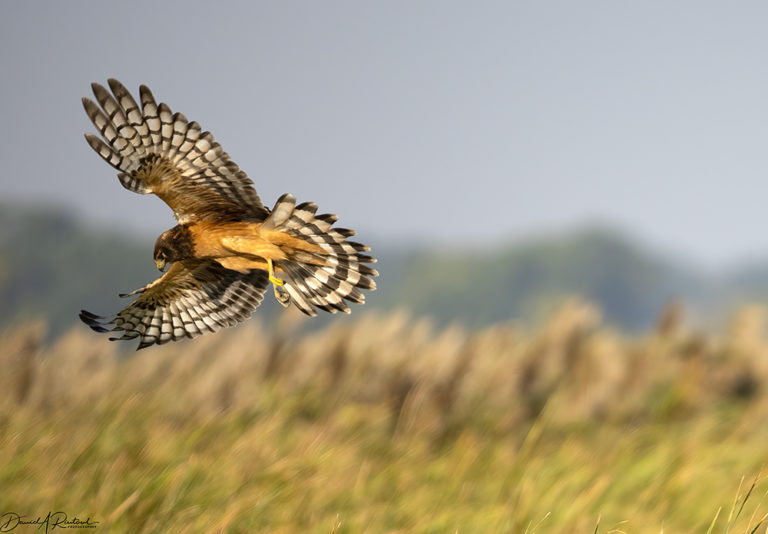 Quivira National Wildlife Refuge
September 17, 2021
Northern Harriers (Circus hudsonius) return to my patch of Flyover Country in September, and young birds like this one (distinguished by the bright rufous underside) practice feeding on their own during the fat months of September and October, hoping to make it through to the other side of the leaner months of January and February.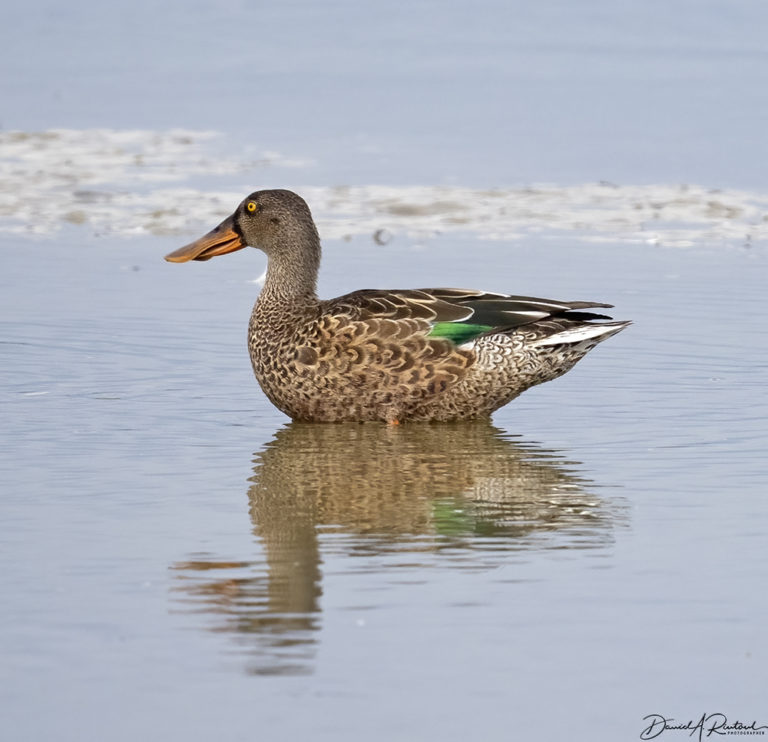 Quivira National Wildlife Refuge
September 17, 2021
Ducks often are in what is called "eclipse plumage" at this time of year, exhibiting patterns and colors that sometimes don't find their way into the field guide illustrations. This Northern Shoveler (Spatula clypeata) male does not have the white breast or shiny green head that he will sport later in the winter, but thankfully he still has that big schnozz that says he is truly a shoveler.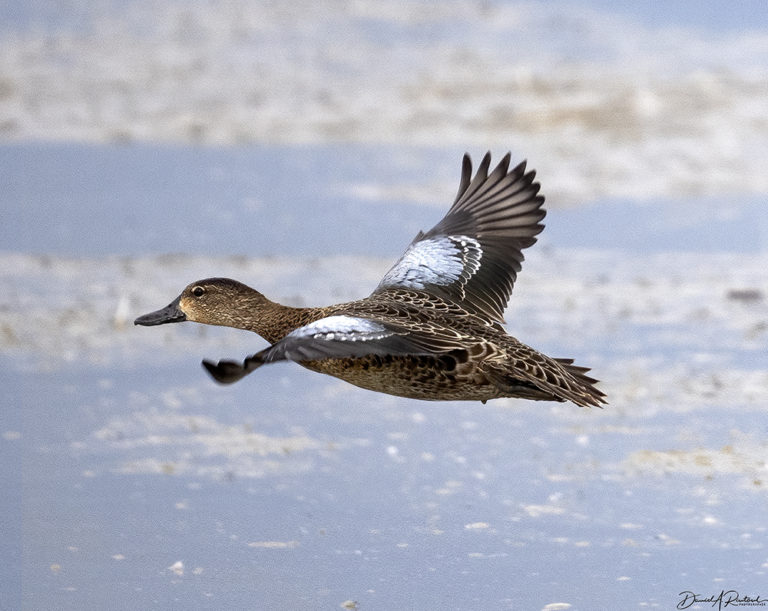 Quivira National Wildlife Refuge
September 17, 2021
Another eclipse-plumaged duck, this male Blue-winged Teal (Spatula discors) lacks the blazing white crescent at the base of the bill, which is replaced with a duller and less sharply-delineated white patch. But he still has his eponymous blue wing patches!