On the Road is a weekday feature spotlighting reader photo submissions.
From the exotic to the familiar, whether you're traveling or in your own backyard, we would love to see the world through your eyes.
Le Comte de Monte Cristo
We've been lucky over the years to experience some wonderful travel opportunities around the world. With COVID, our wings were clipped not only financially, but also logistically, constraining our choices due to budget, time, medical requirements and availability of everything from flight routes to restaurant to entertainment.
After a long set of discussions, we ended up planning one big trip this year, to Crete. It's a large Greek island, reaching down to become the southernmost point in Europe, about halfway between Peloponnesus and Libya. We had mikes to fly for free. We had initially considered confining our stay to Chania, Rethimno, Iraklio and Elounda in the north (with a lot of museum calls), but on reflection, that seemed kind of sedentary for our physical condition and desire to mentally check out.  
We ended up deciding on an itinerary that included Chania with some private touring of food/wineries/culture, various landmarks and beaches, and a seldom used (in Greece, anyway) Orthodox marriage blessing. Following that was the lucky find of a really nice, fun and inexpensive naturist resort for four nights in the southern city of Chora Sfakion, a few nights in the adorable port of Loutro (Phoenix) and a final night in Old City Chania before an overnight in Athens and then to home.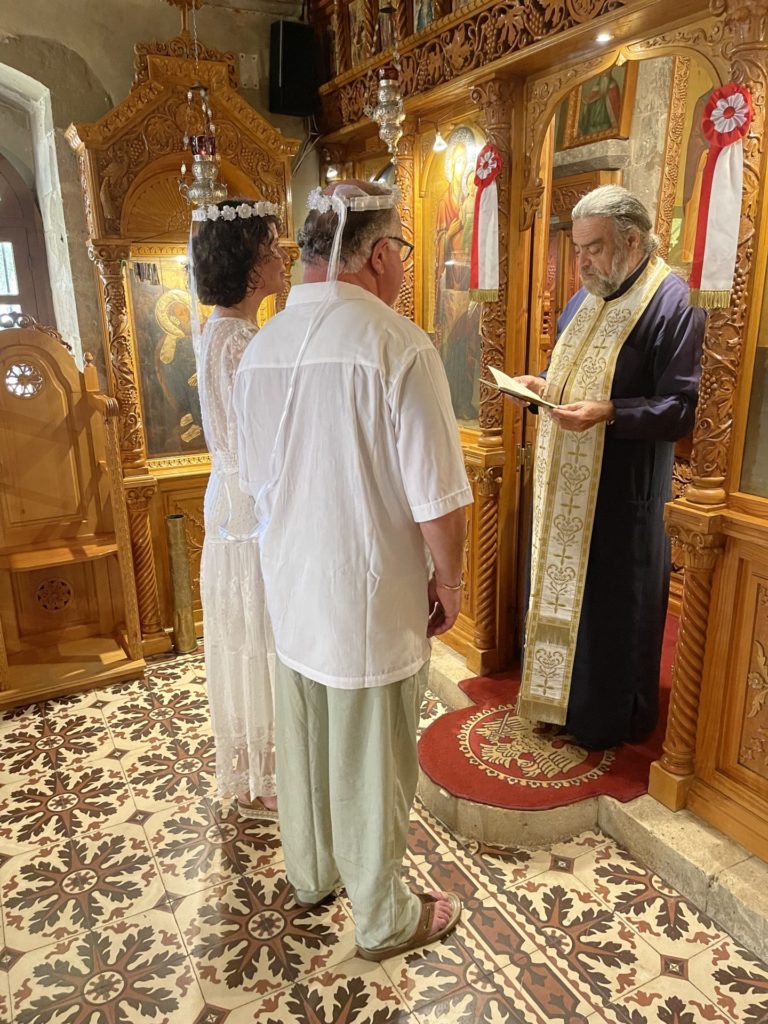 Prophet Elias Orthodox Church, Chania
September 7, 2021
Our guide was kind enough to arrange this with his parish priest at a pretty famous spot – the priest is his personal friend and the one who married him. The church was the headquarters of the Cretan Revolution against the Turks and the home parish of Eleftherios Venizelos (a Revolution commander instrumental in Union with Greece and several time Greek Prime Minister).
While I am no longer dogmatic at all, I do still respect my own family religious tradition, and it was a really important thing for us as a couple. Turns out that the Greeks generally don't do these sorts of vow renewal/blessings, but there is a service for it and the priest was aware of the fact that a number of Americans want this sort of thing and is willing to accommodate that.  We brought the crowns with us, and bought new linen clothing (along with Euros and good bourbon for the priest).
It was really special.
While in Chania those days, we did everything from wine tasting and restaurant walks (all inexpensive) to treks to Falassarna and Balos beaches, where I climbed up a hillside that the goats avoided, all to scramble on rocks for a great view while nursing my still-recovering leg.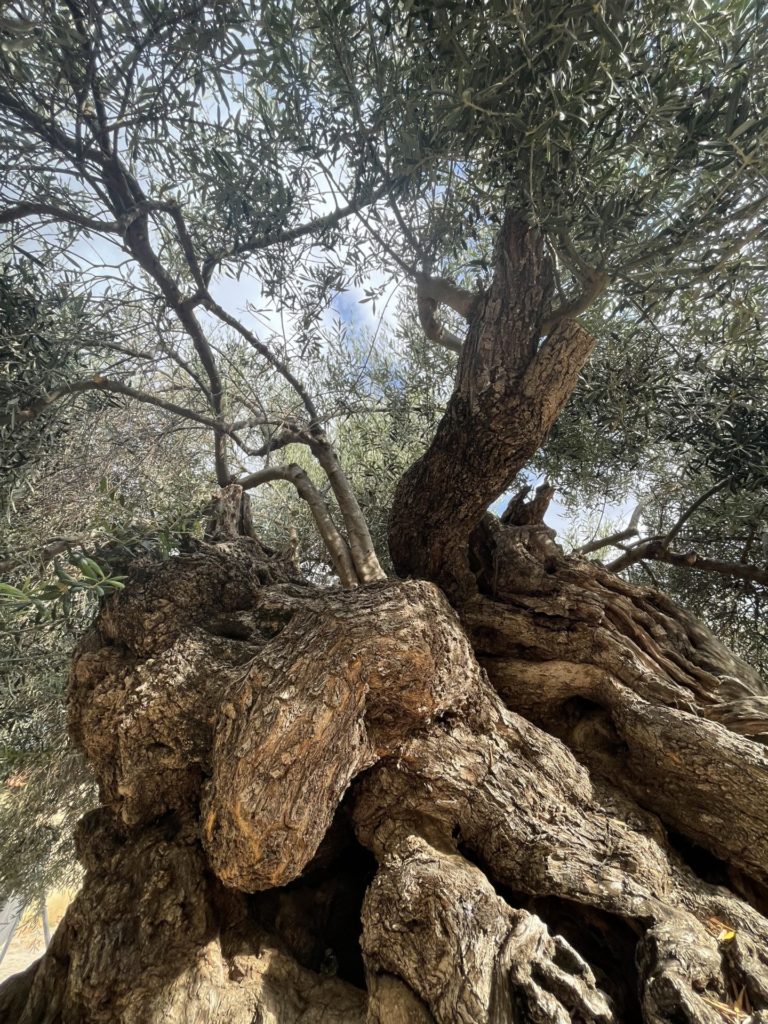 Vouves, Crete
September 7, 2021
This 3000 year old olive tree still bears fruit (I tasted it – bitter, but you could tell the promise). It is a beautiful thing at a place where a smallish farm includes olive, fig, pomegranate production, along with chickens, pigs, goats, beehives and a really sizeable kitchen garden.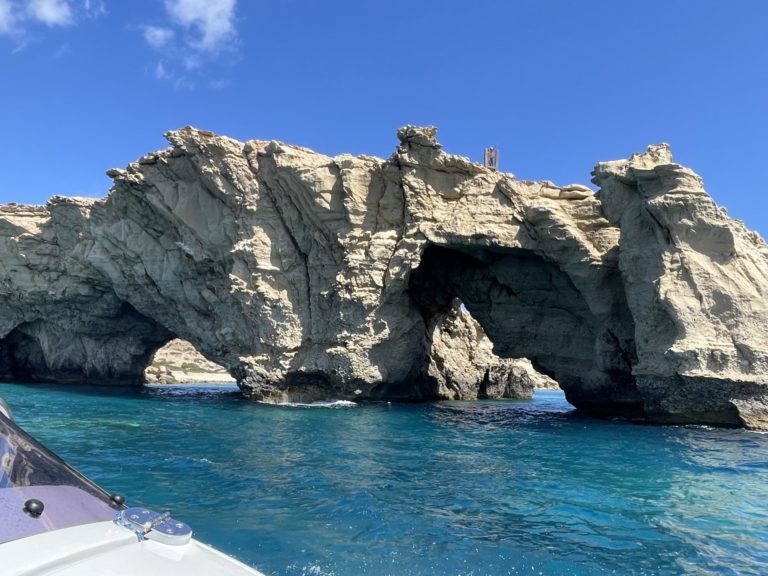 Gavdos, Crete
September 25, 2021
After arriving in the area of Chora Sfakion (an hour and a half by public bus which cost something like 9 Euros apiece), we spent a lot of time at the rocky beach, by the pool and wandering the road to the beach in the buff as the stay was at a naturist resort. Things we noticed were that we were right in the middle band age wise (we were the only Americans, the rest were Brits, Germans, Poles and Lithuanians). Nothing was weird, everybody was friendly and nobody creepy.
Photos I didn't include – the Milky Way on a clear night (Bill does those better) and the screechiest doves I ever heard (that's Albatrossity's turf). Also, I tried taking shots of the wild thyme and rosemary by the road, but those kind of sucked and didn't do it justice.", nor did my shots of abundant goats and sizeable uplift (Crete sits kind of at the confluence of the African, Asian and European plates, and the water frequently churns up with seismic activity – we saw it on the beaches).
Anyway, we ended up joining a naturist boat ride to Gavdos Island, southernmost point in Europe and the site of some fantastic wild beaches that we got to enjoy. As we went out, dust whipping off North Africa created a haze, and you could feel and taste that dust on the tongue. This rock formation is at the south most point on the island, and is stunning.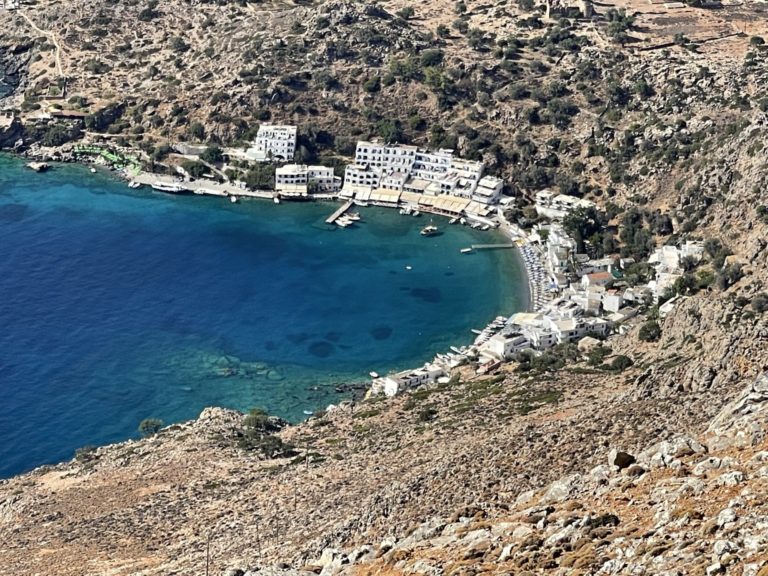 Loutro (Phoenix), Crete
September 12, 2021
This is the port of Loutro, previously known as Phoenix during Minoan/Mycenaean times. In ancient times, the people of Anopolis ran pipes from this hilltop (now the site of a church) down to the port in order to send liquids as trade goods. This was to be our stay in two days time.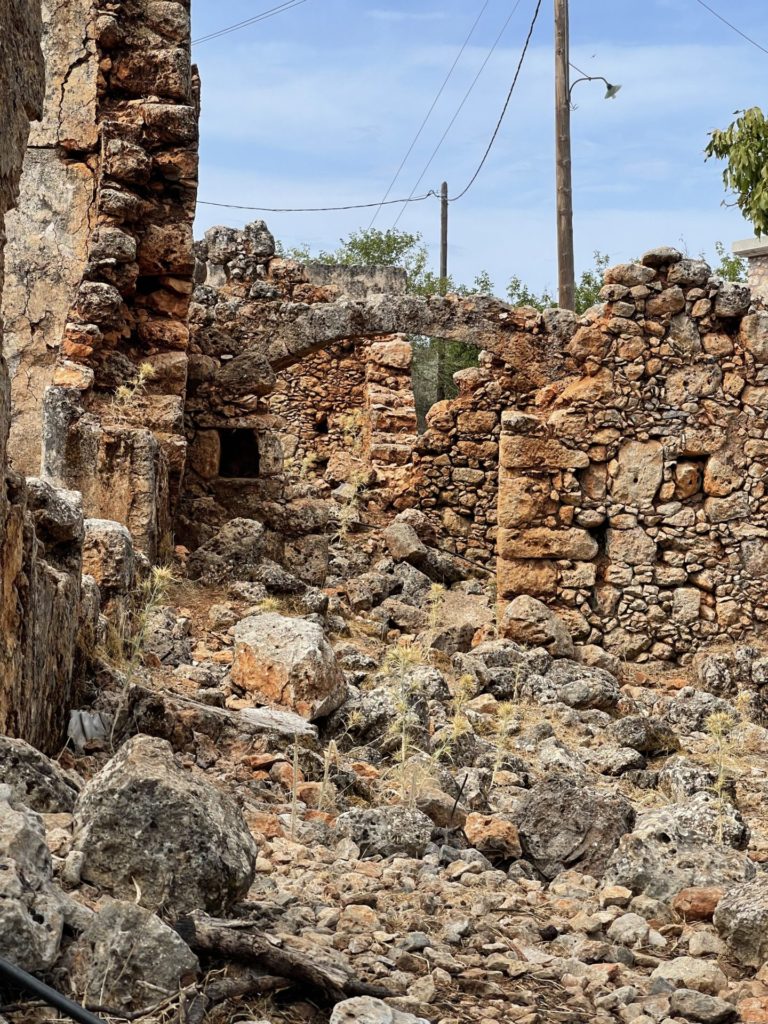 Anopolis
September 12, 2021
Byzantine ruins at Anopolis, built from the stone left over from the previous Minoan and Mycenaean ruins from ancient times before. This area has new homes, old homes, working farms, olive groves, goats, figs, chickens, prickly pear, etc.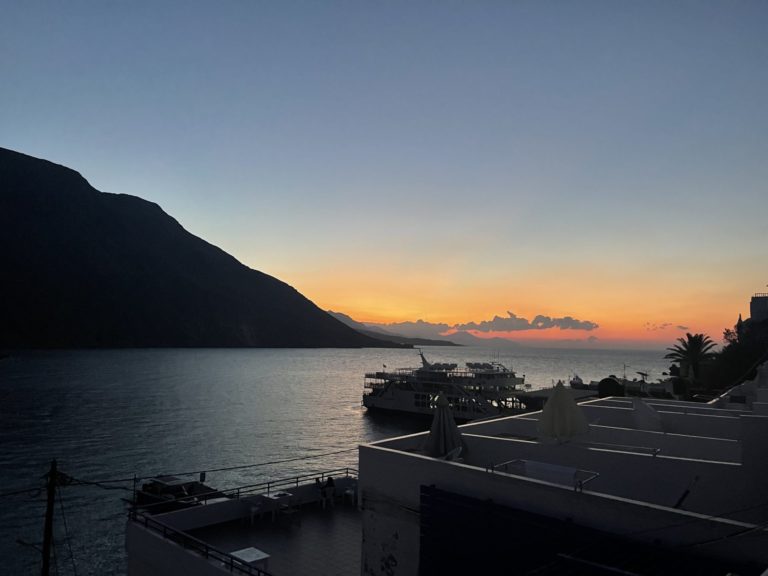 Loutro, Crete
September 15, 2021
View from our fourth floor room, up a daunting 75 stairs on my crap knee….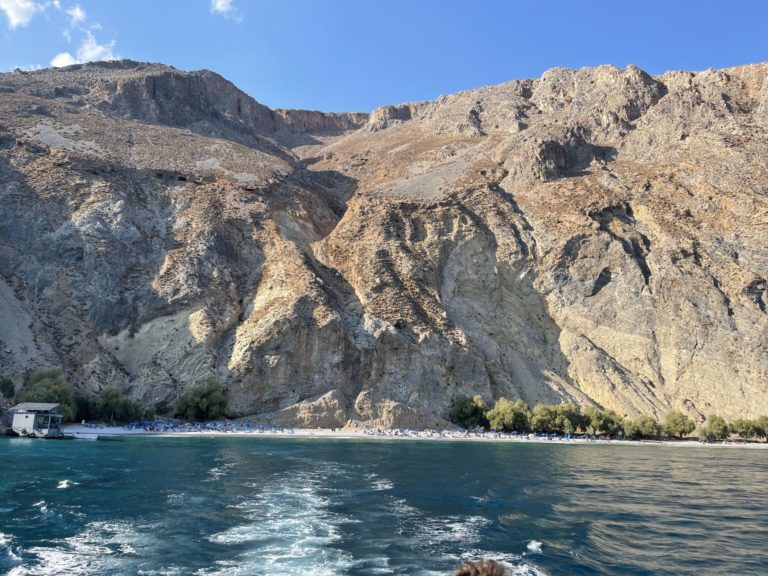 Glyka Nera Beach
September 16, 2021
Also known as Sweetwater Beach, there is freshwater runoff that bubbles down to the very pleasant rounded pebbles below. There's a great taverna on the left; the left side is mostly clothed, right side naturist. Ferry rides were 4 Euros a trip, and two loungers with umbrella was a grand total of 6 Euros. Beer was 2.50 and a shot of raki was .50.
Old Town Chania
September 16, 2021
This was our final stay, on the top floor of a Venetian structure. We had the large terrace with the large swing bed overlooking the harbor. I have great video of the harbor from there.
We, um, weren't aware of how exposed we actually were up there that evening…….