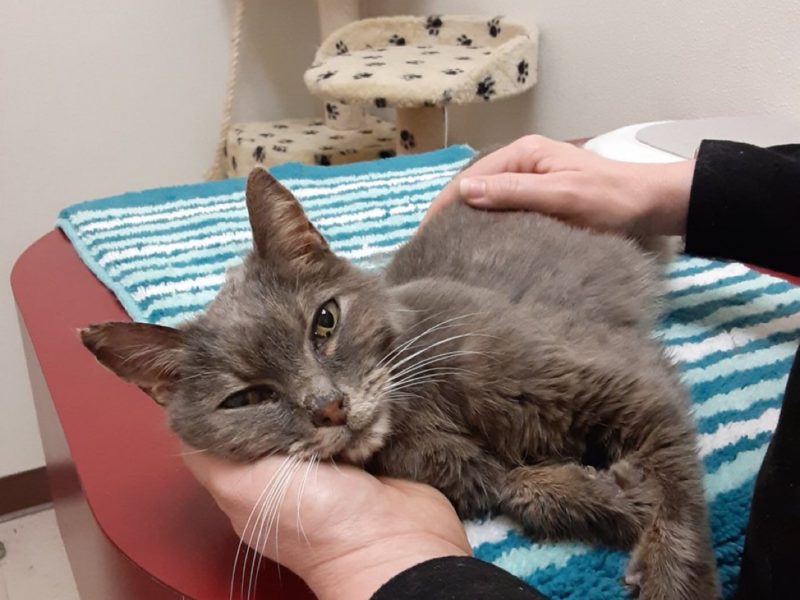 From commentor Esme:
I'm hoping the Balloon Juice Animal Rescue Network might be able to lend a hand with a sweet little lady in need of a home. On Thanksgiving Day, my cousin found a cat in my parents' yard who was obviously in need of assistance. She's an absolute darling love who clearly used to live with people, but has been living rough for a while now. She was so happy to be with people again, and she wasn't even scared of the car when we took her to the vet–she was content to just sit in my lap in the sunshine and watch the cars go by as she rubbed her head all over my hands and purred. We're calling her Gracie.

I've already paid to have the vet give Gracie a full work-up, so she's had her dewormer/Revolution/antibiotic, and she's negative for both FIV and feline leukemia. She is diabetic, so she's going to require low-carb food and 2x daily subcutaneous insulin, but the vet thinks there's a good chance she'll go into remission in several months and stop needing the insulin so long as she stays on the low-carb diet. I'm not sure whether she's been spayed, but I suspect those days are past her, anyway. She's very underweight right now, so my cousin is on vet's instructions to pump her as full of calories as possible, and the vet will be ordering her insulin on Monday.

She's currently living in my cousin's garage until we can find a home for her. My cousin is taking excellent care of her, and will keep doing so until we can find a suitable home for her, but she and I are both full up on cats already and not really in a position to give her a forever home. The local no-kill shelter isn't able to take her because of the diabetes.

Does anyone at Balloon Juice have any leads on a home for the most affectionate lady you'll ever meet? She probably only has a few years left, and I'd love to find her a loving home and a warm lap to pass her twilight years. I know it's a really tough order, but I've also seen Juicers come through time and again, so fingers crossed.

Gracie is currently in East Tennessee. If someone's able to take her on, I'll be glad to pay for microchipping, and we'll make sure she comes with some insulin and food.
***********
All suggestions welcome! If you don't want to leave a comment, send me a message — anne-laurie (at) balloon-juice (dot) com — and I can hook you up with Esme directly.