On the Road is a weekday feature spotlighting reader photo submissions.
From the exotic to the familiar, whether you're traveling or in your own backyard, we would love to see the world through your eyes.
This week we're at the beach with Albatrossity, then off to Australia for a day with currawong, then off to the stars with BillinGlendaleCA.  The rest of the week is a trip to the barn withJanieM, followed by Steve in Mendocino whisking us away to vineyards in France.  We have quite the week ahead!
Albatrossity
Week two of some images from a recent stay on the beach at Emerald Isle NC, with some sea-life, sunsets and sunrises, and, of course, some birds!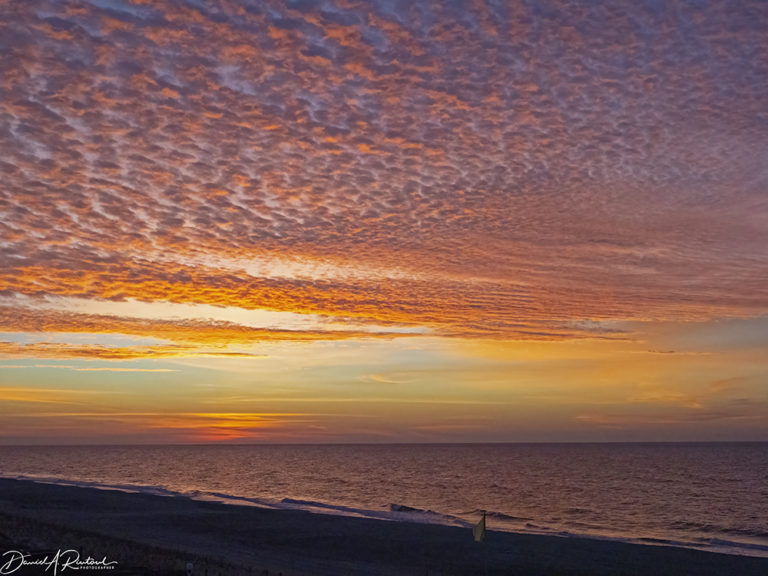 Emerald Isle NC
October 21, 2021
Sunrises and sunsets on a beach are always interesting, and sometimes magnificent. We did not see the legendary green flash during our time there, but we certainly looked for that at every opportunity! In the meantime we saw glorious sunrises, like this one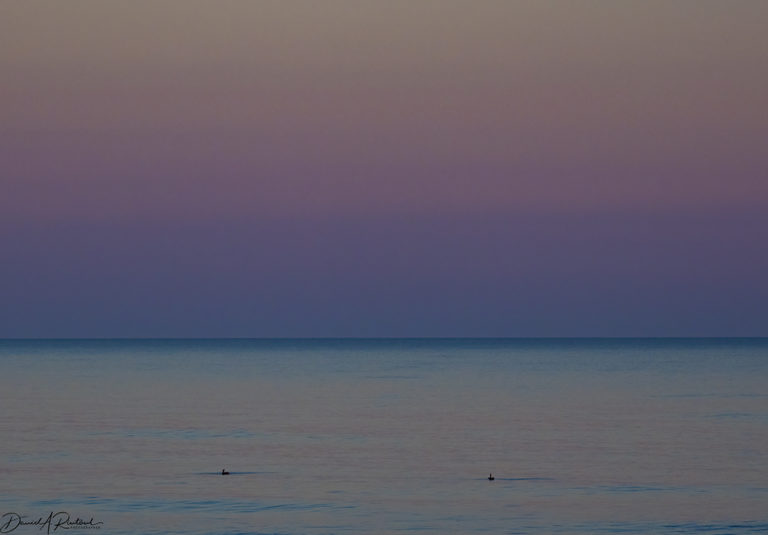 Emerald Isle NC
October 23, 2021
And glorious sunsets, like this one. With two Brown Pelicans (Pelecanus occidentalis) tossed in for good measure!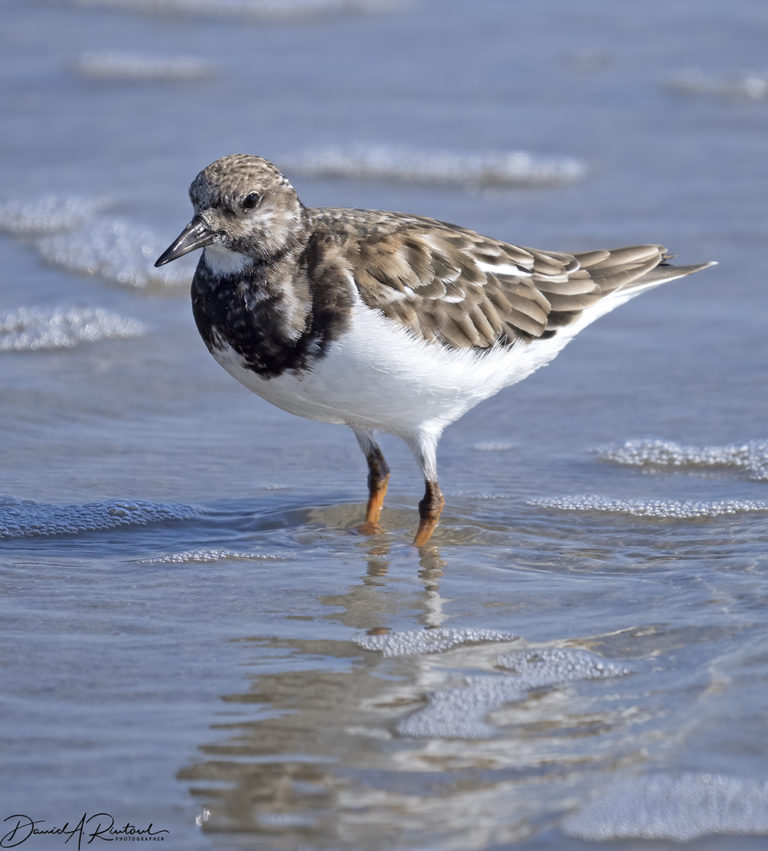 Emerald Isle NC
October 23, 2021
Shorebirds often can be abundant on beaches, and are always fun to watch. In the fall they can appear in many different plumages, as they are molting from the showy summer plumage into a more mundane winter outfit. This Ruddy Turnstone (Arenaria interpres) has lost its red flank feathers and harlequin markings on the face, but will retain the spiffy black bib all winter long. We only saw these guys sporadically on this beach, but it was a treat, because they certainly are infrequently spotted in my regular haunts back in Kansas.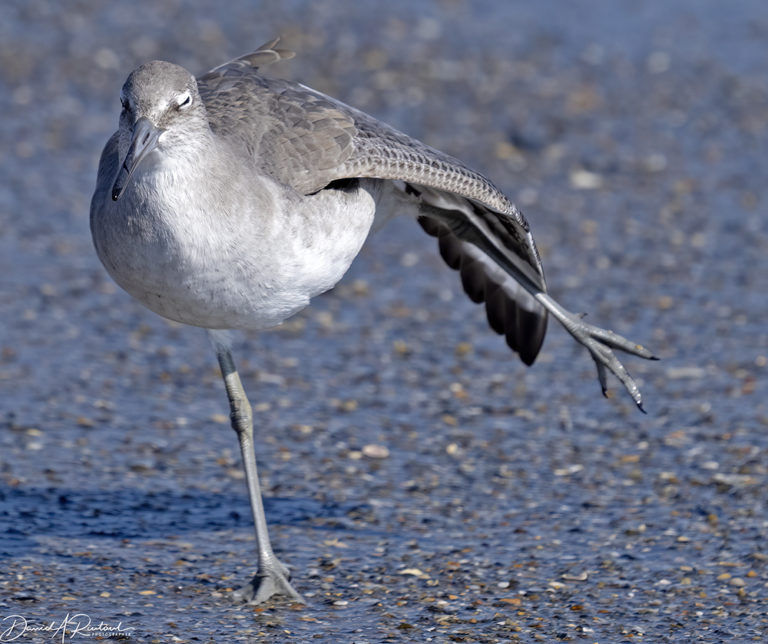 Emerald Isle NC
October 23, 2021
Another typical beach shorebird is the Willet (Tringa semipalmata), which stride along the littoral line looking for mole crabs or other tasty tidbits. And sometimes they practice their yoga moves, like this one. Willets have two North American populations, Eastern and Western, and they are quite different in more than just geographical distribution. Eastern Willets, are strictly coastal year-round. Western birds breed in the interior and migrate to the coasts in winter. So this could be an Eastern or a Western bird; they are very hard to distinguish outside of the breeding range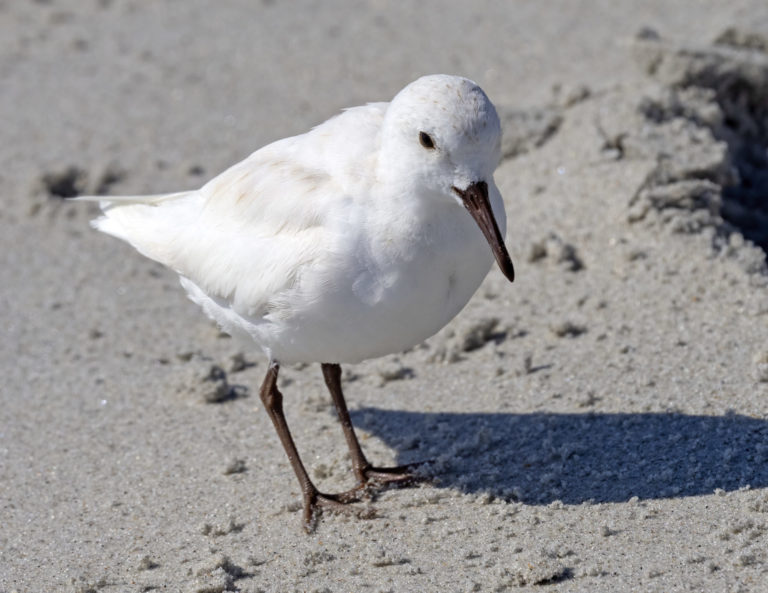 Emerald Isle NC
October 24, 2021
Sanderlings (Calidris alba) are much more common beach denizens, and could be found on the beach just about anytime and anywhere, scooting back and forth just ahead of the waves like little hydrophobic windup toys. But generally they are brown/gray on the back, with very black legs and bill. So I was surprised to see this one, which has some sort of pigmentation issues, hanging out with a flock of regular Sanderlings. It had a few brownish feathers, but was mostly pure white, and the legs and bill are dark red rather than black. I was even more surprised when I looked into the literature and could find no mention of Sanderlings with plumage pigmentation abnormalities. This bird is, as they say, very unique!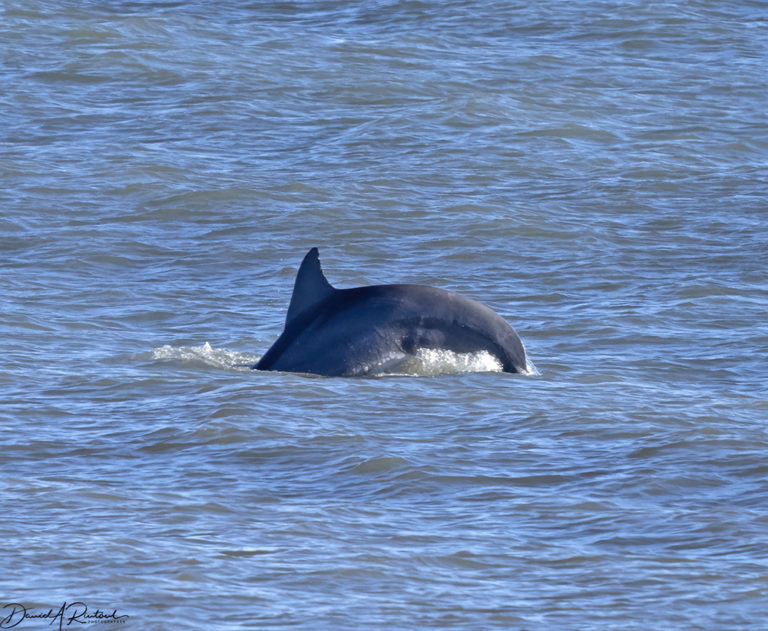 Emerald Isle NC
October 26, 2021
Another regular sighting along this coast, Common Bottlenose Dolphins (Tursiops truncatus) patrolled just offshore, often following the shrimp trawlers. I got lucky that this one decided to leap mostly out of the water as I was snapping the picture. One of the other dolphins in this pod had a fishing lure and line trailing from its dorsal fin, which I suspect is a common happening along this heavily fished part of the coast.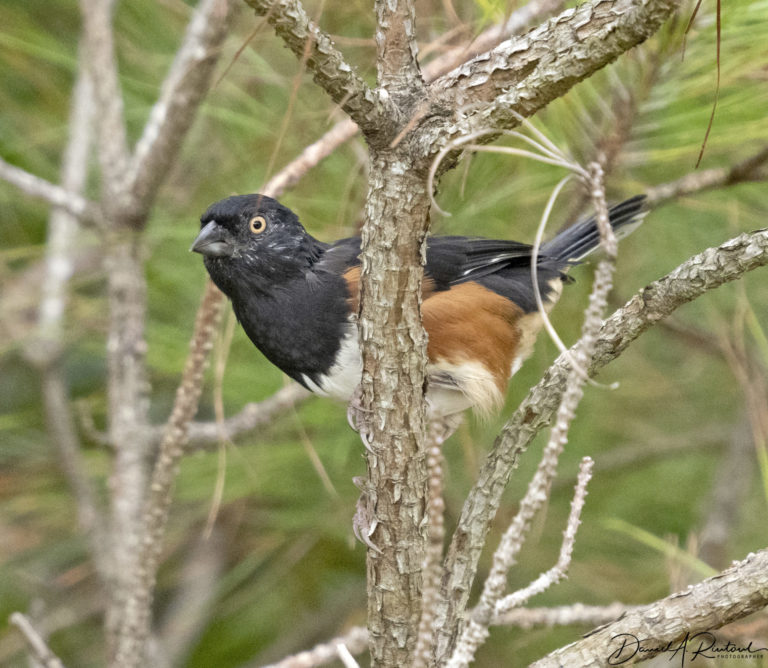 Cedar Island National Wildlife Refuge
October 10, 2021
Barrier island beaches are nice, but in order to see more birds it was necessary to visit some of the local salt marshes and woodlands. Formerly known as the Red-eyed Towhee and lumped with the western species now known as Spotted Towhee, this male Eastern Towhee (Pipilo erythrophthalmus) seems to be of the pale-eyed alleni subspecies. Which is, according to the literature, restricted to Florida and extreme southern Georgia. No longer. Thanks probably to climate change, it is extending its range northward, with plenty of sightings in North Carolina and even some in Virginia, according to the map at eBird.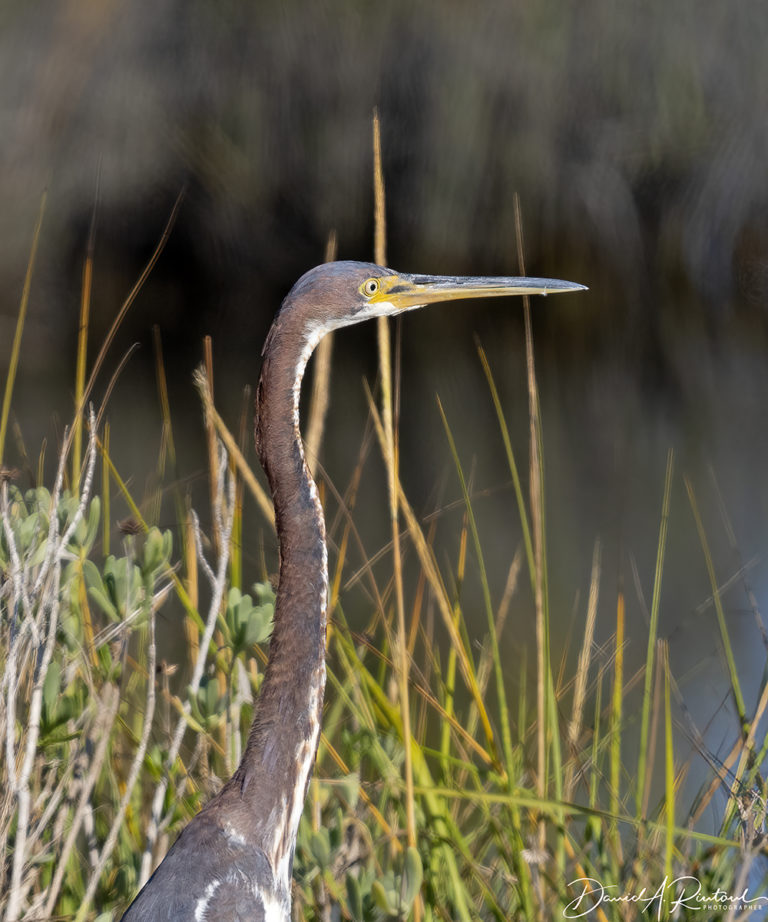 Emerald Isle NC
October 23, 2021
Salt marshes are hotbeds of biodiversity, and that includes birds. Tricolored Herons (Egretta tricolor) are commonly found there, and since they are only rarely found in the interior US, I stalked this one for a while!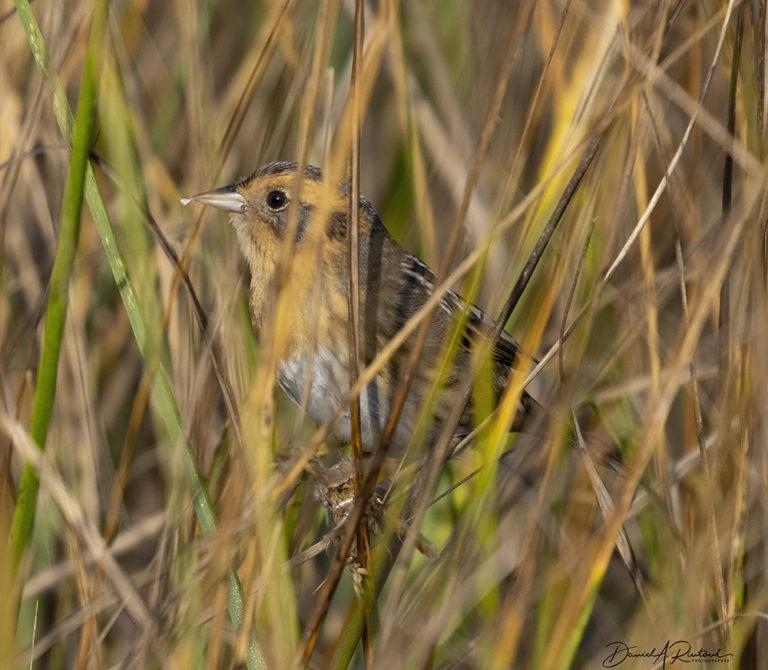 Cedar Point Tidelands Trail NC
October 28, 2021
There were three species of very secretive sparrows that I found in a nearby saltmarsh, and none of them behaved themselves in a way that would allow a good portrait. I got lousy pics of all three, Saltmarsh Sparrow (Ammosspiza caudacuta), Seaside Sparrow (Ammospiza maritima), and Nelson's Sparrow (Ammospiza nelsoni), but this Nelson's Sparrow was the best shot I got. Hiding in the saltmarsh grasses and never venturing into plain sight, it forced me to abandon the autofocus (which really really wanted to take pictures of the grasses) and go back to the bad old days of manual focus! Maybe I would have better luck in the spring, when maybe these birds would sing from more exposed perches. I'll have to go back and find out, I suppose!
Cedar Point Tidelands Trail NC
November 27, 2021
As the tide came in one day, I found three juvenile White Ibises (Eudocimus albus) feeding on fiddler crabs and small fish in a slough that had a boardwalk nearby. This one had captured a small American Eel, and after dropping it in the mud, it rinsed it off in this small puddle before gobbling it down. I also love the bird's warped shadow in this image!