Welcome to this week's kindness post. If you stick around to the end, there's a little surprise….
Adam Silverman sent me this. The story first appeared in the Washington Post – the link here – I found most of it in other places, in case you don't have a subscription. I'm careful about posting their entire articles in a thread. Here's KIRO's story on this act of kindness. All the photos are from Holly's Facebook page:
Eagles' Anthony Harris takes Texas girl whose father died to daddy-daughter dance

February 10, 2022 at 6:00 pm PSTBy Bob D'Angelo, Cox Media Group National Content Desk

ROUND ROCK, Texas — Anthony Harris is a defensive back by trade. The Philadelphia Eagles' safety delivered in the clutch for an 11-year-old Texas girl last month, stepping in for her late father at a daddy-daughter dance.

Audrey Soape lost her father, Ryan Soape, in March. Her grandfather, who would have been her stand-in date for the dance at The Fellowship Church in Round Rock, died five weeks later, according to The Washington Post.

"We had such a horrible year, and she had been through so much," Audrey's mother, Holly Soape, told the newspaper.

Enter Harris. The 30-year-old was Audrey's favorite player when he played for the Minnesota Vikings and stayed loyal even after he went to the Eagles in 2021.

"I've been a fan of him for a long time," Audrey told KTBC-TV. "And he moved to the Eagles. Of course, I miss him on the Vikings, but I rooted for the Eagles this year since he was playing on the Eagles."

Several days before Christmas 2021, Holly Soape reached out to Harris on Instagram and asked if he would be willing to attend the church dance with her daughter, The Philadelphia Inquirer reported. The two had been corresponding periodically on the social media platform since March 2020, according to the Post. Holly Soape is originally from Minnesota, and her family had followed Harris' career.

"Hey, this is kind of a crazy big ask, and please feel free to say no, but there's this dance at the end of January," Soape wrote to Harris. "Is there any way you would consider doing this?"

Harris was receptive to the idea, but his attendance hinged on the Eagles' playoff performance.

"I told (Holly) that if we didn't make the playoffs or if we didn't go far in the playoffs, that I would be open to doing it," Harris told the Inquirer.

After the Tampa Bay Buccaneers defeated the Eagles in a wild-card game in January, Harris had a free weekend.

"I was kind of trying to think of how I could make it as normal as possible and make it a smooth and special evening … not knowing each other deeply," Harris told the newspaper.

Harris partnered with his charitable foundation to buy a dress for Audrey, and also footed the bill for the girl's makeup, hair and transportation to the dance, the Inquirer reported.

Harris then flew to Texas to take Audrey to the dance, KTBC reported.

"I felt super special, and it just kind of felt like special treatment for me," Audrey told the television station. "And it was kind of enjoyable to just sit back and let all this stuff happen."

For Holly Soape, the best part was seeing someone show up for her daughter.

"From start to finish he made this night unforgettable for her," she wrote on Facebook. "From helping get her the dress of her dreams, setting her up with hair and makeup, getting a car service to escort her to and from, and even coming to the house to pick her up and take photos.

"This was truly a night to remember, and I don't think I'll ever fully wrap my mind around it."

"I'm just thankful for the opportunity I have to play football and have an impact on people's lives and that was ultimately what I was trying to do, to be there for (Audrey)," Harris told the Inquirer.

©2022 Cox Media Group
From Holly Soape's Facebook page (you don't need an account to read her entire post):
Next up, a dog tracker who spends her time helping owners find their lost pets with her non-profit A Way Home for Dogs
Jackie sent this one to me:
JAMUL, Calif. — Seven years ago, Babs Fry was devastated when a pregnant terrier mix dog she was fostering at her Jamul ranch disappeared without a trace.

Then she got an email from a professional pet tracker offering some unusual dog recovery tips that blew Fry's mind.

"I lost a dog and was very fearful and didn't think anyone would be able to catch her. Then I got a call from this woman and I thought she was crazy. But sure enough, 10 days later that dog was in a trap in my driveway."

That was the beginning of a major life shift for Fry, a longtime Realtor who now dedicates all of her energies to her new nonprofit A Way Home for Dogs. The organization provides free tracking and recovery advice and services to find lost family dogs, as well as strays.

Since she started training as a tracker and trapper seven years ago, Fry estimates she has helped in the recovery of hundreds, if not thousands, of dogs throughout Southern California and beyond. Read more here. 
And finally, from Anne Laurie:
Worrying about whether we are being "scammed" by people in need is probably the single most prevalent way we keep our hearts small and cold and our souls weak and miserly pic.twitter.com/EXLcQ1qht3

— Maladroithe (@Maladroithe) December 27, 2021
If you can read the Twitter thread, there are a bunch of sweet stories of kindness in the thread.
Now for my news….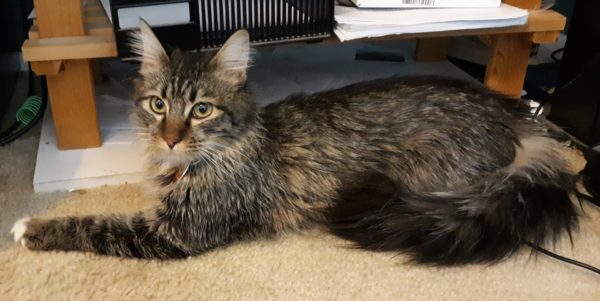 It was inevitable. Meet Willow, Willodene Jolene to be specific …. who chose me at the shelter, so I was forced to break my "no kittens" and only "older/longest at the shelter" cat adoption rules. There are many photos and a video of her and Trixie playing hide and seek here.
She is 6-7 months old, we are guessing some, if not all, Maine Coon and has completely taken over the house. And everyone is happier for it. She adores her dogs and follows Zander around like the annoying little sister she is. She and Sully are still working out their relationship. And the ducks completely fascinate her – the three of them spend a great deal of time staring at each other through the patio door.
I feel like we will have some great adventures ahead.
And I know some of you may not understand how I can adopt so soon after losing a pet I've loved for so long. I guess I've been rescuing for so long, I've learned to grieve and love at that same time. It's a delicate balancing act – but one I'm willing to risk. Especially when these critters bring so much love with them.
That's all for this week's kindness. Keep sending me Acts of Kindness – each one makes me smile – and we can keep this going.