As mentioned on the overnight thread, I'm off on a bird-spotting adventure today — heading up to the Big Bend and Panhandle areas of Florida in hopes of seeing (from a respectful distance) some of the flamingos that Hurricane Idalia distributed around the Gulf Coast.
An eBirder spotted a flamboyance off Cedar Key earlier this week, and Pinky, the famous winter resident who lives due south of Tallahassee, has allegedly been joined by some new pink friends.
The Cedar Key flamingos linked above are in a squad, but Tampa Bay's Peaches (remember them?), now rehabbed and released, remains a solitary figure. That's making some area residents sad. People are also up in arms about Peaches' bulky tracking device: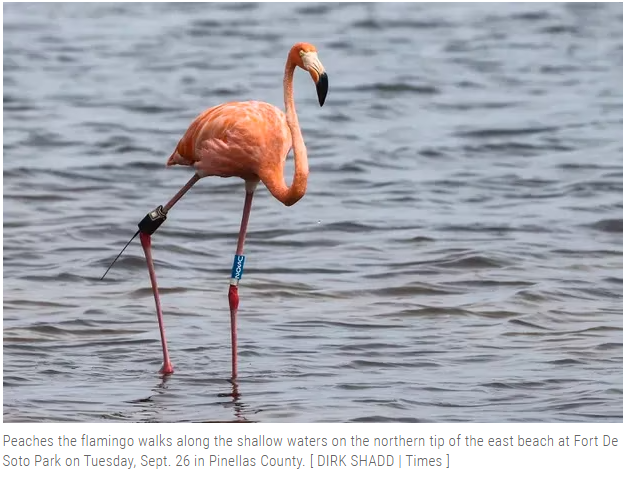 It does look irritating, but in the linked Tampa Bay Times column, Jerry Lorenz, Audubon Florida's state research director, explains that it "weighs almost nothing" and that researchers need the data birds like Peaches can provide to support efforts to repopulate Florida with wild flamingos. (Under a Democratic governor. He didn't say that, but it's true.)
Peaches is healthy, Lorenz said, eating, flying, preening and taking baths. Tracking animals "is backed up by literally thousands of years of research," he said. "There is nothing wrong with that bird, but we do appreciate people being concerned. It's good that people are out there keeping an eye on Peaches."
Peaches is such a celebrity that they have their own Do Not Disturb sign courtesy of the DOT: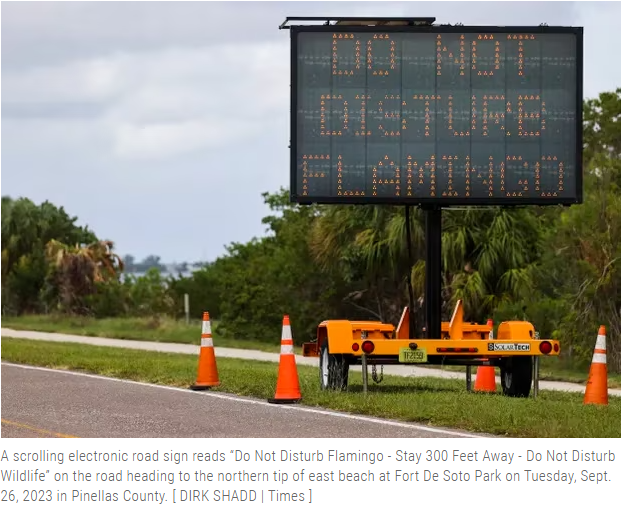 Anyhoo, I hope to see some of Peaches' kin this weekend. I'll be travelling solo but meeting up with some kin of my own at various points on my journey. I'm looking forward to discovering awful diners and drinking terrible coffee. Will try to post updates from the road.
Open thread!