Happy Sunday!
QuiltingFool had a wonderful idea – to auction off her Ukraine quilt on Balloon Juice, with the winning bidder entering the winning amount through the Balloon Juice for Ukraine thermometer.  Winner obviously gets to choose one or all 5 of the organizations in the thermometer.
While QuiltingFool puts the finishing touches on her quilt, we thought we could have an auction of some wonderful knitted items from MomSense.
Let's set the mood – this is the MomSense family wharf, back when they still had a shipbuilding wharf!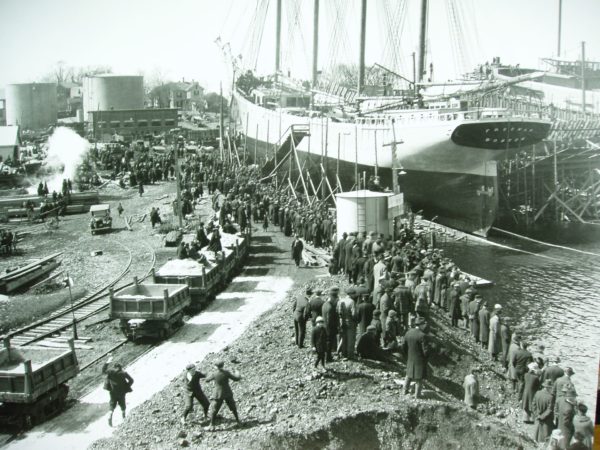 HATS
Both hats are  knit to fit 22"-25" circumference. They do stretch quite a bit so will fit smaller or larger if needed. I would call them size large.  The yarn for both is considered luxury and both are my designs so no copyright issues.
Item 1: Jasper Hat  (bidding starts at $60)
Named for the amazing Jasper Beach in Cutler Maine.  The beach is rocky beach with stones of all sizes from pebble to Boulder. The design is meant to look like the play of the tides with the stones.  The wool is hand dyed in Texas 100%  superwash merino ethically sourced in Peru.
Item 2:  The Coastie  (bidding starts at $60)
This hat is called the Coastie inspired by Rockland's Broadway Knight, my family history of shipbuilding and seafaring, and the modern day knights – the US Coast Guard stationed in Rockland.  The pattern is made of traditional cables that look like rope and armor.  The yarn is 100% merino from Queensland Australia. It looks rustic but this is wicked soft and warm.
Bidding will be open until 2pm Eastern on Monday.  That will give the weekday BJ peeps a chance, and not just the east coast peeps.  Surely the west cost peeps will be up and about by then. :-)
SWEATERS AND HATS FOR KIDS!
Item 3: Blue Snowflake Sweater  (bidding starts at $75)
Size 9 months, chest circumference 21 inches, length 10.5 inches. Unisex- 100% wool.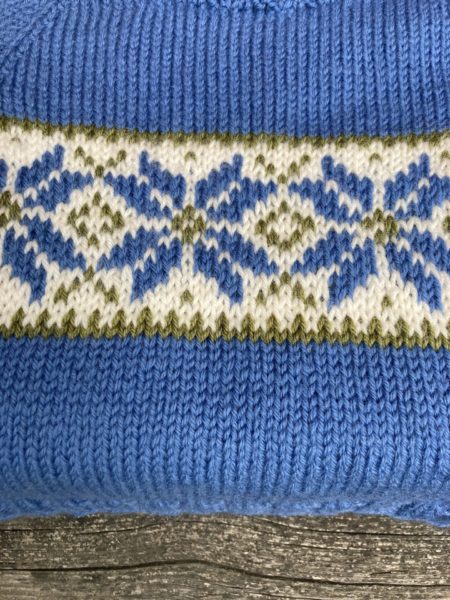 Item 4: Baby Beanie  (bidding starts at $25)
Soft merino/cashmere in a beautiful sea glass color.
16-18 inches circumference but very stretchy.
Can add a pompom or two if wanted.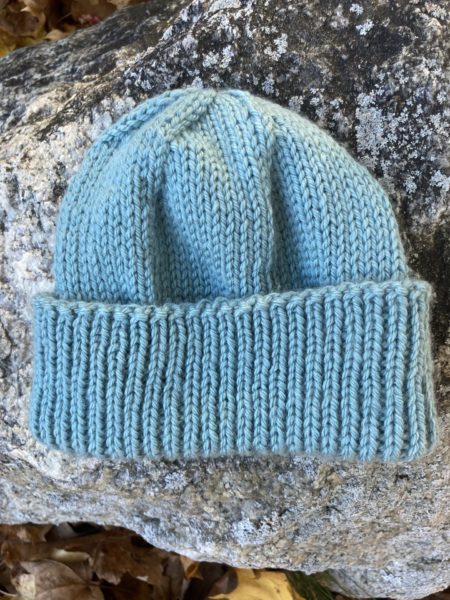 Item 5: Summer Daisy Hat   (bidding starts at $25)
newborn to six months, 16 inch circumference
Perfect for summer! 100% cotton.
Item 6:  Candy Dot Sweater   (bidding starts at $75)
6-8 months, chest circumference 21"
Summer cardigan in the lightest, softest wool.
Inspired by the dots candy from the penny candy shop I loved as a child.
Item 7:  Gnome Hat  (bidding starts at $25)
This is a 100% merino infant gnome hat. Very soft and warm. Perfect for baby's first Christmas. Can add a white pompom to make it a Santa hat.This is a Scandinavian hat pattern.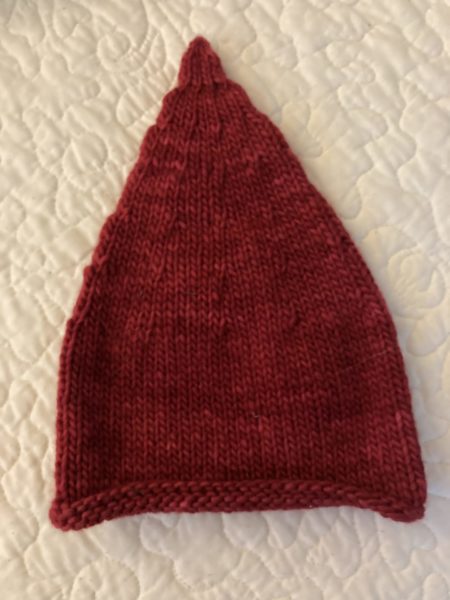 Item 8:  Cranberry Cardigan   (bidding starts at $35)
This is 100% wool – Fair isle cardigan.
Very warm and pretty size 6-9 months. Chest circumference is 20".
This was a test sweater for content, so it's not perfect, so the starting bid is lower.  The sweater is sweet and warm and a great deal.
Thanks, MomSense for your generosity!
I will add a comment for each of the 8 items, and if you want to bid on an item, simply reply to that comment.
If you want to bid on more than one item, please reply to the comment for each of the items you want to bid on.
*We didn't talk shipping, but I imagine that the buyer would pay for MomSense to ship to you (or to someone else if you are giving an item as a gift).
Also, OPEN THREAD.
Update at 1:30 pm:  Bidding will be open until 2pm Eastern on Monday.  That will give the weekday BJ peeps a chance, and not just the east coast peeps.  Surely the west cost peeps will be up and about by then. :-)