"How did the back elastic of your underpants end up under your chin?"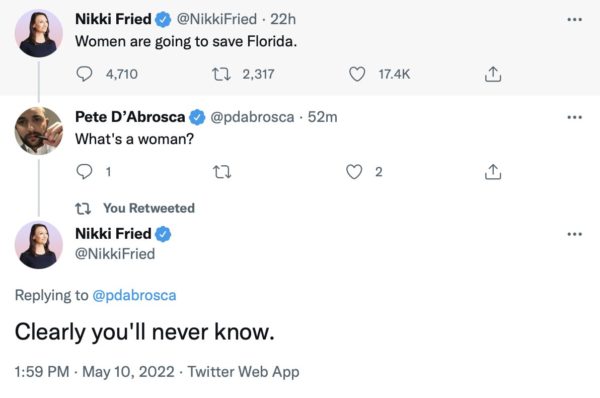 If you think it's irritating to hear the media yap about how catastrophic the midterms will be for Dems all the time, imagine living in Florida and also being told constantly that your horrifying hog-goblin governor will definitely be reelected this year and is also definitely the 2024 GOP nominee if Donald Trump takes a dirt nap or otherwise declines to run.
Friends, it's a cycle of suck from which there's no escape except in liquor, weed, TV and birdwatching.
That's probably why Nikki Fried, current ag commish and Democratic candidate for governor, is growing on me, despite earlier misgivings. She just fucking ethers people who come at her on Twitter, and she's salty in person too. After the SCOTUS radical clerics' fatwa reveal last week, she didn't focus-group shit but instead staged a pro-choice rally. She doesn't really bother yammering about how "divisive" DeSantis is but rather explains, "Ron's an asshole." Cut, jib, like, etc.
I don't think Fried will be the nominee. Current House member, former one-term Republican governor, and 2014 Dem nominee retread Charlie Crist is racking up the establishment endorsements, so he'll probably win the nomination. Again.
But primaries are for voting your heart, and Fried's smash-mouth style has won mine.
Open thread!