The Affordable Care Act's individual health insurance markets are priced via modified community rating. Premiums for a given plan in a given area have to the same to any two people of the same age. Premiums are allowed to vary by a factor of 3 for people between ages 21 to 64. Premiums can not vary for medical risk factors with one potential exception. Premiums can vary by 50% for individuals who use tobacco. The rating factor is a function of insurer discretion.
The tobacco surcharge is not eligible for premium tax credits. A smoker whose insurer charges a tobacco surcharge is not able to use premium tax credits to pay that portion of the premium. Therefore, they are not eligible for zero premium plans. The tobacco surcharge is a plausible source of administrative friction. This administrative friction is likely to lead to healthier smokers to not take up insurance and adverse selection to occur.
One of the things I learned last week is that the tobacco surcharge can vary by age. The graph below is from the RATES PUF for 2022 in West Virginia Rating Area 1 for the two insurers that sell plans on Healthcare.gov. Each insurer has a pretty consistent tobacco age curve across their plans (variation at the 3rd and 4th decimal place by age year & plan ID).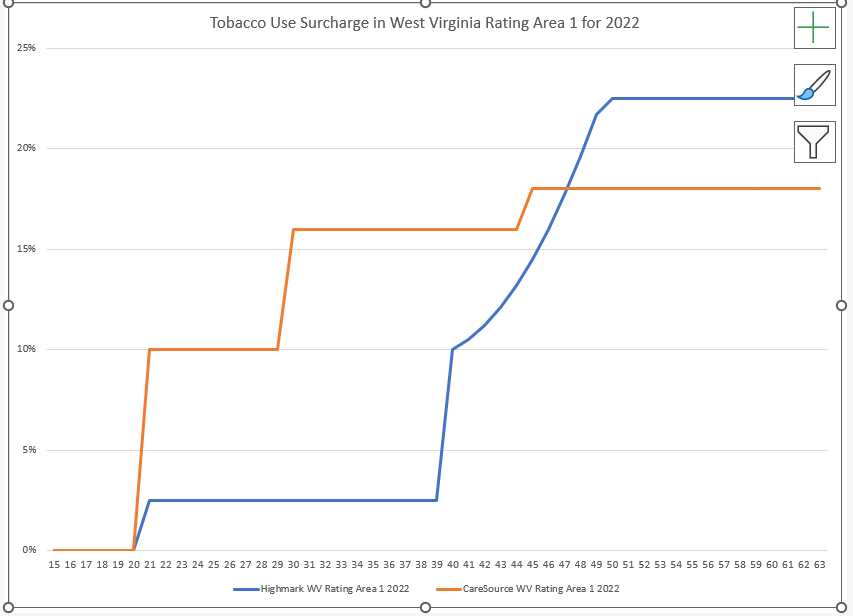 This is weird and interesting to me. Highmark charges young smokers a de minimas fee that spikes at age 40 and then a steady annual increase to age 50 where is levels off at about 22%. CareSource has a higher initial rate at age 18that has two steps that top off at a younger age and a lower level.
I am curious if there is a strategy here by each insurer to use the variation in the tobacco surcharges to attempt to select and screen for different classes of smokers in the state of West Virginia? I would imagine that CareSource will be relatively more attractive to smokers in their forties or older while Highmark will be much more attractive to younger smokers.  This may be important in states like West Virginia with fairly high smoking rates in shaping their market, but at this point I'm mostly curious and speculating.