The Guardian got a huge dump of Uber documents from their former chief lobbyist in Europe and — surprise! — Uber played dirty. The main revelations so far:
Uber walked in the door and operated their business knowing that it was illegal and then lobbying to overturn the laws.
In six countries, senior Uber execs ordered the use of a "kill switch" to delete documents if Uber offices were being raided by police.
Emmanuel Macron, the former VP of the European Commission Neelie Kroes, a bunch of UK government ministers and others were secretly lobbied and did not disclose their various connections with Uber.
Maybe the best part of the intro piece is Uber's response:
In a statement, Uber's senior vice-president of public affairs, Jill Hazelbaker, said: "We have not and will not make excuses for past behaviour that is clearly not in line with our present values. Instead, we ask the public to judge us by what we've done over the last five years and what we will do in the years to come."
We did it but Travis is gone so better now! I guess that's one way to handle it.
Since the source of the story is Uber's European lobbyist, it's Eurocentric, but of course here in the former colonies we've already been thoroughly fucked by Uber and Lyft. Anyone who has taken a rideshare trip recently has noticed that they're no longer cheap — since they've destroyed the cab business (which, let's face it, wasn't great or cheap), they are now jacking up prices and will continue to do so now that their investors are done subsidizing rides and want some profit.
They're also getting into competition with dockless scooter and bike companies. Here's an example of what the dockless scooter world looks like in Denver: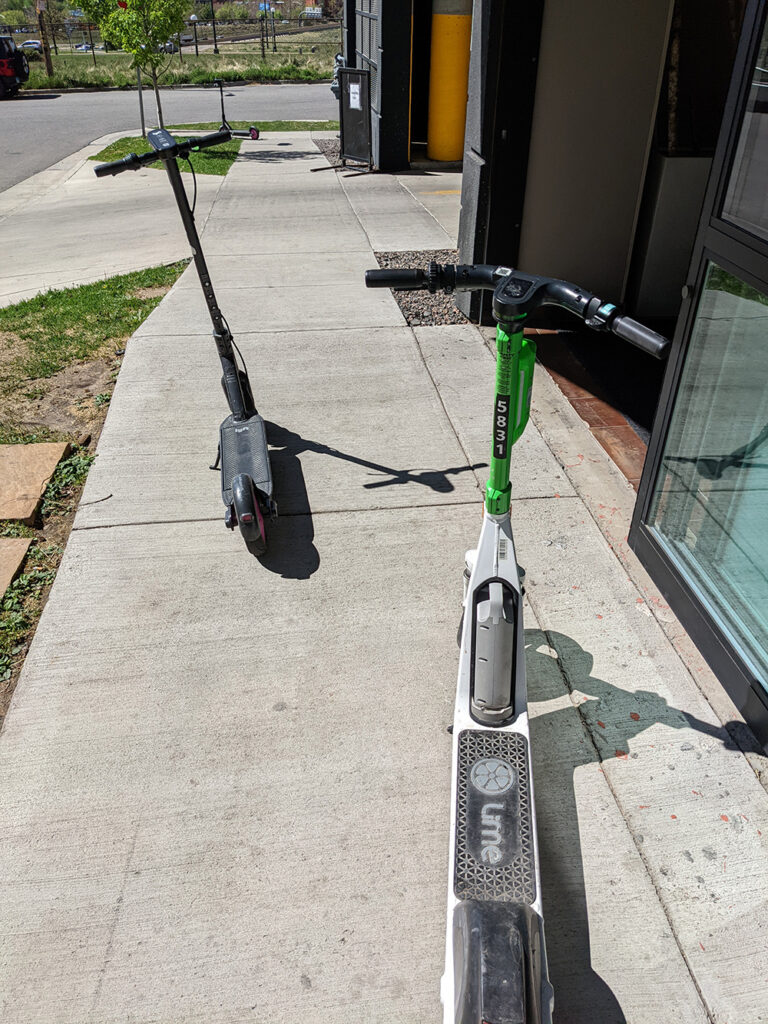 This is the entrance of our hotel, and it was a common sight, since the assholes that ride these things just park them in front of wherever they're riding. You won't find a bigger supporter of bike infrastructure than me, and I commuted by bike for years, but fuck these things. (I think the scooter in front of the Lime one is a Lyft one, but I'm not sure.)
Our urban leadership has mainly been convinced that we must careen from a perhaps overly regulated taxi system to a total free-for-all of ridesharing companies. It's way past time to clamp down on Uber, Lyft and the like, but unfortunately I'll bet our politicians were lobbied in the same way as the Europeans. They've been convinced that a chimerical free-market Tinkerbell sprinkles the fairy dust of success over these companies, and she'll be killed by even a little bit of regulation.
So, don't hold your breath waiting for regulation. If you're a woman traveling alone, watch yourself, because sexual assault by rideshare drivers is a real thing. As for everyone else, watch your step and don't trip over the god damned scooters.