There seems to be some upset in the press about this DCCC ad supporting Peter Meijer's (R-MI-3) far-right primary opponent, John Gibbs. Meijer, as you might recall, is one of the few Republicans who voted for Trump's second impeachment. The ad doesn't really "support" Gibbs in a straightforward way – instead it argues that he's "too conservative", that he's endorsed by Trump, that he's anti-immigration, etc. In other words, the ad is made to appear that electing Gibbs will make the libs cry, and since it is a $425K buy, it will also probably raise Gibbs' name awareness in the district. It's made to inform and motivate hard-core Trumpers to vote against Meijer in the primary.
Apparently, Meijer's district was redrawn and it is now D+3, so the DCCC is thinking that a nutcase beating Meijer sets up a more likely Democratic win. Maybe. There are a lot of issues here:
Is this a clever ad? No. It reeks of 20 years ago. Now, maybe that's what will motivate the Trumpers, who watch cable, but this ad is completely cookie-cutter, which is to say, ignorable. Also, why not go balls to the wall instead of being cute? Put together an ad showing Gibbs putting Mexicans in cages and burning down abortion clinics, while Peter Meijer cowers in the corner sucking his thumb. That would probably motivate the Trumpers far more than this weak tea. The reason that the DCCC won't do that is they want to have it both ways: they want to elevate a Trumper, but they also want to say they didn't tread on the underlying Democratic message.
Is this a well-executed tactic that will help flip this district? I'm not sure. $425K is a huge lifeline to a Democratic campaign in a marginal district. The Democrat in the race is Hillary Scholten, who has raised $1.2 million to Meijer's $2.7 million. She lost by 6 points in 2020, so she's a credible candidate in what could be a winnable district. Could she perhaps spend the equivalent of 1/3 of her entire fundraising to date better than the DCCC? I'm guessing yes.
Are Democrats doing bad by trying to prop up MAGAts in primary challenges? Fuck no. Peter Meijer voted the right way a couple of times, but he's a vote for Kevin McCarthy otherwise. Spare me the pearl clutching about electing a "far right Republican" to a seat. I'm with Gallego on this one: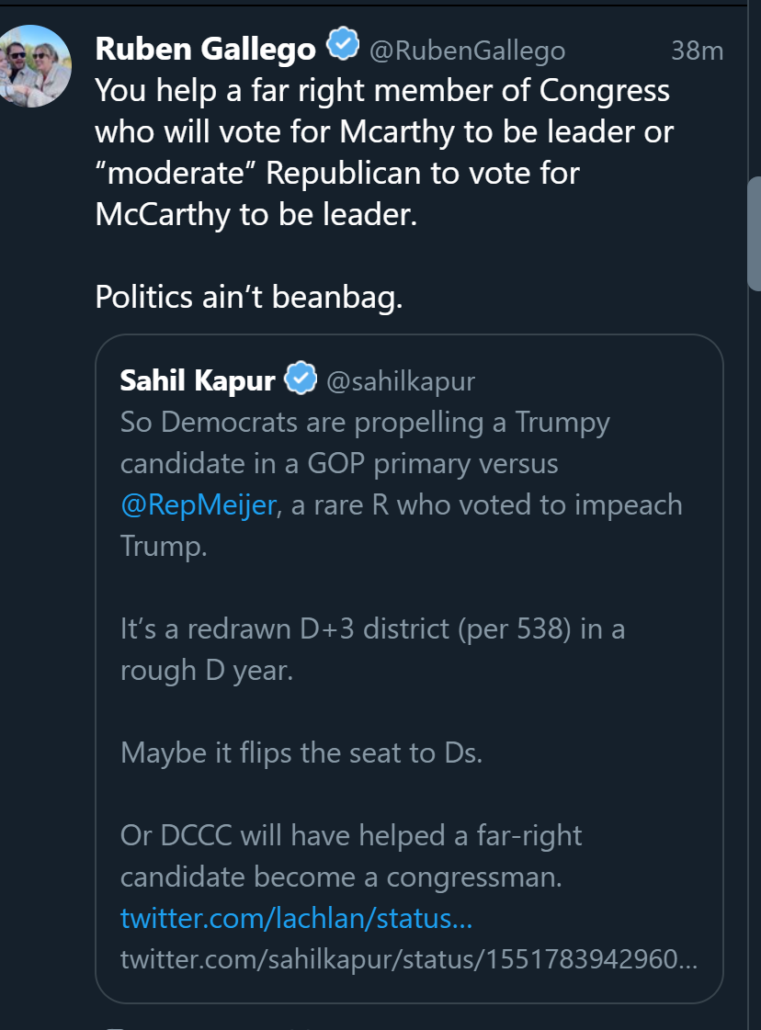 Finally, fuck Republicans like Peter Meijer. He's a rich kid who seems to be human-adjacent — he served in Iraq, and has voted for a couple of good bills — but in the end his voting record is little different from MTG or Matt Gaetz. If he were really a good guy, he'd just switch parties. But he won't, so, again, fuck him, and I hope the nutty Trumper beats him like a rented mule in the primary.
Still, I don't know if the DCCC's effort here will make a difference. It's too cute by half, and the audience for this type of supposedly clever shit is in DC, not Grand Rapids.