On the Road is a weekday feature spotlighting reader photo submissions.
From the exotic to the familiar, whether you're traveling or in your own backyard, we would love to see the world through your eyes.
TKH
As I mentioned in my Grand Canyon submission for On The Road, I have hiked across Southern Utah twice now, once following a route of my own devising from the CO/UT border to Zion National Park. The second time along the Hayduke route starting at Arches NP near Moab (UT) to and through part of the Grand Canyon. On both hikes I passed through the Grand Staircase Escalante National Monument (GSENM) located between Bryce National Park and Capitol Reef NP, about a four hour drive from Sin City or eight hours from Denver. While the Grand Staircase Escalante National Monument (GSENM) is a popular tourist destination, during my long hikes I reach areas that not many people get to see because they are day hikers and not backpackers. 
This submission will include pictures from areas relatively easy to access in order to wet your appetite so to speak. In a separate submission I will be showing you places you would have to work for to get to.
Enjoy!
Thomas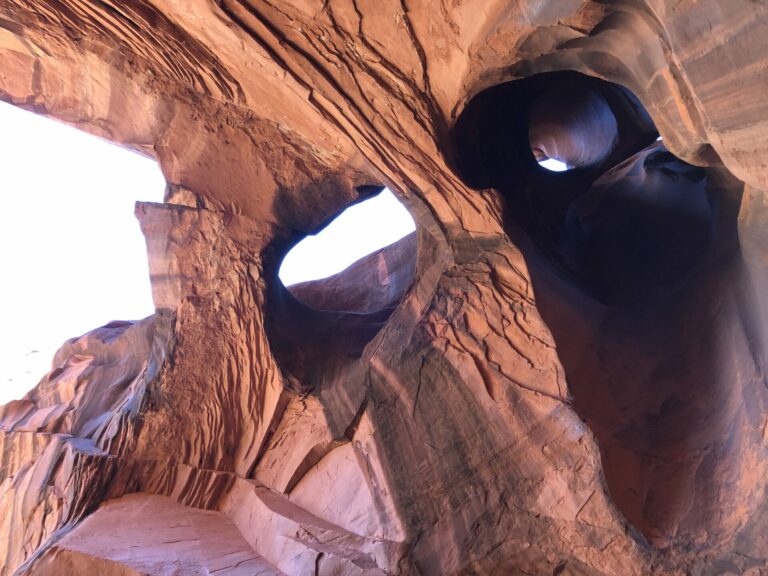 Golden Cathedral Neon Canyon GSENM
November 4, 2022
This place is reachable in a (long) day hike after a teeth-rattling drive along Hole-in-the-Rock road followed by an elaborate descent into Fence canyon at the bottom of which you step into the Escalante river, slosh upstream crossing back and forth as the vegetation on there banks allows or demands. You enter Neon canyon and 45 min later you reach the en at Golden Cathedral. For the cannoneers among you, you can also get there from on top by making your way through two slot canyons (canyoneering gear required, some skills would help) and lower yourself on a rope through the holes that you see there. Not my cup of tea.
This is the view from the ground to the ceiling of the cathedral. The intricate carving of the sandstone is a result of water coming down from slick rock plains and slot canyons above that drain into there cathedral.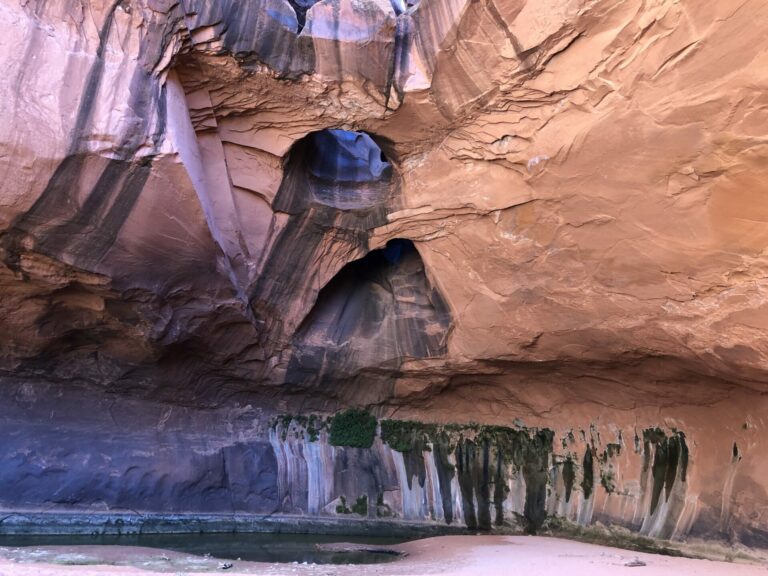 Golden Cathedral Neon Canyon GSENM
If you walk up to the cathedral via Neon canyon this is how you first see it. I was fortunate to have it to myself for about 45 min to enjoy the silence and the changes in color and light over time as clouds obscured the sun and passed on.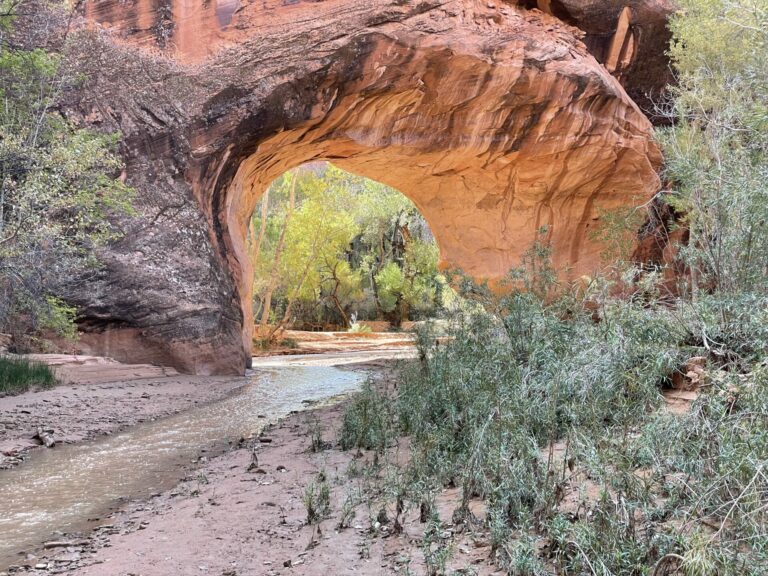 Coyote Bridge in Coyote Gulch GSENM
Farther along the Hole-in-the-Rock Rd are two trailheads that allow you to reach Coyote Gulch, Hurricane wash TH and 45 Mile Ridge TH. I prefer to use the latter in order to hike Coyote Gulch in a Northerly direction. You descend a 900 ft altitude dune made of the most exquisite Utah fine sand (I would not want to have to climb up this dune in late afternoon in the sun) that gets into everything even into… ah I don't want to make you blush. You then hike along a the creek on a use trail. There is the occasional scramble to get around waterfalls, but nothing too arduous. At the Northern end you pass through Coyote Bridge.
The entire hike is very scenic, but has become popular. Never do it on a weekend. The last two times I was down there I met not more than a handful people on a 5 hour hike. Not bad.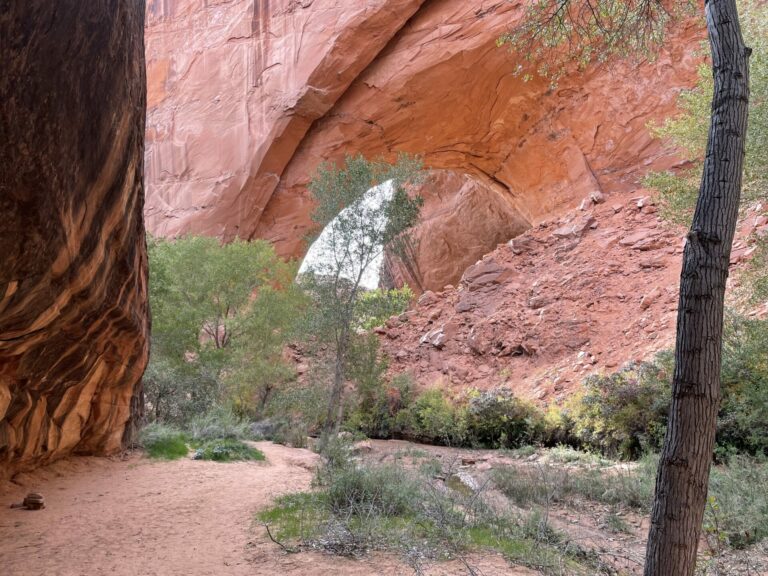 Jakob Hamblin Arch Coyote Gulch GSENM
North of Coyote Bridge is the true gem in Coyote Gulch. It is located in a gooseneck of the creek which has carved out a giant undercut into the bedrock. Without special lenses I find it impossible to to do this place justice, photographically speaking. Since I am solo hiker I also lack a companion that I could place into the picture in order to give the reader an idea of the scale of this place.
From here you can either walk North and then west to the Hurricane Wash TH or you can retreat a bit and climb out over slick rock ramp, aided by some installed ropes, to get back to 45 Mile Ridge TH. I usually choose the latter, but it would be hard to do with kids or people who are afraid of exposure.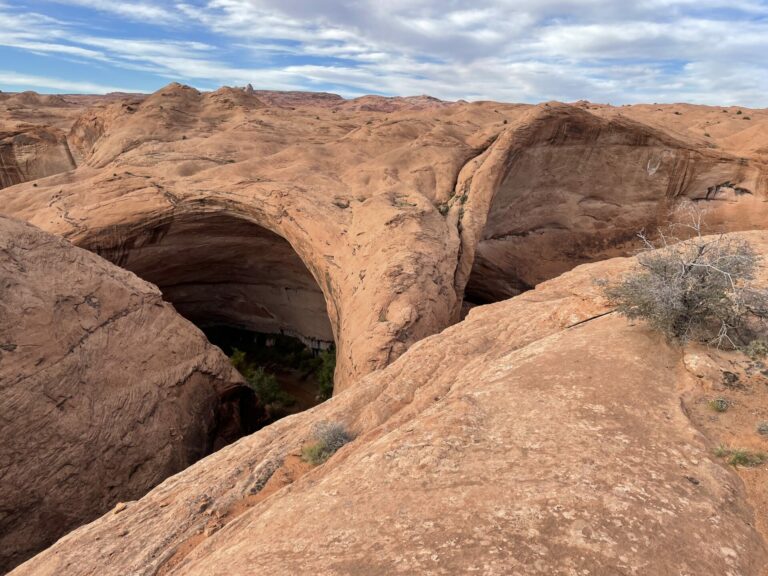 Jakob Hamblin Arch GSENM
If you choose to exit coyote Gulch via the slick rock ramp you get this view of Jakob Hamblin Arch from above. Once you have overcome the ramp the rest of the way to your car is across slick rock and sand along a cairned path. pretty straightforward.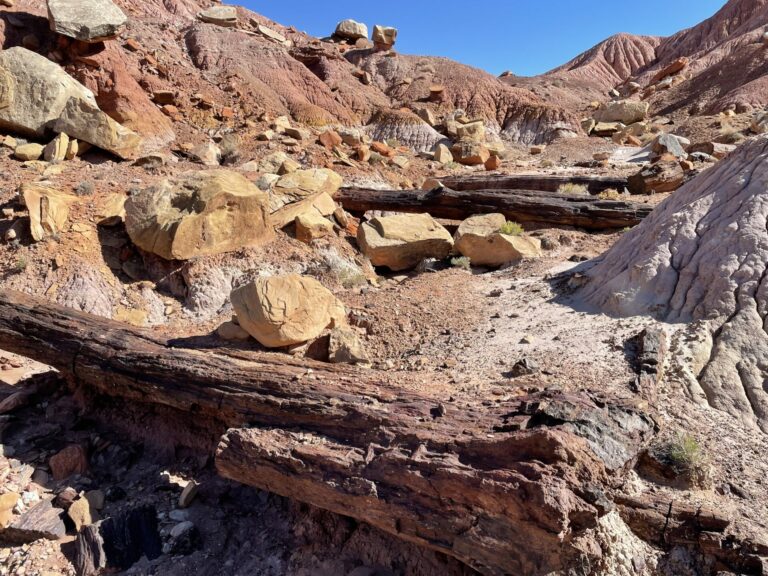 Egg Canyon GSENM
When I first wanted to get into Egg canyon in 2018 I could not find the entry in its upper end, It is an area of mud hills and drainages running every which way. Being off by 50 feet may preclude you from seeing where you should be going.
The second time I came from the bottom from Th along the Burr Trail Rd. I made it a one-nighter loop hike, but conceivably you could come from the bottom and return that way in a (long) day. Egg canyon is beautiful canyon with lots of color, but the real attraction is the petrified wood in its upper reaches.
here I show you picture of the most massive pieces that I have ever seen. I am told that you can see these logs on Google Earth if you know what you are doing (I don't).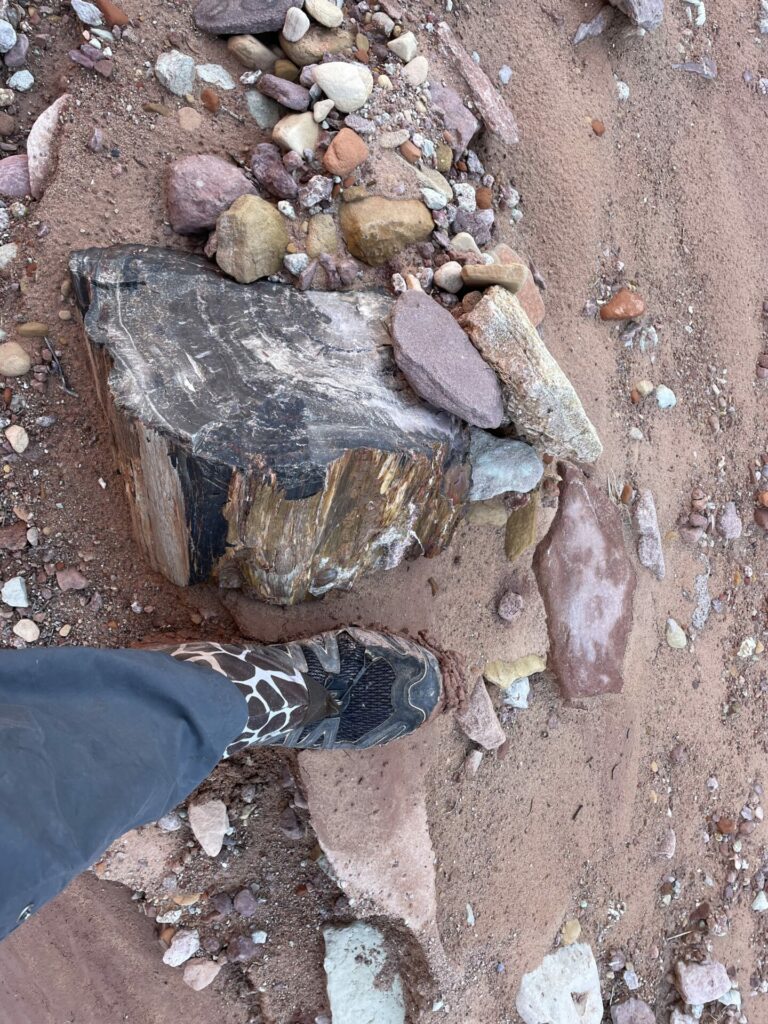 Egg Canyon GSENM
Lower down in Egg canyon I was climbing in a side wash and came of what I thought  for a while to be the motherland of petrified wood before I saw the trunks in the picture above.
I put my foot into the picture for scale. It is fortunate that there is no road in the area and that petrified wood is heavy. It would have all been carted off for fun and profit, especially the latter, a long time ago. Every American has a right to cart off 1.5 lb of petrified wood from BLM land every year. That amounts to one or two rather small pieces. What I showed you here is going to be there for a long time to come.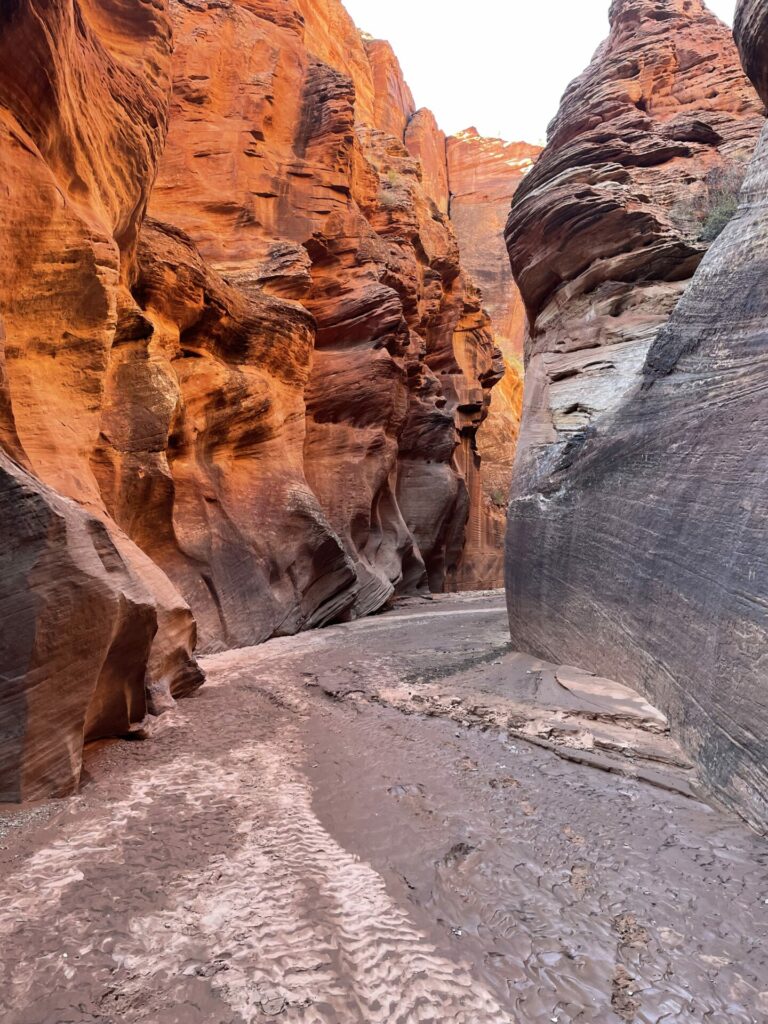 Buckskin Gulch GSENM
To finish off today's submission, some pictures of one particular slot canyon. The famous Buckskin Gulch near (40 mi) Kanab. In order to hike the whole thing you need a permit and there are only 20 people/day that get such a permit via a lottery. I have only done a day hike so far going down a few miles and then returning, but a thought hike remains on the list.
I have been down by the deeply entrenched part, but even in the upper part you are in this slot with the walls going pop 200 ft. early morning is best from both a traffic and light perspective. It's a tough hike, scrambling , wading, quite cold.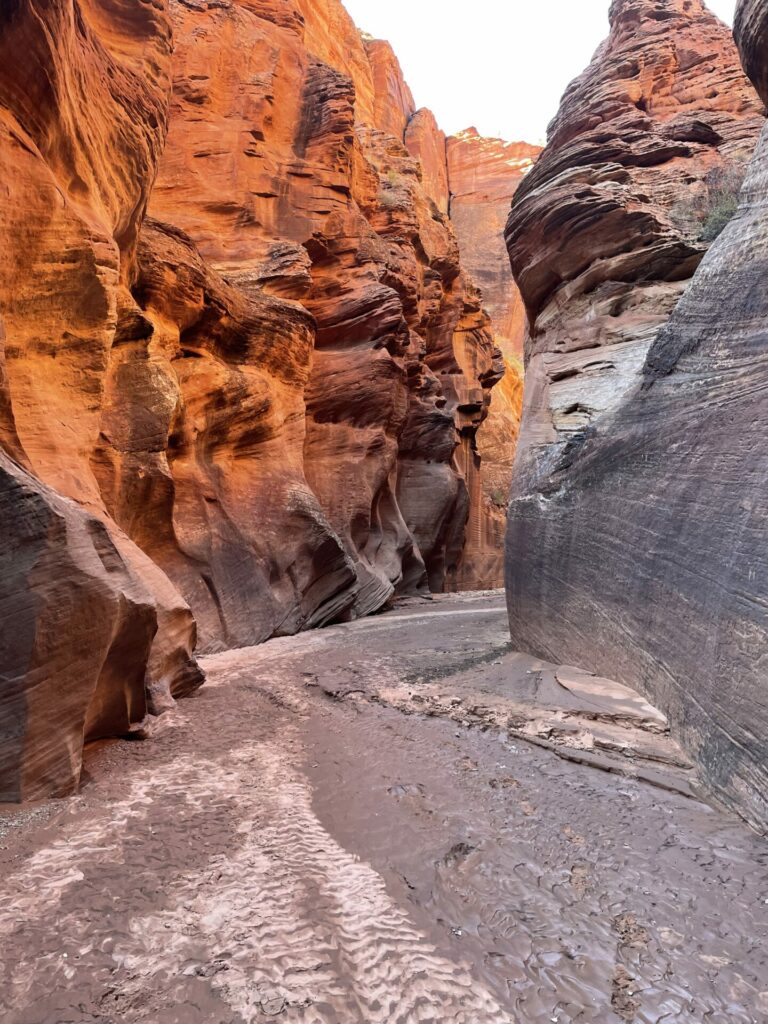 Buckskin Gulch GSENM
The gulch varies in width as you go along. Sometimes you can touch both walls and other times met is as wide as a road running between buildings. This is one of the wider parts.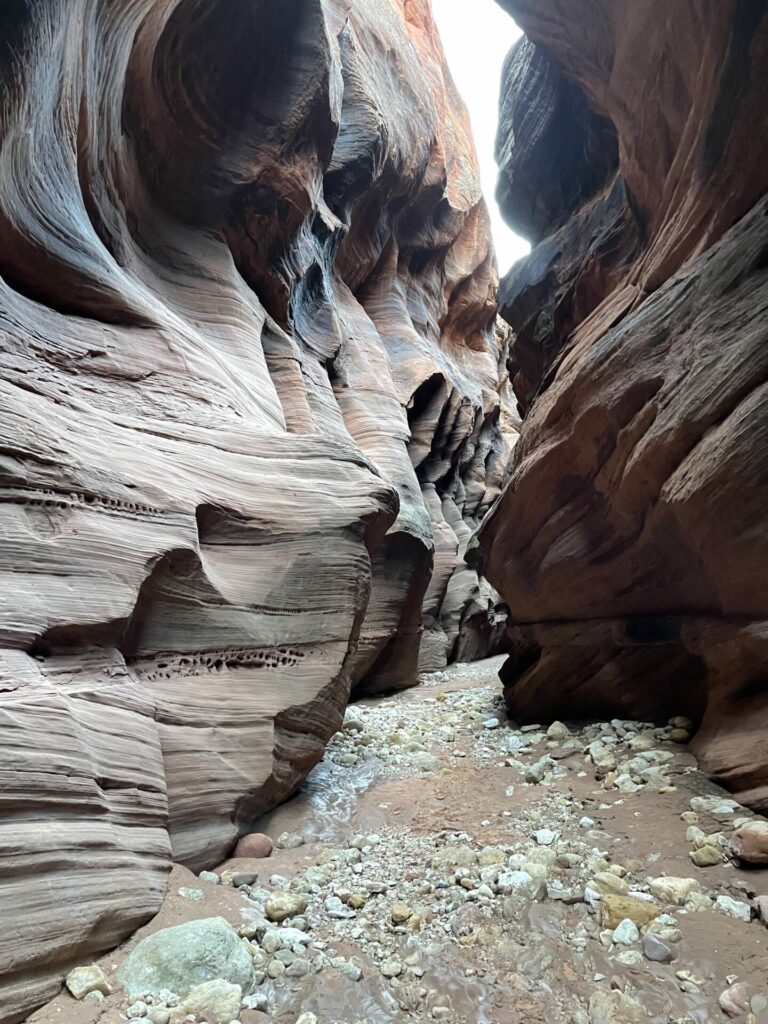 Buckskin Gulch GSENM
The two previous pictures illustrated the play of early morning light on the canyon walls. This picture illustrates the fine structure of the sandstone in the walls. I could go on and on and on.