I need a bit of a break from our weekly kindness posts. I'm looking down the path at end-of-the-year craziness at work, and my latest novel is coming back from the editor this week. It will need final tweaks before heading to publishing. I really need to focus on that, along with a bunch of holiday plans that will take up a lot of my time (happily) for the remainder of the month.
I have been promising this post since early in the week, and it's now Saturday; you can see, I am having trouble finding the time to put posts together.
I want to update on my attempt at being a "normie," it has been great. I have found tuning in to Maddow on Mondays, a quick hit of Twitter, and stopping by here gives me enough to stay informed without obsessing over every little thing. I'm sure my heart and blood pressure are grateful. I highly recommend it if you need a break.
Speaking of Twitter – I tried to clean out my bookmarks in case things sink like the Titanic in the near future. If you sent me the Twitter link, identify yourself in the comments. And thank you!
Last night, after HUGH JACKMAN finished his performance in THE MUSIC MAN on Broadway…

…he held a charity auction for his hat.

A surprise bidder offered $100k…

…it was NICOLE KIDMAN. pic.twitter.com/NCuC4TUzP1

— James Leighton (@JamesL1927) November 28, 2022
==============
This is such a great story.
In the documentary I Know That Voice, Kevin Conroy tells this unforgettable story about working at a food relief station in Manhattan in the days after 9/11. It's one of my favorite stories he told about the power of his talents. Rest In Peace Mr. Conroy pic.twitter.com/CVb6vLQlEb

— Henry Gilbert (@hEnereyG) November 11, 2022
==============
They do more than deliver mail:
Colorado Springs Branch 204 member Kimberly "Smitty" Smith was delivering at an apartment building when the leasing manager frantically approached him and asked if he knew CPR. Smitty sprang into action and administered life-saving CPR to a teenage girl. https://t.co/5xk6I2SDtM pic.twitter.com/cd4QAa6ULZ

— Letter Carriers (@NALC_National) November 13, 2022
============
Rosie Taylor of Houston, TX Br. 283 was on her route when she heard a frantic woman holding a baby. The baby wasn't breathing, so Rosie called 911. They followed the dispatcher's instructions and the baby, who is thriving today, started breathing again. https://t.co/5xk6I3aMHU pic.twitter.com/ohjAjyQ66w

— Letter Carriers (@NALC_National) November 15, 2022
==================
Honda Designed Tiny Electric Car to Bring Joy to Hospitalized Kids as They Drive Themselves to Treatments https://t.co/g1zRzTSz2e

— Travis Akers (@travisakers) November 3, 2022
====================
Mike S. (Now with a Democratic Congressperson!) sent me some interesting links on Yellowstone wolf data. Of interest here as we have voted to allow wolves in the state. And can I just say the audacity of that statement – fuck the idea that we should have any say in where wolves roam. Tons of research on how they improve the environment. But I digress. Here's what Mike sent:
"Using a predictive model based on empirical Yellowstone wolf data, we were able to determine that fitness is greatest when wolves mate 'disassortatively' [mating between a black and a gray wolf] in the presence of disease outbreaks at least once every five years," said Brandell.

Excitingly, said the researchers, the predictions from their model closely matched the observations that black wolves are more likely to pair with gray wolves in areas where CDV outbreaks are common. This competitive advantage is lost in areas where CDV outbreaks do not occur."
It's a fascinating read. Along with this study, he sent: Parasitic infection increases risk-taking in a social, intermediate host carnivore (Gray Wolves)
====================
The Dodo usually cross-posts these to YouTube, but I could only find this one on FB. From Alison Rose:
==============
SiubhanDuinne sent me this, and I had to laugh as it hits a little close to home: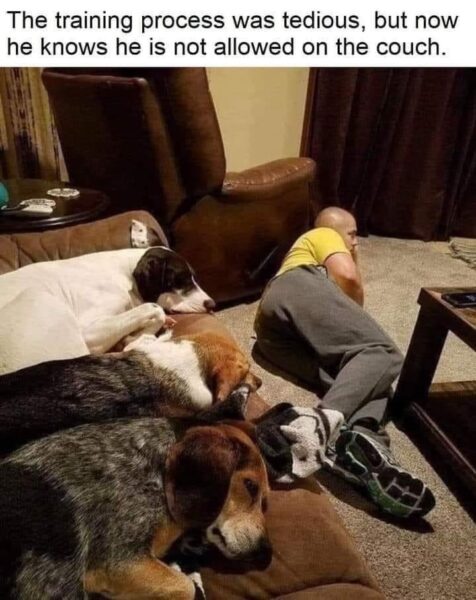 ===============
And finally, I attempted a little bit of holiday spirit today.
Crazy one-year-old kitten 

Crazy one-year-old Great Dane 

Bull-in-a-China-shop rescue Dane 
And yet, I did manage to get the tree up. So far, no one has bothered it. But I also only put up the cheap ornaments and nothing that couldn't easily be replaced. I'm crazy, not stupid. LOL
I love that skinny little tree. I can fit it in the corner and out of the way of the lumbering mooses. A friend had one, and I searched high and low until I found a similar one. Perfect for my little doll house.
Trixie had her spay Thursday, and she's doing fine. My only issue today was reminding her that she was in recovery and bouncing was not allowed. But I will have my hands full all week, keeping her quiet.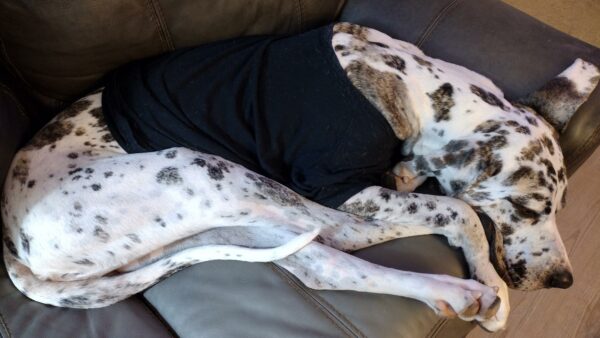 Okay, that's enough for tonight. I will return, maybe once before the holidays (no promises) and for sure at the beginning of next year when hopefully things will be a little quieter here.
Remember to be kind to yourself during this crazy season. Celebrate the small wins. And add any kindness links in the comments.