An update we were all hoping for. ????

— Buffalo Bills (@BuffaloBills) January 5, 2023
USA Today, just after 6pm:
… Upon waking up after being sedated, Hamlin followed commands and even was able to communicate in writing. Hamlin remains in critical condition with a breathing tube, according to his doctors, who made their first public comments Thursday about his condition in a news conference held at the University of Cincinnati Medical Center.

"The answer is yes, Damar, you won the game of life," Dr. Timothy Pritts said.

Hamlin's first comments were to a nurse at his bedside, according to doctors, while his family, friends and members of the Bills organization have remained by his side since he was transported to the medical facility…

Hamlin is making substantial progress and his neurologic condition and function are intact, his doctors said.

"It's been a long and difficult road for the last three days. He's been very sick, and made a very remarkable recovery and improvement." Knight said.

"He still has significant progress he needs to make, but this makes a good turning point in his ongoing care," Pritts said…

There's no timetable for Hamlin's recovery, as doctors continue to take things day by day. 

"What we would like to see before we upgrade him to stable condition would be breathing tube out and continuing to improving from a neurological and respiratory standpoint," Pritts said.

Knight and Pritts hope Hamlin can return to "who he was before this happened," but also acknowledged "it's entirely too early" to discuss whether Hamlin can play football again.
"You lease your body out to the team"—William Rhoden, on MSNBC just now.

— Dana Houle (@DanaHoule) January 3, 2023

Mandatory reminder: I am not a football fan, so feel free to correct any misperceptions…

Damar was so excited with this video – told me it means everything that his family cheers him on.

Prayers to him and the entire Hamlin family???? https://t.co/9a0MgPBfw7

— Jenna Cottrell (@JennaCottrell) January 3, 2023
I talked to a fan who was at the game night. Here's what he saw. https://t.co/gmtXbms56E

— Drew Magary (@drewmagary) January 3, 2023
From the New Yorker, "The Terrifying Collapse of Damar Hamlin and the Everyday Violence of Football":
It was a normal tackle, a normal hit, a normal moment in a big football game—one of the biggest of the season, a nationally televised Monday-night matchup between the Cincinnati Bengals and the Buffalo Bills, two of the N.F.L.'s best teams. Then Damar Hamlin, a Bills safety, twenty-four years old, stood up and fell backward, legs limp and feet splayed, his heart stopped. The team surrounded him as medical professionals performed CPR and used a defibrillator to get his heart beating again. Players cried and knelt and held hands and prayed. Finally, roughly sixteen minutes after he collapsed, Hamlin was taken by ambulance to a hospital, where he remains in critical condition. The coaches met, gathered their players, and headed to the locker room.

The ethos of football is to play on. A player breaks his leg, hobbles off, and the game goes on. A player is concussed, stumbles off, and the game goes on. A player breaks his neck, is carted off, and the game goes on. Football is violent. The violence is intrinsic to the sport—a feature of it. It is part of the stakes, the thrill, the intensity, the draw. And yet there is a line, one that is almost inconceivable, even to the men who accept the risks and the fans who celebrate them for it. On Monday night, the line was crossed. It was clear from the faces of the players and the coaches: there was little thought of the game's going on. "Immediately, my player hat went on," Troy Vincent, the N.F.L.'s executive vice-president of football operations and a former cornerback, said to reporters after the game. "How do you resume play after you've seen such a traumatic event occur in front of you in real time?"…

About a decade ago, the N.F.L. came under intense scrutiny because of the devastating effects of head trauma, and there seemed to be a sea change in the way football was perceived. Youth participation dropped. There were front-page newspaper stories, lawsuits, congressional investigations, a Will Smith movie. There were also domestic-violence scandals, stories about addiction to painkillers, social-justice controversies—and yet the sport's popularity has been almost undiminished.

If anything, football has become a more valuable television property. This season, Week One N.F.L. games averaged more than eighteen million viewers. A Thanksgiving game had forty-two million viewers. The Super Bowl can top a hundred million in the United States. NBC's "Sunday Night Football" averaged 19.3 million viewers in 2021, nearly double the average of the top non-sports program, "N.C.I.S." No controversy, however big, seemed big enough to threaten the N.F.L.'s place as the nation's premier entertainment—which is why television networks and tech streaming companies are paying the league a combined hundred and thirteen billion dollars over the next ten years to air it…

… Whether fans and players want to admit it, though, part of the appeal of football remains rooted in its risks—the hectic action, the collision between awesome skill and raw force, the suspense that comes with every snap. Hamlin's cardiac arrest has shown us again what we always should have seen, how real those risks are. After all, what he experienced wasn't something outside the bounds of the game. He was doing what he's done countless times, and what we've seen countless times, too—hoping, on some level, that nothing would go wrong, but knowing, on some level, that it could. 
Football games aren't mandatory: https://t.co/s39Bjl1BoJ

— Defector (@DefectorMedia) January 4, 2023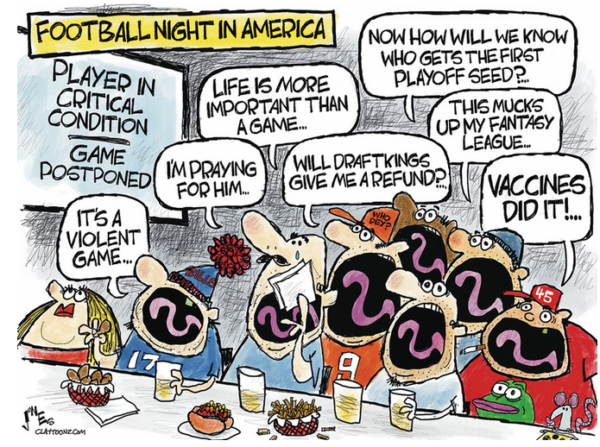 I don't have any reason to doubt the nfl would try to pull this off but I also think a reasonable explanation might be whisper down the lane between mid level officials and espn producers into buck's earpiece happened https://t.co/rvthYAuqWI

— kilgore trout, death to putiner (@KT_So_It_Goes) January 3, 2023
the league office is paid handsomely by ownership to not have a plan for anything but how to make money

— kilgore trout, death to putiner (@KT_So_It_Goes) January 4, 2023
A reminder: all the right wing chuds out there insinuating this is about vaccines can go f-ck themselves. https://t.co/0DXKAhhJgw

— Panda Bernstein (@J4Years) January 3, 2023
Sidebar:
The NFL arguably handled this better than UEFA. That's a very low bar, but this kind of callousness isn't just a football or American problem.

Hoping Damar can recover and thrive as well as Christian Eriksen.https://t.co/hpO9TXFqCD

— Jake McIntyre (@jakemcintyre) January 3, 2023