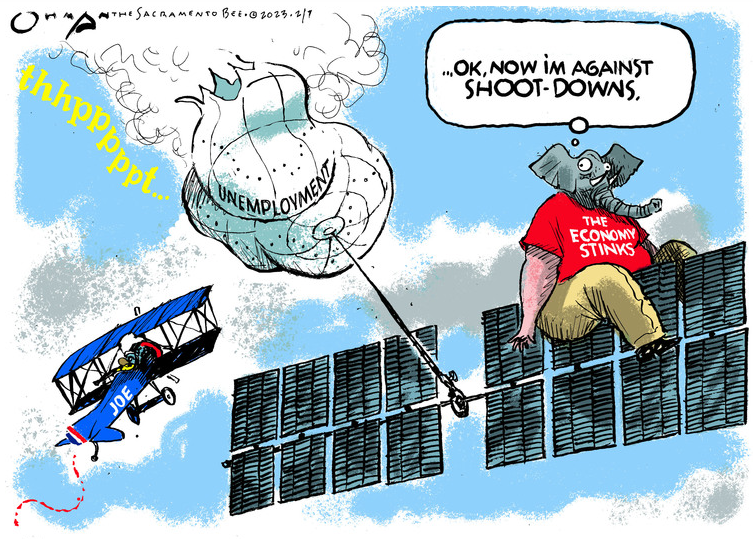 I'm delivering my second State of the Union address on Tuesday, February 7 at 9 PM ET.

I'll report on the progress we've made together over the last two years and on the state of our nation. Tune in at https://t.co/GPBtrLBCvT. pic.twitter.com/Aq7tcOSc60

— President Biden (@POTUS) February 6, 2023


They report — we deride!
The political stakes are higher for President Joe Biden's second State of the Union address, which he will deliver to a divided Congress after Republicans took control of the House. @AP_Politics explains: https://t.co/lcopAXCP7Q pic.twitter.com/bUHAA93auv

— The Associated Press (@AP) February 7, 2023
Aides say President Biden spends weeks reading State of the Union drafts aloud, rejecting acronyms and marking up his speech to help conquer a stutter. https://t.co/R3YGX1RJWH

— The New York Times (@nytimes) February 7, 2023
Be honest, BBC: Nowhere near as 'gripping' as Liz Truss versus a head of lettuce:
Chinese balloon looms large over Biden's State of the Union speech https://t.co/KuyHF0Ci5R

— BBC News (World) (@BBCWorld) February 7, 2023
Well, Kevin, congratulations – this will now be the "Slam your beer" entry on every SOTU drinking game across the country tomorrow https://t.co/NArn6DH3Ym

— chuckwestover (@chuckwestover) February 7, 2023
Also, 'Dr.' Sebastian Gorka has a typically GEENIUS idea, which I insincerely hope Squeaker McCarthy is dumb enough to implement. (Gorka wants Kevin to bring along a red balloon, because that would be payback for Pelosi tearing up TFG's speech that time. I suspect McCarthy's staffers would tackle & strip-search him, if he showed any sign of attempting prop comedy.)