Our featured writer today is Richard Roberts.
Let's give him a warm welcome!
If you would like your talent featured in the Artists in Our Midst series or Authors in Our Midst series, send me an email message.  Don't be shy!  I have no more Artists posts in the queue, so please get in touch if you would like to be featured.
A Literary Musical Interlude
by Richard Roberts
My latest book is Please Don't Tell My Parents I'm A Giant Monster!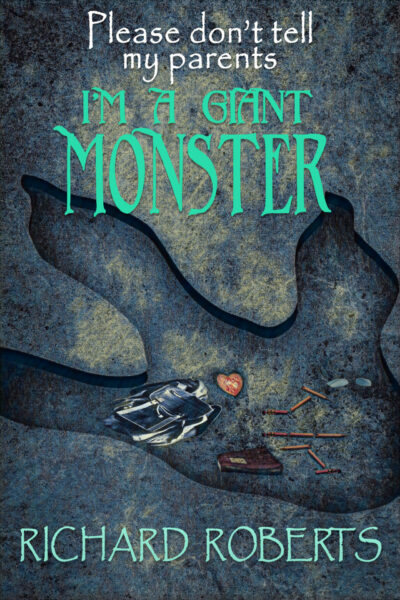 I first had the idea because I thought a friend of mine disabled with chronic pain from severe arthritis might enjoy seeing someone like herself in a book being an action heroine – or villainess – and breaking things. Then I thought there is probably a large demographic of teenage girls who would like to give into their anger just once and break things.
I already had a girl made of glass in my Supervillain books. Mirabelle is sweet and gentle, because she has to be. When offered the power to turn into a monster, will she still be sweet and gentle? Well, yes. But people who aren't sweet and gentle want that power, and things get complicated, and somehow it becomes a love story but with throwing cars and breathing fire.
Oh, and can we talk about the connection between music and writing novels?
Are there any songs you associate with your favorite fictional characters? The thing is, once you start writing books, pretty much everything loops back and associates with your own books. I have whole playlists of music that I associate with my characters.
And this is fantastic. It's convenient. Inspiration, folks. Even somebody whose brain churns out weird like mine needs to be put in the mood to put 10,000 words of that on the page in one day. So instead of writing uninspired, I use music to make me feel my characters, what they're like, and why I want to tell their stories.
I'm not the only person here who does this, right?
Now, for those of you who read my books, have a few examples, and find out how bewilderingly wandering my musical tastes are! Please Don't Tell My Parents I'm A Supervillain was heavily influenced by Thea Gilmore's 'Teach Me To Be Bad'. Boy thinks he's luring girl to misbehavior but it turns out she likes it more than he does? That was a book writing mood. For every Supervillain book 'One Night In Bangkok' is the Chinatown sequence inspiration, to give me the feel of decadence laced with smiling danger. And of course, 'Get The Party Started' by P!nk is a fine song for any supervillainess.
To go back to my most serious books, lots of Evanescence in Wild Children. 'Bring Me To Life' is so much Coo and Jay's song. Sweet Dreams Are Made Of Teeth was full of Emilie Autumn music, especially with songs like 'Opheliac' and 'Save You' putting me in the mood for Self-Loathing's dysfunctional and, yes, self-loathing love for Fang.
Probably my favorite book of mine is You Can Be A Cyborg When You're Older. The phrase 'walk the dark side' comes from the song 'Darkside' by Alan Walker. That and 'Gasoline' by Halsey painted a picture for me of a teenage girl who was too full of emotion to sit still, who was going out to do something and do it in style, and lived in a broken world world where she felt a little too close to robots. A FNAF fan song, 'Survive The Night', inspired the robot asylum.
For my post-Penny supervillain books, the supervillain Cleric was driven by Disturbed's cover of 'Sound Of Silence'. Avery's boyfriend and girlfriend are inspired by 'You're So Creepy' and 'Truth Or Dare'.
And I'm here today because of the release of my latest book, Please Don't Tell My Parents I'm A Giant Monster! I needed songs about someone dealing with anger issues, and it took songs as strong as 'Monster' by Skillet and 'Control' by Halsey to imagine any anger in sweet, delicate Mirabelle.
There are more. So many more. And I'm not even going to say how many of those I listen to in Nightcore variants.
So again… what about you folks? Authors, do you use music for inspiration? Non-authors, any songs you associate with your favorite characters?
Also, buy my book, and if you like it, please consider leaving a review!