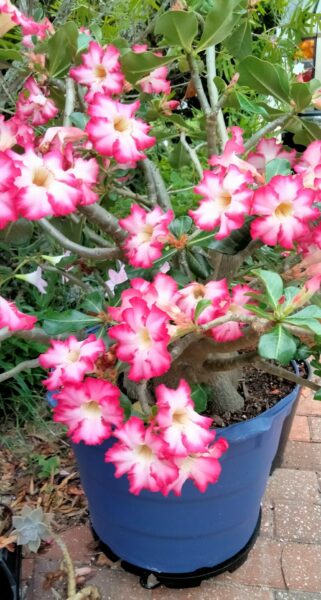 Thank you, Paul M:
My son's maternal grandmother does not have a green thumb, she has a green arm.

She grows dozens of different plants at her home on Saint Augustine Beach.

As with my post in April from Micanopy, FL, I don't know exactly what is what (until we get to the last 2 photos), so I won't attempt to identify what you are looking at.

The first below picture is her front yard from the street, and the second is the yard from west to east.
(I think the first close up is a desert rose, correct me if I'm wrong.)

These are the grape and teardrop tomatoes that she grows. I can tell you they taste better than any similar tomatoes that you will find in most supermarkets.
***********
And here I'm feeling pleased that I've got the first two pea-sized cherry tomatoes (Wee Tang Shebang) swelling green in my tomato patch…
What's going on in your gardens, this week?