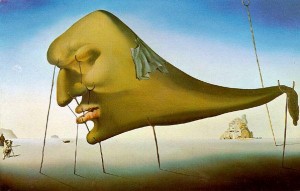 For chrissakes, now "Joe the Plumber" is on the campaign trail stumping for McCain:
"I'm honestly scared for America," Wurzelbacher said.

He later said Obama would end the democracy that the U.S. military had defended during wars.

"I love America. I hope it remains a democracy, not a socialist society. … If you look at spreading the wealth, that's honestly right out of Karl Marx's mouth," Wurzelbacher said.

"No one can debate that. That's not my opinion. That's fact."
Joe the Plumber is named Sam, isn't actually a plumber, doesn't have any plan to buy any business, makes nowhere near 250k a year, and would actually get a tax cut under Obama.
Yet they have him out there anyway, giving us his deep thoughts on socialism. You simply can not make this shit up. The McCain campaign is now a surrealist farce. Or maybe I meant surrealist force.
*** Update ***
Sam the non-plumber is also not a veteran or an Alaskan, not that it matters to Sarah Palin.