For the life of me, I can not remember what the topics are today. I guess it will be like Christmas, but in January. Speaking of, this is a shot of what it looks like outside my place: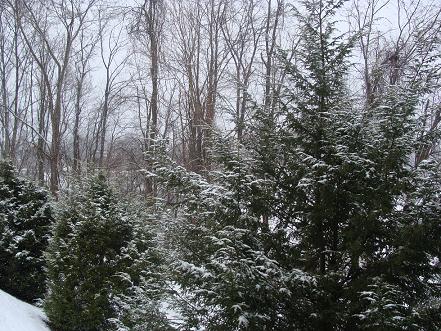 You can't see the snow coming down, but it is, and that, my friends, is STEELER WEATHER.
Putting aside the stunning news that Krispy Kreme is joining Dunkin' Donuts in the UPJ (United Pastry Jihad), the most surprising this morning is how many of you apparently liked Burn After Reading. Sorry, I love the Coen brothers, Raising Arizona, Miller's Crossing, the Big Lebowski, the Hudsucker Proxy and O' Brother are all genius, but Burn After Reading sucked. There was approximately one funny line, and that was the Mormon quip in the first 3 minutes of the movie.
Finally, I know I will get flamed mercilessly for this, and will be told that I simply don't understand the historical significance, that I should just shut up because I voted for Bush and let people have their day, that my judgment is terrible and I should not be trusted, that I am just being harsh on Obama because I feel hoodwinked by Bush and won't get fooled again, and blah blah blah, but the stuff this weekend feels like it has been over-the-top.
I can't tell if it is just my general lack of enthusiasm for crowds, but there just seems to be a bit of unseemly gushing- this feels like Princess Di or something. I realize that the rise of cable news and 24/7 coverage means that it is going to be either the inauguration or some kidnapped blonde teenager, but I don't know- it just seems excessive.
Again, I am not trying to downplay the historical significance of this, as several strands of history are all converging on Tuesday for a really amazing occasion. Nor am I unaware how elated we all are that Bush is leaving (and considering I played a role in getting Bush elected, I am thrilled that mistake is being pushed off center stage). And, again, I had no problem with Obama speaking in Europe, and never got my knickers in a twist about the columns at the inauguration, but this whistlestop tour, with all the mini events and the fawning media just seems to me to be too much. As low-key as Obama normally is, I am surprised he signed on to it all.
And because I'm not trying to ruin this for everyone and act like a wet blanket (especially because I am as excited as everyone else), and really am not trying to start another flame war, this is the last time I will say anything. Maybe I am just not remembering how big of a deal inaugurations were because cable news wasn't as omnipresent in 2000, and it has been eight years since the last transition from one party to another and my memory has faded. Maybe I have just forgotten how much I hate pomp and circumstance.