For some reason or another, the Republican leadership held a press conference, held up a blue binder that allegedly held a budget, but didn't really, and the results were pretty disastrous. Via the Great Orange Satan, here is the immediate reaction:
I couldn't for the life of me figure out why they rushed out to do that. They clearly don't have a budget ready, and also via the Great Orange Satan and Dave Weigel, here is part of their "blueprint":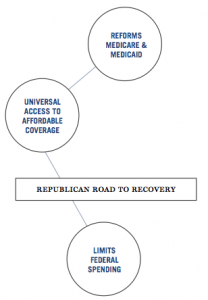 That must have taken a lot of work to get together. They had to have spent at least… minutes. So why did they rush out in front of cameras to make fools of themselves? For that, we must look to Josh Marshall's Bitch Slap Theory from the 2004 election:
One way — perhaps the best way — to demonstrate someone's lack of toughness or strength is to attack them and show they are either unwilling or unable to defend themselves — thus the rough slang I used above. And that I think is a big part of what is happening here. Someone who can't or won't defend themselves certainly isn't someone you can depend upon to defend you.

Demonstrating Kerry's unwillingness to defend himself (if Bush can do that) is a far more tangible sign of what he's made of than wartime experiences of thirty years ago.

Hitting someone and not having them hit back hurts the morale of that person's supporters, buoys the confidence of your own backers (particularly if many tend toward an authoritarian mindset) and tends to make the person who's receiving the hits into an object of contempt (even if also possibly also one of sympathy) in the eyes of the uncommitted.
Pretty clearly, this debacle today was a result of this line from President Obama the other night at the fundraiser:
And because we've inherited an economic mess and a fiscal mess — (laughter) — this budget makes the tough choices necessary to cut the deficit by the end of my first term in half — even under the most pessimistic estimates. We've already proposed $2 trillion in deficit reduction over the next decade. We'll continue making these tough choices in the months and years ahead as our economy recovers.

And to a bunch of the critics out there, I've already said, show me your budget. (Laughter.) Show me what you want to do. (Applause.) And I'm happy to have that debate — because I believe in the vision of the Democratic Party. (Applause.) I believe in a vision that helps people help themselves. And I believe that in the end, the best way to bring down our deficit is not with a budget that continues the very same policies that led to the false prosperity and massive debts that we've seen. It's a budget that leads to broad economic growth, moves us from an era of borrow and spend to save and invest.
So when GOP operatives are running around telling the Politico "We need to hold something up and say, 'Here are our charts. Here are our graphs. It's real," the reason they 'need' to just throw out something, anything, is because they know they got bitch-slapped. And rather than just lay low and wait a week and come out with an actual budget, they couldn't, because they are operating at a level of emotional maturity equal to a 12 year old.
And that is why they went out and made fools of themselves today, even when they don't even agree internally on the budget they claim to be putting together.
*** Update ***
The kids at Fark are having fun with the Republican "budget":