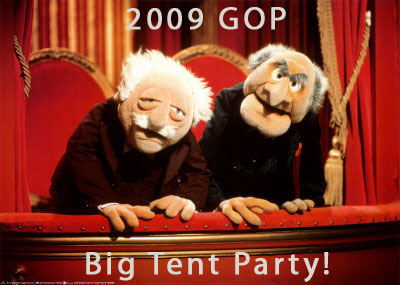 Via email, this meltdown just keeps getting better and better:
Gov. Jon Huntsman Jr.'s appearance at a Michigan county Republican Party event was scrapped this week after the county chairwoman said that hosting the moderate Utah governor would mean abandoning the party's conservative principles.

Kent County Republican Party Chairwoman Joanne Voorhees abruptly canceled the party fundraiser scheduled for Saturday.

"The voters want and expect us to stand on principle and return to our roots. Unfortunately, by holding an event with Governor Huntsman, we would be doing the exact opposite," Voorhees wrote in an e-mail quoted in The Grand Rapids Press.

Voorhees did not specify which issues she felt were contrary to the party's principles and did not return messages left at the party headquarters and on her cell phone.

The group Campaign for Michigan Families praised the cancellation, attributing it to Huntsman's support of civil unions, and urged the Oakland and Kalamazoo county parties, where Huntsman is also scheduled to speak this weekend, to do the same.
Jon Huntsman, you all will recall, is the Governor of Utah, and he has an 82% 84% approval rating as Governor and is a very viable way forward for the current GOP. Say it again. He supports civil unions and has an 80+% approval rating. In Utah. He is conservative on almost every issue, but because he supports civil unions, he isn't pure enough for the current GOP. A telegenic, authentic outsider who isn't batshit insane. You would think the Republicans would be running to him.
This is the big problem for Republicans. Almost the entire party apparatus at the state level has been taken over by a bunch of lunatics, and few people outside of Georgia and Texas can win a state primary and then go on to win a statewide election. The reason Specter switched yesterday was because the dwindling band of sociopaths who still call themselves Republican in Pennsylvania are so detached from reality, so far removed from the mainstream, and so convinced of the utter infallibility of their own bizarre brand of "conservatism," that someone like Jon Huntsman or Arlen Specter, who deviated slightly on a few issues here and there, just isn't pure enough for them. This is the essence of wingnut, the kind of guy Larison was talking about yesterday:
That said, we should not simply dismiss Huston out of hand. He and those like him are the political equivalent of Darwin's discoveries on the Galapagos: strange, unusual creatures cut off from the rest of the world that deserve to be studied and understood as the weird evolutionary offshoots that they are. It is rare to find people who seem genuinely unaware that Cheney is deeply unpopular and also implicated in atrocious crimes, and rarer still to find people who know this and still think it wise to have him making the rounds on television serving as a leading Republican spokesman. Some might say that Huston is simply a pitiable product of the conservative cocoon, but I say that he can offer us evidence for the strange mutant varieties of conservatism that have developed in isolation from reality.
The only people left in the Republican party are crazier than an outhouse rat and have teabags hanging from their hunting cap. They are the people who feverishly emailed each other stories about Obama's birth certificate, and who are convinced that joking about Obama's teleprompter and making impassioned speeches about earmark reform are the only route to electoral recovery. They think Michelle Bachman is on to something and the Colbert Report is truth.
This is only going to get worse.