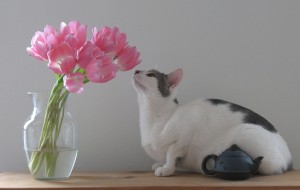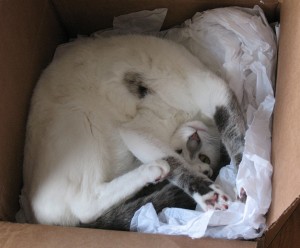 The story:
Here are a few pics of my cat, Chompers. My partner and I adopted her a little over a year ago from Pets in Need, a small rescue group in eastern Massachusetts. She was 5 months old when we got her; she's now a year and a half. My partner and I frequently remark that getting her was the best thing we've ever done. She wakes me up in the morning by rubbing her face against mine or walking all over me. In the winter, if we're sitting on the couch under a blanket, she likes to climb under it and onto our laps, or huddle on top of our feet. Every once in a while, she gets a crazy look in her eyes and suddenly streaks across the apartment at full speed. This occasionally ends with her slamming headfirst into a wall, but this does not appear to faze her.

Here, also, is a link to a series of pictures in which Chompers picks a fight with, and loses to, an empty tissue box.

I also want to plug Southwest Collie Rescue. My stepmother, Lee More, helps run it, and it is really a stand-up organization. They take in any collie, no matter how old or how sick, and make sure they get great care and loving homes. They go to great lengths to make sure that every placement is right for dog and owner.
Consider this an open thread