Gallup has some interesting numbers on how age affects perceptions of Obama.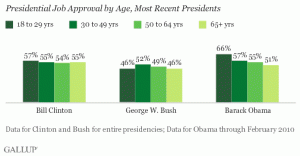 The variation in Obama's job approval ratings by age stands in contrast to the rather limited variation in approval ratings by age for his two immediate predecessors.
I'm an Obot and I think some of it is that young people especially like him. But I've got to believe that most of it is that younger people are frightened by the Republican party. Does stuff like this seem like it would work with young people:?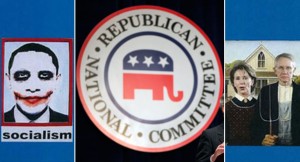 You'd have to be an idiot or a Sully slave to believe that Republicans aren't better at controlling mass media. From everything I've heard, though, younger people don't watch cable news or buy hard copies of anything, so they're not the target audience for old-form mass media (tv, print mediaa, etc.).
I realize I've touched on this before, but increasingly I wonder if this is some of what's at the heart of this strange disconnect, where mass media recites Republican talking points regardless of who is in office. Are younger people more Democratic because they're not being propagandized by mass media? Does mass media take a right-wing line because its audience is older and more conservative? Or do Republicans just know how to manipulate old media the same way they know how to manipulate older people (and don't know how to manipulate today's young people)?
Maybe I'm wrong to see all of this in terms of Republicans. Maybe it has to do with Democratic messaging. But since Democrats have no coordinated message, I'm not sure how that could be.