I miss the Olympics. Not the "sports" part, because I don't know from sports, but all the political news recently has been of the Giant Sucking Hell-Vortex variety, so I miss the novelty-pictures aspect of the Olympics. Stuff like this, as "borrowed" from Go Fug Yourself: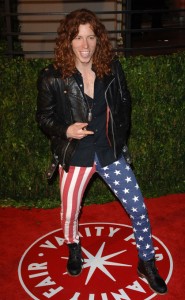 I might need him to tone it down a notch or three. Do I wish I had his hair? Yes. Did I need to see down to his sternum? Not really. Am I concerned he thinks he's a cross between Uncle Sam, and Steven Tyler? Extremely. Although I guess those guys get more than their fair share of booty — I mean, come on, Uncle Sam's whole shtick is "I Want YOU" — so I guess Shaun has chosen his nookie idols wisely. Still, at the very least, I think wrapping one's junk in these pants could count as desecrating the flag.
(Go Fug Yourself is always a nice little pick-me-up when one needs confirmation that even people with unlimited money and access to the finest professional stylists can't always avoid the Hot Mess arena.)
And this clip is not from the Olympics per se, but… their loss:

*******
Finally, a question for those who do know from sports: Nomar Garciaparra, sweet sentimentalist or stupid posturing narcissist? The reaction in the Boston area seems to be evenly split, so far.