On Monday, Israeli ships stopped a flotilla carrying materials that could be used for war, including cement that Israel maintained could be used to build bunkers, to Hamas-ruled Gaza. The crew of one boat resisted violently, triggering a firefight in which nine people were killed, most of them Turkish nationals.
Cement! It is far worse than I thought! You all were probably worried about countries or terrorist groups getting nukes, but apparently there are nefarious uses for cement! That stuff is all over the place- I look outside and I see it everywhere. My porch is itself a Quran away from waging an insurgency on my pansies. Should I call homeland security?
That's reasonable conservative David Frum, author of the axis of evil phrase, who apparently is dumb enough to write stuff like this for CNN, but not quite wingnutty enough to get a gig at the Washington Post.
(via)
*** Update ***
Via Sullivan, a graphic of banned and permitted items: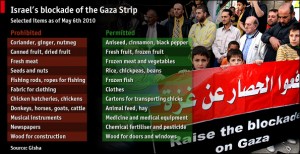 Click to embiggen, but for those too lazy, ginger and nutmeg are jihadist and banned, nutmeg cinnamon and pepper are allowed. Someone attempt to make sense of that list in any way.
*** Update #2 ***
As some of you have pointed out- how obvious. Anything that would allow them to make things, farm, or subsist on their own is banned. Anything that can be imported into Gaza for consumption only, leaving them wholly dependent is allowed. This isn't about stopping weapons in the least.