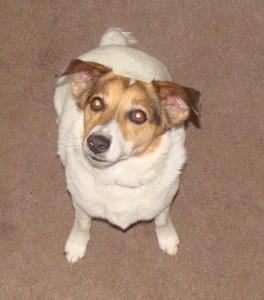 It is becoming abundantly clear why Rosie was dumped- she has some serious behavioral issues that I am going to have to work through. She is a perfect little angel with Lily and with Tunch. They all share the bed, my lap, their food, their water, are good on the leash at the same time, etc. She and Tunch sniff each other but are otherwise disinterested, which I think is a good thing (still keeping Tunch's safe room, though). And she is fine out in public, loves being pet and greeted by people, has no issues with other dogs, etc. She also has no food aggression issues. I can pick up her bowl when I think she has had enough and she is perfectly fine with it.
She does, however, have two big problems- separation anxiety, and she is overly protective of me. If I so much as close the bathroom door, she starts whining and crying. At my parents house, I went inside while she was outside with the other dogs, and when she realized that I was no longer there, she ran inside and went from room to room frantically until she found me. I have no idea how much of this has to do with being dumped in the woods, but I would like to try to handle this as soon as possible.
The second issue she has is that she is extremely protective of me when I am sitting down and she is near me. If she is sitting next to me or on my lap, and someone comes near me or her, she bares her teeth and snarls and growls and sounds horrid. It is really quite frightful and awful. She also seems to be more distrustful of women than men. This is the only time she behaves like that- when we are sitting down.
She has not snapped or bitten anyone, instead just snarling and growling and looking ferocious, but this needs to be dealt with ASAP. So… What do I do?