DougJ has already weighed in on David Frum's request for a new definition of conservatism, but I have another suggestion:
A party whose candidates who aren't afraid of marching in a gay pride parade.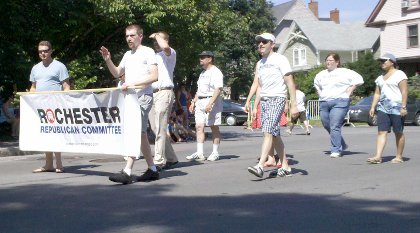 This was the sole representation of the Grand Old Party at yesterday's Rochester Pride. There were a number of Democratic candidates, as well as a few non-partisan (judicial) candidates, but not a single Republican. Frum can blather all he wants about a "culturally modern" and "socially inclusive" party, but until his party's candidates aren't afraid to show their faces at a minority gathering, he's just pissing on our shoes and telling us that its raining.