Short answer: When I think about the GOP retaking Congress I get cold sweats and flashbacks of 2000-2008. Ditto that for the prospect of say, Newt Gingrich sitting in The Oval Office. The only Republicans who are at all honest – like Gary Johnson who has really good civil liberties bona fides – would A) never win and B) are really way too economically conservative for me. So yeah, Republicans taking back Congress in a couple months is just bad news as far as I'm concerned.
This graph, for instance, really frightens me: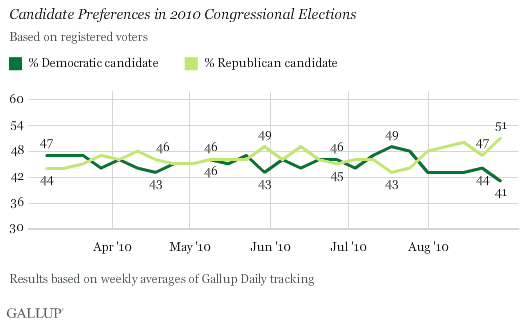 I'm really flabbergasted by the lack of enthusiasm on the part of Democrats. It's not so much that the Democrats are offering anything particularly exciting to the voters (though they have passed a few major pieces of legislation, you know!) but that the alternative just seems so unabashedly awful…can't Democrats at least mobilize opposition to the opposition?
Okay so that's the short answer.
Long answer after the fold…
It's certainly been a change of pace and perspective for me to blog here at Balloon Juice, and one I'm profoundly grateful to John for. I've been drifting leftward for quite a while now (from dissident conservative to fed-up libertarian to, more recently, pro-market liberal with libertarian and especially civil libertarian streaks) – so drifting leftward, but on uncertain feet. And one weakness of my blogging style and perhaps of the habits I've gotten into blogging at The League of Ordinary Gentlemen, is that I've been able to walk this particular ideological tightrope past the point of its usefulness. The 'pox on both your houses' style really is sort of annoying after a while even if it is unintentional and even if it is due to honest doubt rather than an attempt to please everyone. Certainly it's nothing to build one's political philosophy upon. And quite frankly, the pushback I've gotten in the comments about having it both ways is fair, and it's gotten me thinking – a lot – about picking a side. How you frame your argument and who you frame it for matters. Picking sides matters.
So I will. I no longer have any desire to be considered a conservative – and no longer consider myself one (I do have a somewhat anti-modernist streak, for instance, which I blame on all the fantasy literature I read as a child but which is more a sort of romanticism than anything very political. I recall as a child being quite depressed by the thought that no matter how far I walked in any direction from my home I would inevitably come up against a paved road. How this translates into right vs. left is another matter though it does make me a strong supporter of localism and buying locally and so forth.)
I'll vote Democrat this fall and I'll almost certainly vote Democrat in 2012. If I'd been a Senator last year I would have voted for the HCR bill. The Democratic Party has its flaws but at least it cares about governance, at least Democrats try to make the world a less harsh, more egalitarian place even when sometimes their policies backfire or are simply wrong to begin with. And liberalism generally is just more serious an endeavor than conservatism is. More wonky, more beholden to, you know, data and facts.
I have always voted Democrat in any case, even as a self-described conservative, and remain pro-gay-marriage, anti-war, anti-torture, and against the drug war, against the security state, against crony capitalism. It's not my politics so much that have undergone a change lately (though they have as well), but my thoughts on who I should and should not align myself with, and why this is important
Conservative politics don't even lend themselves all that well to conservative ends to begin with.
For instance, I'd say the generous maternity leave in Sweden or Germany is far more in line with a belief in the importance of family than our lack of any policy to that effect. If being pro-family is conservative then I guess I'm conservative in that way – but I think 'family' should include committed gay couples. If wanting a stable fiscal future is conservative, then again I suppose that describes me. But we can't simply cut spending down to the marrow to achieve this, nor should we. Slashing taxes at all costs is not fiscally conservative. Raising them is much more so – and conservatives are by and large too irresponsible to even countenance this. Only a very few are considering cutting defense spending to help balance the budget. And indeed, there are a very few very smart, honest, hopeful thinkers on the right who I admire a great deal but they are only a very few. And not movers and shakers in any case. On the libertarian front – or the liberal-tarian front at least – I see much more hope.
I also share a good deal more cultural affinity with the left, broadly speaking, than with the right and my cultural politics have always reflected this. I watch Colbert and the Daily Show and almost never turn the channel to Fox News. I listen to NPR. I hang out mostly with liberals. I have very liberal views on most social issues. I still believe in the importance of decentralized power structures, checks and balances, and in not placing too much faith in the state – but again, these are positions that are perfectly acceptable on the left in ways that my belief in gay marriage or higher taxes or non-interventionist foreign policy are simply not acceptable on the right.
Furthermore, while I think there's a great deal of merit to competition (one reason I really liked Ron Wyden's healthcare plan!), free markets, economic liberalism and so forth I find the fetishization of low taxes among the right and among many American libertarians more than a bit silly. I favor investment in public health, public transit and infrastructure, and in the welfare system generally rather than some vague bare-boned state. Sure, there's problems with all sorts of government programs, with some public sector unions, etc. but at least liberals seem open to tackling these problems. At least within the big tent of liberalism there is room to disagree.
I've noted before that I don't think free markets are sustainable without a broad and sturdy welfare state to support them. Theoretically, sure – anything is possible – but the fact is markets fail and must fail to be effective as a system, and very real people pay the price – not because they are lazy, or because they are lacking enough rugged individualism, but because life can be hard, and it is much harder for those people who lack strong family or community support. Ultimately, the highest price is paid by those who can afford it least. We need to craft a society where that price is not so high – and I think we can use markets and the welfare state to achieve this, much as they have done in northern Europe (though undoubtedly our version will be unique and we can, on the way, learn from their mistakes). I don't see many conservatives taking these questions seriously, and even the most progressive-minded conservatives out there, I fear, are placing their hopes in the wrong coalition.
I don't feel at home in that coalition, personally, and it's high time to bid it adieu.