Long time since a Tunch pic, so here is one for you: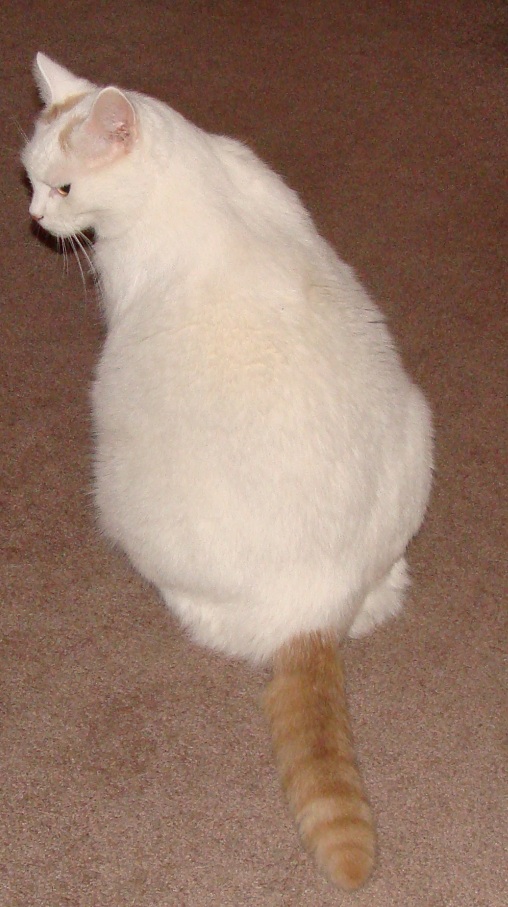 While it looks like he is just sitting there posing, there is actually a method to this position. He is sitting behind me as I sit at the computer, with his back to me, bitching up a storm for some vittles. He knows that eventually I will relent, and then, as soon as I make a move, he can bolt towards the bowl.
He's fat, but he's not slow when it comes to food.
*** Update ***
Completely unrelated, but I have to say, I am really, really loving the (GRATUITOUS AMAZON LINK) Viking knives
. After Tammy and Brian bought the 8″ chef knife as a house-warming gift, I picked up the 6″ chef, the paring knife, and the 8″ slicing knife, and I just love them. They are weighty and just feel good in the hand, keep an edge very well, and after years of looking for the right knife set, these are the ones. If you like light knifes, though, these are not the ones for you. I don't know how to describe it, but I cut with my shoulder, and with the weight and handle of these things, with my thumb and forefinger gripping the blade, I can get in a smooth, comfortable rhythm when doing my prep work. I've had no professional training, so I may just be doing it all wrong, but they work for me.
The only downfall is that they are expensive as hell, but other than maybe a boning knife, I don't see myself needing anything else. If I had just bought these few knives years ago, I would have saved a lot of money in the long run. Actually, I've come to realize that all those knife sets are just a total waste of money altogether. No one needs 15 different varieties of knife. Hell- 99% of us would be fine with a chef's knife and a paring knife.
Also, don't forget Wasted Hippie tonight at 9 central!