Joe Romm responds at great length to my post on global warming vs. healthcare reform. I think we're running into a simple disagreement of priority here. Romm is obviously very concerned with climate change. It is his specialty and his focus on the subject makes him more concerned with climate change legislation than with healthcare reform. That's fine, we're all entitled to our priorities.
I'm not going to go into great length countering each and every one of Romm's points. Suffice to say, he – like many commenters here – sees the risk of not tackling climate change as a very real, clear and present danger. He has a great deal of scientific data which shows the possible effects of climate change now and in the future and it's pretty scary stuff. I completely agree that something should be done, must be done. He also says that he never said healthcare reform shouldn't be done at all. Likewise, I never said climate change legislation should never be done at all. We both were arguing over which should take priority. Romm seems to have twisted my argument in such a way as to imply that I don't favor any action at all on climate change. On the contrary, I favor a carbon tax.
However, I don't think climate change legislation was possible as the first priority and I think tackling it would have almost certainly killed healthcare reform as well. I think it can be done as a second-term, hopefully post-recession piece of legislation and it can be done through the reconciliation process, but not until there's enough Democrats on board to get 51 votes in the Senate, and I don't think there are in an election year.
In any case, I think this is something that can still be done. We should scrap cap and trade and push for a carbon tax. Since it's too late now to do it in 2010, we'll probably need to wait until Obama's second turn when, I presume, the Democrats will take back the House. That's just a wild guess, of course, but I figure the Republicans will only damage their own brand once they're in control and the Democrats will come back swinging in 2012. So in 2013 I can see a comprehensive climate bill going through.
My point on people with large carbon footprints 'not doing too bad' was somewhat glib, but was used to point out that the people most responsible for global warming are also the least likely to support doing anything about it. This was used to illustrate the difficulty Obama would have faced pushing that bill. As some commenters pointed out in the original thread, if you thought the health bill was hard to push through, the climate change bill would have been much, much worse.
Beyond this, I think the rhetorical flare of Romm's response is a little overwrought. This, for instance, seems a bit much:
The Ponzi scheme is going to crash unless we act now, which, apparently we're not going to unless the anti-science, pro-pollution conservatives, and team Obama, and the status quo media wake up soon. The painful reality of what unrestricted greenhouse gas emissions mean is slowly dawning on countries like Australia and Russia, and in a few decades, every major country will be slammed with what used to be once-in-a-1,000-year droughts and floods and heat waves on a regular basis — and everybody will understand that we should have acted long ago when it was infinitely cheaper to do so and might have averted multiple catastrophes.

Again, Obama's legacy — and indeed the legacy of all 21st century presidents, starting with George W. Bush — will be determined primarily by whether we avert catastrophic climate change. If not, then Obama — and all of us — will be seen as a failure, and rightfully so.

There would be no other way to judge all of us if we (and the rest of the world) stay on our current greenhouse gas emissions path, which risks warming most of the inland United States by nine degrees or more by century's end and which could lead to sea levels 3 to 6 feet higher (rising perhaps a foot or more a decade after that), cause the Southwest — from Kansas to California — to become a permanent dust bowl, and transform much of the ocean into a hot, acidic dead zone (see "An introduction to global warming impacts: Hell and High Water ").

By the end of the third decade of this century, all of American life — politics, international relations, our homes, our jobs, our industries, the kind of cars we drive — will be forever transformed by the climate and energy challenge.
But I probably think that because I'm more concerned with things like healthcare reform than climate change. Perhaps I just haven't devoted enough time to reading the literature and data that Romm has but have witnessed the effects of poor access to healthcare firsthand. Either way, I think Romm is wildly misunderstanding the political feasibility of tackling climate change in a meaningful way during a recession in Obama's first term. Whether or not his description of the world in twenty to thirty years is correct, I'm simply not sure. I hope he's wrong, and I certainly hope we can do things to avoid these predictions, but I'm also fairly certain that this issue will become more politically possible in the future when climate change becomes more tangible. Most people today do not see or feel or understand the impact of climate change. I don't say that to write off efforts to curb global warming, but rather to point out that Romm is in the minority when it comes to passion over climate change, even if many Americans do support some vague action to help stop it. Romm responds to this by saying,
Even if that were true, that's exactly why the so-called intelligentsia is supposed to take the time to educate themselves on matters of such grave importance so they can help inform the public. If you never spell out precisely what will happen if we stay anywhere near our current path of unrestricted emissions, then obviously for many people, what will happen will remain vague and abstract — at least until you get smacked in the head like the citizens of Russia or Australia.
Fine, the intelligentsia should do this. This does not change the fact that a climate change bill was nearly impossible at this moment in history, in this particular political climate during the worst recession we've seen in decades.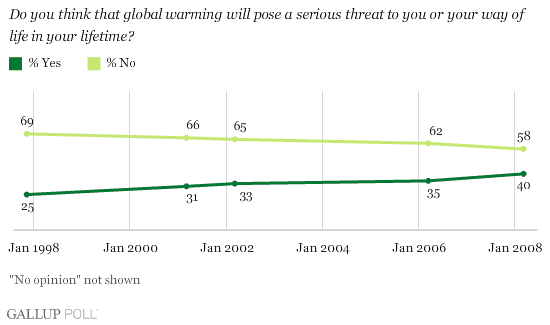 As the poll above shows, people are changing their minds on climate change, but we're still a long ways off from a major consensus and this is reflected in the composition of the House and Senate.
This will likely change, but until then I don't think there's the political will here that Romm apparently thinks exists. And without the political will, all the hoping and wishing we can muster won't change a thing.