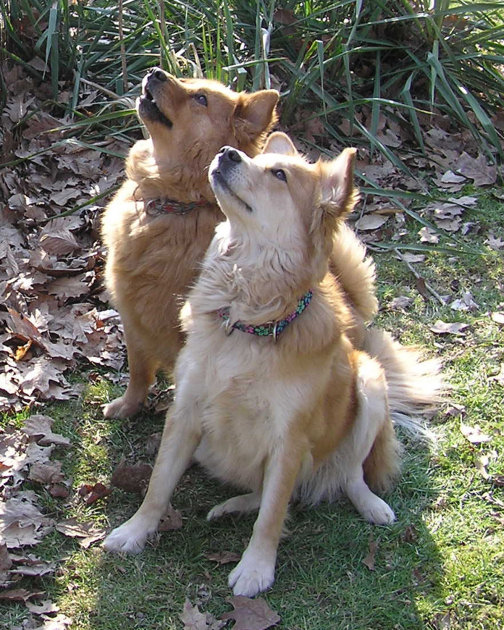 From commentor Jackie:
Here are Chamois (the golden colored mutt) and Yoki (the red, half Chow) barking at what they believe is a critter they have treed. Our third dog, Seven, was also present. The event involved much barking over a long period of time. The pity of it is, they were barking at the transformer on the electric pole in front of our house.
__
Okay, so they aren't the brightest bunch, but they are sweetest. I live in a rural area where people tend to dump dogs. Seven ran in front of my car on a country road. I stopped and through a long process that involved enticing him with crackers, I was able to scoop him up and put him in the car. He's a big, loving, doofus mutt. Sadly now he is suffering many ravages of old age, but he's still first in line when the biscuits are dispensed.
__
A year or so later, we went to the county dog shelter where I spotted Yoki. She only had a couple more days before euthanasia, in part because the shelter staff warned everyone to be aware of Chows because they are aggressive. My husband was pumping for us to get a Lab or Lab mix, but I could not get this waggedy red dog "on death row" out of my mind. I prevailed, and now my husband will admit that Yoki is his favorite of the pack.
__
Chamois also came from a shelter called Circle Tail that does some amazing work placing dogs with people with disabilities. Chamois didn't have the right stuff to be an assistance dog, but is a wonderful family dog. Both Yoki and Chamois, like Seven, had been found running loose in the countryside.
__
So there you have it. I would never pay for a dog when so many wonderful dogs can be had on the cheap. Rescues are the best.