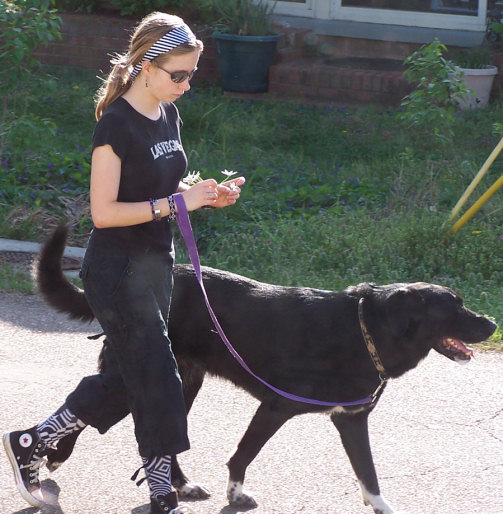 From commentor Montysano:
Back in 2003 or so, we were momentarily without a pet. My wife, however, had been visiting the shelters, and so one day I came home from work to find a 110 lb. Lab/Dane (or Lab/Newfie, or all three?) mix at our home. She was 2-3 years old, jet black, with a whiteblaze on her chest and white socks, so we named her Blaize. My wife said that the moment Blaize looked in her eyes at the shelter, it was all over, and indeed it was hard to believe that such a magnificent creature had been abandoned.
__
Blaize was a regal animal who loved everyone (except squirrels, who vexed her), but she loved our daughter above all others and usually waited at Anna's door in the mornings. On weekends when Anna slept later, Blaize was genuinely concerned as to the whereabouts of her favorite person. When we took Blaize out in public, everyone wanted to love on her, and she was fine with that.
__
Her only quirk was that, if any door was left unlatched, she would bolt and go for a run, loping down the street at 20 mph, grinning
back at us while we chased her.
__
Well, not her only quirk. I wish I had better photos of her, but aiming a camera lens at her, no matter how surreptitiously, sent her
into hiding. Go figure.
__
On Tuesday, she was frolicking like a puppy. On Wednesday, she seemed to not feel well. On Thursday morning, she was having troublewalking, so I took her to the vet. "Probably arthritis, bring her in tomorrow and we'll check her out." By that afternoon, she was down and could not move her hind quarters, so we took her back to the vet. By this morning, there was no change and she was obviously in distress. We knew we'd arrived at that crossroads that all pet owners dread.
__
When I was growing up in Indiana, we raised and sold registered Beagles, so I've been around dogs all my life. Blaize was in a class by herself: soulful, majestic, and….. proud, I think, is the right word.
__
So long, old girl. Journey well. Thanks.