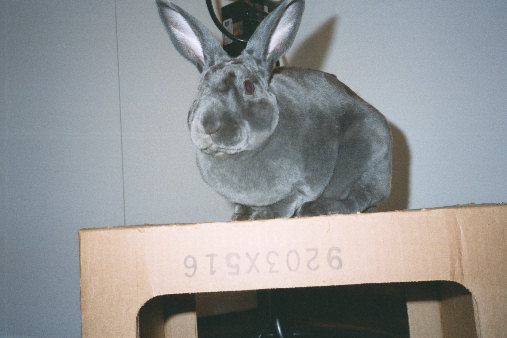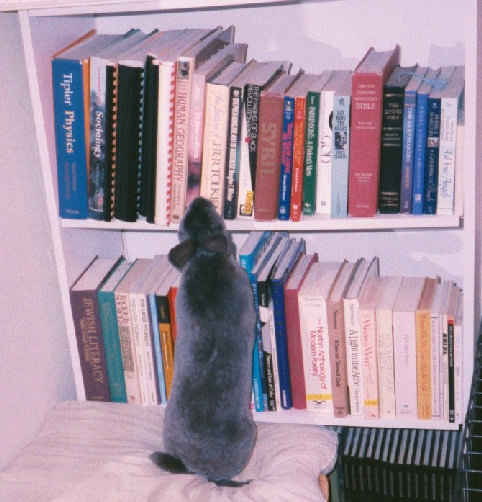 From commentor JasonF:
This morning, my wife and I had to say goodbye to our rabbit, William. I wanted to write something about him, but I'm finding it very difficult to put into words just how special he was…
____
We first met William in February 1999. Our pet rabbit (Pipkin) had just died unexpectedly and we were looking for another rabbit to fill the void. We were in a small apartment (I was still in school), so we were looking for a miniature breed. Pipkin's breed had been Rex, so I wanted some breed other than Rex. I called the House Rabbit Society of Chicago and told them we were looking to adopt, and that we were looking for a mini of some other breed than Rex. The woman I spoke to said she had the perfect rabbit for me — William, a standard sized Rex. I was skeptical, but we decided to drive out to where he was being fostered and meet him. Once we met him, we knew he was the right rabbit for us. I spent the next 12 years with him — a full third of my life — and never had a better pet.
__
William had been found abandoned in a snowbank; I'm proud to say that he never knew anything even close to that again once we took him home. Throughout his life, I tried to do everything I could to give him the best life a bunny could have.
__
William was full of personality. He loved to run around and be the center of attention. Whenever we would have guests, William would be sure to come into the room and demand everybody focus on him. He also loved to play. He liked to dig in a pile of laundry or the bed sheets, or to pick up a pair of shoes I had left on the ground and throw them around. And he was mischievous. You know that game kids play where they tap you on one side, then run around to your other side so you'll look the wrong way? He liked to play that — if you were sitting in a chair, there was a good chance he'd tap you on your leg with his nose, then run around to your other side.
__
William was smart. He was a big fan of Star Trek. He liked the original series, the Next Generation, Deep Space Nine, and all the other iterations, but he didn't really care about any other shows. I'll never know how he could tell the difference between Star Trek Enterprise and Stargate Atlantis or Babylon 5 or some other sci-fi show, but somehow he could. Put on a Star Trek and he'd sit by the TV watching it; put on some other series and he'd go about his business.
__
Mostly I remember how he was always there for us. Once my wife got very sick. Even though he never slept in the bed with us (the bed was a place for jumping and playing, not sleeping), on that day, he climbed into bed and sat with her until she fell asleep. Once he was sure she was asleep, he hopped down, used his litter box, and went back to his station on the bed, watching over her.
__
I don't know what happens when we leave this world, but I like to think there's a heaven, and that William is there, watching over us still.
__
By the way, if you turn to the March page of your Balloon Juice calendar, William is the rabbit on the left-hand side of the page.