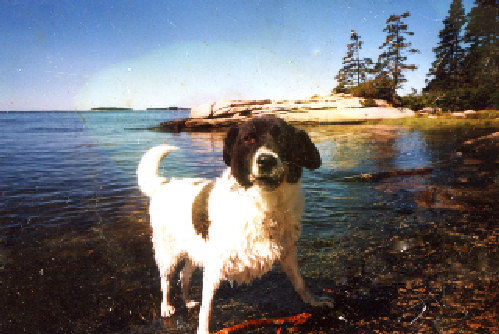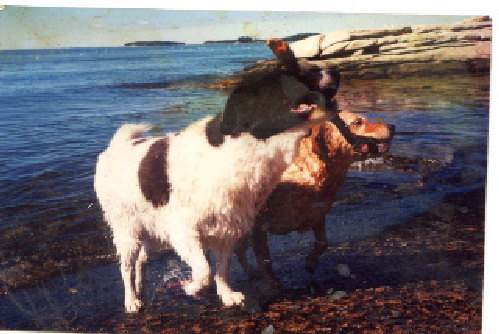 From commentor Josefina:
Rescue 1: I knew I shouldn't adopt a dog here in the city before I had time for it. So before I went freelance, I gave a lot of thought to my dog-related requirements: a medium-sized female, black so the shedding wouldn't show as much. Through a convoluted yet boring series of events, I ended up with the akita-Holstein mix you see here. He was a year or so old, found wandering in Central Park, wearing a bandana and no tags. I named him Jove. And truly, in his nectarine-sized brain, Jove was the dog among dogs, canine sublimity made flesh. Jove was not a fighter; he was all about pre-emptive arrogance, a lot of chin- thrusting and chest-bumping bluffoonery. That, and a selective blindness regarding any quadruped bigger than he was. (He once nearly broke his own neck, refusing to see a cow.) He gleefully rolled in stench and horror: rotting pigeons, fish, seals; shit from deer, cattle, humans. I never quite understood the phrase "egg-sucking dog" until I met Jove. Over a series of steps, he taught himself to open the fridge, haul out the egg carton, close the fridge, eat the eggs, and hide the carton. He was infuriating and useless and I loved him. I can still feel his ears, and that imperial plume of a tail, and his sigh when the big-sleep drug kicked in. That was January 2004.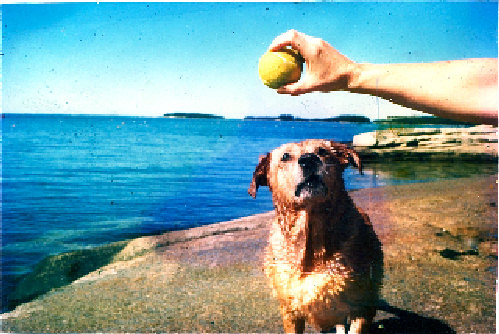 Rescue 2: I'd had Jove for almost three years and one evening a golden- retriever mix, maybe three months old, was dumped in the dog run. She tore around as if she'd been kept in a shoebox her whole life, wearing a chewed-up harness that she kept wriggling with like a girl wearing atoo-small bra. The run was about to close so I took her with me and started trying to find her a home. After four homes fell through, all for flukey reasons having nothing to do with her, I finally accepted that she was the second dog I never intended to have. I named her Blossom. (She's the one who actually paddled out to fetch the branch while Jove remained ashore, barking in an authoritative fashion until she brought it within chomping range.) She adored Jove but after he died, she would not tolerate another dog in her home; she'd scrambled aboard the lifeboat and pulled the ladder up after her. She really didn't have much use for dogs generally; she was all about the Thumbed Ones, who could not only rub her belly but also throw stuff for her to fetch—sticks, rocks, half-filled water bottles, stray lobster buoys, and most especially tennis balls. Blossom snootled out tennis balls in stored luggage, thorny hedges, sand dunes, bayou mud, three-foot snowdrifts, steaming mulch piles, house crawlspaces, apartment beyondreachspaces—any and everywhere a tennis ball existed to be snootled out. If tennis balls were twenties, I'd be running a hedge fund. Her ears were two shades darker than her coat and when she was walking she tucked them back against her neck so they looked like little birds. She was an infectiously happy creature and I loved her. She died in her sleep this past June.
__
Rescue 3: Me, of course. Without Jove and Blossom, my life would have been, would still be, so much duller and flatter. I'm looking forward to meeting the next dog the universe sends my way.