Evelyn at Charlies Angels passes along the following story:
Here is our newest rescue named Lady and her story and two pictures of her. We got her today from shelter and she has vet appointment on Wed, March 2nd for assessment on tumor on her stomach. She has been vaccinated and tested negative for heart worms. We expect her surgery to be quite expensive. We have a Chip In set up:

http://charliesangelsanimalrescue.chipin.com/lady-the-bassett

From CAAR volunteer who found her:

"We found Lady sitting in the middle of traffic on a busy highway near Rutherfordton, NC. She has a growth similar to one that Sally the Beagle had whom we rescued several months ago and is now doing fine.

She was wearing no collar, no chip, and checking with other vets in the area, they found no pet in their system matching her description.
Lady is super sweet, very friendly, unfailingly cheerful. Does well on a leash. LOVES to ride in the car!
Vet says she is about 5 years old, 47 pounds and seems healthy in every way except for this huge thing on her tummy. Lady seems totally unaware of it. She is just too busy making friends with one and all. Everybody who's met her loves her."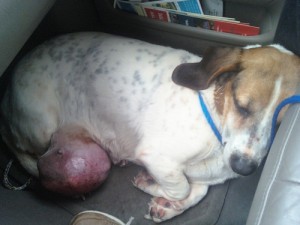 I can't believe people would dump their pet on the side of the road. I still can't understand it. It's also remarkable how much she looks like a certain piglet in the Cole household, who was also found on the side of the road.
And don't forget- anything you buy from the Balloon Juice store helps these wonderful people take care of these animals.