So basically, some wingnut attended a Bill Ayers presentation at Montclair State University and filmed it, and at the end, asked Ayers about Obama's book. Ayers either knew the guy or knew what he was digging at, smirked, and told him that yes, he wrote Obama's memoir, and he would like some of the royalties. This has had the predictable reaction from the wingnut right: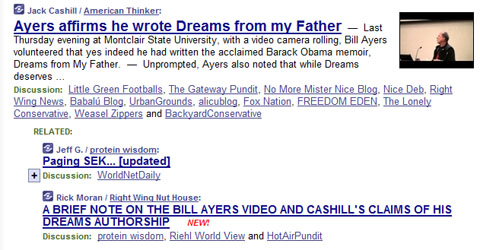 If you are like me and have come to grips with who you are and realize that you simply can not avoid gawking, I highly recommend you go to memeorandum and check out some of the links. It is teh AWESOME, especially the comments at some of the sites.
It seriously is like David Lynch was asked to re-imagine the train wreck in The Greatest Show on Earth, and it really resembles a clown car pileup while on acid. Strewn across the littered, smoking landscape are disemboweled rubber chickens, deflated whoopie cushions, crushed toy cars smeared with old cotton candy and dingy clown white makeup, all the while some circus geeks run around using Harpo clown horns and screaming about textual analysis. It's so much awesome I can barely control myself.