Time to torture you all with pictures of my dog.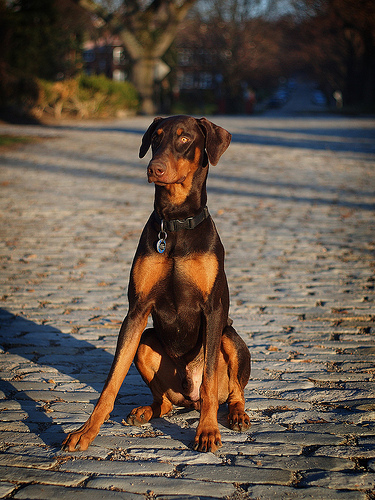 I stalked that spot for weeks before I got there at the right time, with the right light, with Max in the mood to sit for a treat.
Bleg time! Max has always grabbed the scruff of some other dogs to try to get them to play with him. He has never hurt a dog yet but it makes some owners uncomfortable (understandably) and it often pisses off the dog. He is especially bad with yellow labs, though, to be fair, I notice that for whatever reason yellow labs are often the chew toy at dog parks. Max doesn't hump or do any other aggressive dominance display, in fact other than the scruff thing his favorite game is to roll on his back and shuffle under the other dog's front legs to try to get it to jump on him. It seems like Max just loves to tussle and get jumped on.
I know how to correct most of his issues; in fact, other than being a pain in the ass teenager who fights the leash when he doesn't want to go home he has grown into just about the perfect dog. However, the scruff thing is a stumper. I don't want to overcorrect it and make him afraid to play with dogs in general. I also don't want to wait until he provokes a fight and gets his marshmallow ass kicked. I have an electric collar that I have used all of three times (at setting "1") to correct recall issues when we are off leash, but I don't know whether that would be a good idea in this case.
Ideas?