Was checking out Sullivan's new digs at Tina Brown's expat wankathon, and came across this appraisal of the Ryan budget "plan":
The president's walking away from the deficit commission he set up was, to my mind, one of those moments when his caution was not about the substance of the issue but the politics. He knows we need to cut entitlements and defense or face fiscal collapse. And yet he has allowed Paul Ryan to move into the vacuum Obama created on the most important domestic issue of the day.

Ryan's proposal, whatever you think of it, is serious. His proposal for Medicare looks to me like an extension of the Romney/Obama healthcare exchanges. His proposal for Medicaid – block grants to the states – will inevitably cut down on sky-rocketing healthcare spending. His tax reform is straight out of Bowles-Simpson.

Alas, his op-ed is needlessly partisan in its initial lashing out at Obama. That's not the way to start a real dialogue, which is what we desperately need.

But the good news is that we finally have a political party being honest about what it takes to avoid falling off a fiscal cliff. It means sacrifice. And my objection to the Ryan plan really comes down to the injustice of imposing major sacrifices for the poor and elderly, while exempting the wealthy from any sacrifice at all.
It's serious! Massive tax cuts for the rich, throwing the elderly and the poor under the bus, and it makes things worse than if the Republicans just did nothing:
In addition to acknowledging that seniors, disabled and elderly people would be hit with much higher out-of-pocket health care costs, the CBO finds that by the end of the 10-year budget window, public debt will actually be higher than it would be if the GOP just did nothing.

Under the so-called "extended baseline scenario" — a.k.a. projections based on current law — debt held by the public will grow to 67 percent of GDP by 2022. Under the GOP plan, public debt would reach 70 percent of GDP in the same window.

In other words, the spending cuts Republicans would realize in the first 10 years would be outpaced by deficit increasing tax-cuts, which Ryan also proposes. After that, debt projections under the plan improve decade-by-decade relative to current law. That's because 2022 would mark the beginning of the Medicare privatization plan. That's when, CBO finds, "most elderly people would pay more for their health care than they would pay under the current Medicare system."

If the current Medicare system were allowed to continue, CBO found that an average 65-year-old beneficiary's costs would be only 25 percent of what it'd be in the individual private insurance market. Under the GOP plan, those costs would jump to 68 percent.
So basically, they are slashing taxes for the rich and trashing revenues, and in a decade or so, then the cuts will come, and they will all be at the expense of senior citizens. But it has numbers in it, so it is SERIOUS, Sullivan says.
Anyone who thinks this proposal is serious needs their damned head examined. This is little more than class warfare on a massive scale. And the best part is that a while back, Sully absolutely got the vapors over this quote from Alan Grayson: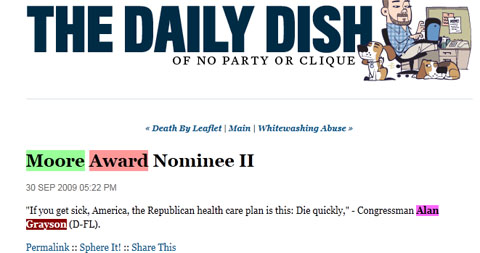 Guess what, Andrew. Paul Ryan just released his very "serious" plan with massive tax cuts, huge cuts to medicare and medicaid, a repeal of the ACA with no replacement (throwing 30 million off insurance), and putting in place a system that will cost the most vulnerable more, do nothing to stem the cost of medical care, and still does nothing to help our long term financial condition. We've now seen the GOP plan, and Alan Grayson nailed it a couple years back. "Die quickly" is the Republican position.
I'm honestly starting to think that anything that has numbers that Sullivan can look at (he need not read them or understand them, they just have to be there) qualifies as "serious." It doesn't matter if those numbers came from the Heritage foundation, the same folks who told you the Bush tax cuts would bring on a decade of prosperity. When they released that ridiculous budget on April Fools in 2009, Sullivan didn't fall for it, because it had no numbers. This time, though, Ryan has lots of numbers, even if they don't add up, are ridiculous, and would destroy the lives of millions of people, but the numbers are there, so it is "serious.:
Christ on a crutch. Tell you what, Andrew- you can have Ryan's plan. Can you get me NHS coverage?
And could someone rewrite the lyrics to Prince's "Delirious" to "So Serious" for me?