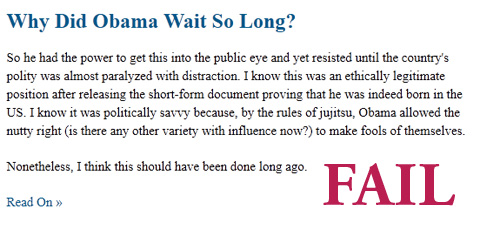 Why, oh why, didn't he release the long form long ago? It could have stopped all this:
Texas state legislator Leo Berman, a Republican, has introduced a bill that would require proof of citizenship from presidential candidates. It's one of many such bills in the states. And according to Sharon Guthrie, Berman's legislative director, the legislation is still needed and the long-form birth certificate released by the White House today does not satisfy its requirements.

"What I've seen online, what they produced today, still says certificate of live birth across the top," she told me. And she's right.

But why isn't that just a nomenclature issue? Why does it matter?

"We want to see a 'birth certificate,'" Guthrie explained. "The one that we have that says 'birth certificate' is from Mombassa, Kenya, with his footprint on it. He has still not produced an American birth certificate.
But now that Obama has released his birth certificate, World Net Daily has decided it's not sufficient, even if they decide the long-form birth certificate is totally authentic. Here's Joseph Farah:

We look forward to reviewing it like so many other Americans do at this late date. But it is important to remember there are still dozens of other questions concerning this question of eligibility that need to be resolved to assure what has become a very skeptical public concerning Barack Obama's parentage, his adoption, his citizenship status throughout his life and why he continues to cultivate a culture of secrecy around his life.

Farah is also not willing to concede that the long-form birth certificate is genuine. He writes: "The news media and the political establishment were quick to rush to judgment regarding Obama's eligibility in 2008, without any basis. It would be a big mistake for everyone to jump to a conclusion now based on the release of this document, which raises as many questions than it answers."
Wait, what? Nothing is going to be good enough for these people, and this just proves how wrong Sullivan is to assert that Obama waited too long to produce something that was unnecessary. You can't play "rope-a-dope" with people who question the existence of the rope, the dope, and the ring.
And Trump continues to step up his racist smear campaign:
TRUMP: If you look at what he's doing in Libya, which is a total disaster. Nobody even knows what's going on in Libya. If you look at what's happening with gasoline prices where he said he has no control over prices, which he does if he gets on the phone or gets off his basketball court or whatever he is doing at the time.
Strapping young bucks buying steaks and playing hoops. Is it possible that Donald Trump will be the one to finally drop the N-bomb and end all this pussyfooting around?