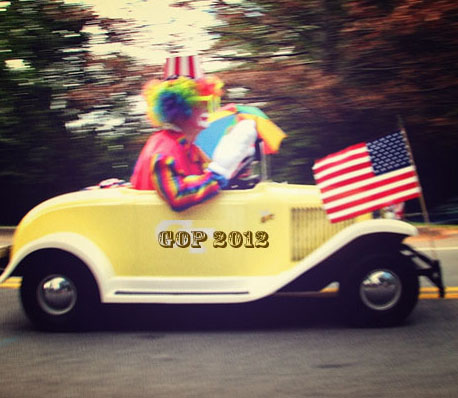 I feel like I am breaking some sort of rule by not blogging the CNN shitshow fail parade from whatever 200 person samizdat in New Hampshire that is hosting the clown car pileup tonight, but I gotta tell you, my heart is just not in it yet. I tried, I really did. I had a glass of wine, Lily on the lap, Rosie was chewing her everlasting toy, and I turned it on and about 12 seconds of Bachmann's crazy eyes telling me that the tea party is mainly Democrats and that was it- I was out of there. I switched and watched the hockey game.
I tried, but I have to face facts- I had a really good day. I got a lot of gardening done, got the sink unclogged in the basement, the house looks good, I got some work work done, the dogs and I went on a long walk several times, I had a good dinner, and I just could not waste two hours of my life listening to those idiots. It is just too early. I swear I will muster the stamina to detail the exploits of these fools in detail when it gets closer to the actual primaries, but it just ain't happening now.
I'll throw up some open threads for these debacles, but if you are looking for commentary on these various idiots and their public pronouncements, see me in six months. Maybe someone else here has the energy to suffer through it, but not this white boy.
*** Update ***
If someone could please explain how Fred Karger is a "stunt" candidate and Herman Cain is a "serious" candidate, I would be thrilled to know.