This is Cooper: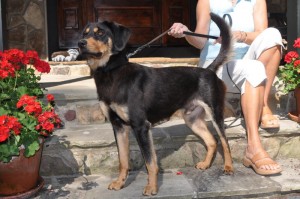 He's a Shepherd/Hound mix. Here's a close-up: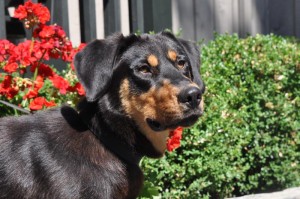 Who's a good doggie? Who's a good doggie?
Cooper is! But Cooper has a little problem. It appears that he has a bum hip, so the kind folks at Charlie's Angels Animal Rescue have agreed to help him out:
We saved him from shelter, had him vaccinated, neutered and he tested negative for heart worms . Our foster parent noticed that he was limping after a walk..After two visits with two different vets and x-rays, we were told that he needs an FHO, removal of ball on femur on one hip. Think he was hit by car in the past.. Other hip is injured too but does not need surgery. Will need an eight week recovery time. He is a beautiful dog and very well mannered but is in constant pain.

We also are in the process of treating 3 of our dogs for heart worms. Each dog or cat is always vaccinated, spayed or neutered, tested for heart worms or feline leukemia/ AIDS and all these expenses add up quickly. We have 20 dogs going on transport to Philly, PA this Saturday to reputable rescue groups but that will still leave us 41 dogs/cats that need to be placed..

We are hoping that the Balloon Juice community will step up again as they have in the past to help us with our financial needs.
He's going under the knife today, and I'm in for $50.00. If you are lucky like me and can lend a hand to this sweet pooch and the lovely folks helping, you can make a donation at their website. And, as always, any purchases you make from the Balloon Juice store directly benefits the good work CAAR is doing, as all proceeds from sales go to them. Last year we raised thousands, and were able to really help a lot of needy animals.