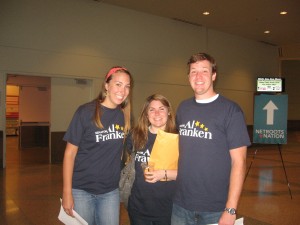 The people pictured work for Al Franken. They don't have anything to do with the question and answer period with the WH communications director, but they're optimistic, great people and really fit Minnesota (and Al Franken) so I thought I'd take their picture.
I took notes on the conversation between Kaili Joy Gray (aka Angry Mouse) and the WH communications director, but, honestly, everyone here knows the factual policy information and/or plans they discussed.
We've known for 6 months that Congressional Democrats and the WH hoped to get a series of jobs provisions passed rather than a larger jobs bill. We've known for two years that the approach is to "focus on things that can actually get done", and that hasn't changed. Obama's position on marriage equality is well-documented, and nothing has really changed on either WH rhetoric or (ostensible) plans on Iraq and Afghanistan. Even on Libya, we know the response: the President said it wouldn't become a wider war when he launched it, so that's the "guarantee" it won't become a wider or larger war. We can argue if any of these statements are TRUE, or SINCERE, but they aren't new, nor did I expect the WH spokesperson to say anything new.
So what it comes down to, again, is a question of tactics and tone. Is the President going to be more aggressive and less compromising with Republicans?
It's funny, because this is exactly what happens at the local level at these things, in my experience. We'll invite a state or national Ohio politician to meet with the most engaged locals, for "policy discussions" and we find that anyone who attends already knows all about, say, Sherrod Brown's position on trade, and instead we end up talking about tone and tactics.
There's nothing wrong with that, tone and tactics are as good and worthwhile a subject as anything else, but what I saw happen at this event always happens here when we do Q and A sessions like this. It was very familiar to me.