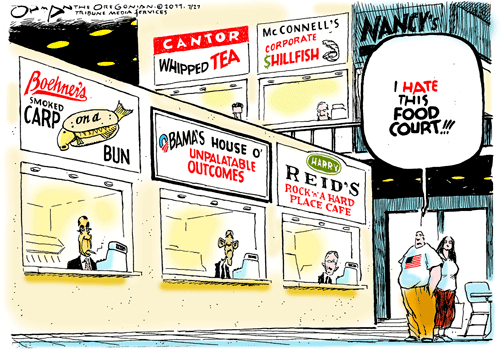 (Jack Ohman via GoComics.com)
__
As a fellow Old, I second Doghouse Riley's lament:
IS there any reason I shouldn't just imagine that everything in this country not originally constructed of shit has been turned into shit by reverse alchemy, Republican rhetoric, and Democratic cowardice?…
__
We've done this shit for thirty years. The greatest acting performance Ronald Reagan ever gave was his histrionic hissy fit at raising the Debt limit to $1.4 trillion, on his way to more than tripling that. We've lowered taxes, cut programs, and demonized the poor for three decades, and we're worse off than ever. This is not a part of the story?…
__
Look, I turned 21 at the tail end of the first Nixon administration. So I lived through two Reagan and three Bush administrations as an adult. These people don't scare me anymore, because they've already done their worst; I'd just like to know why a regular paycheck and some cadged drinks convinces them they don't need to look any further than their own reflections. A handful of connected financial institutions stole from practically every American in the country, and no one seems to give a fuck so long as he's got a plasma teevee. House Republicans now object to raising the Debt Ceiling to pay for programs they–minus the eight or ten new ravening ideologues every high-water Republican election brings 'em–voted for, simply because they feel they now have carte blanche to blame all that on the President. As well they should, because he's the guy who keeps insisting they can be reasoned with. [I can't tell you how much I enjoyed the little Which President Said This About The Deficit (Surprise Answer: Ronald Reagan) moment in his speech the other day, since, 1) I was trying to imagine what audience his speechwriters thought that would work on; and 2) I love the idea that a professed Christian thinks you can shame believers by quoting holy writ.] And some fuck calls this "principled" on the grounds, apparently, that it's possible to put words together in that order and still have them recognized as English.
__
There are clear, calm, level-headed solutions to our economic problems. Those three adjectives insure that they're not going to be listened to. And this apparently disturbs no one at Politico, or Slate, or anywhere else all our Iraq War-flogging geniuses hang their shingles these days.
__
Listen: my Social Security taxes went up during the Reagan administration in order to solve the "insolvency" "problem". Take it away from me now. I'm ready. But at least one of you fucks is dying in the gutter before I go.
***********
Grumble amongst yourselves.