The White House's version of the debt ceiling agreement.
Also, FWIW, someone I know in the moneyed world sent me this from a highly numerically literate type at another MRU on what the actual agreement entails in the here-and-now:
There are no cuts to this years federal budget. For the one that start Oct 2011 there will be a cut of $21 billion. The total budget this year is 3.4 trillion (that includes entitlements). So, if my arithmetic is correct the cut is about 0.6 of 1 percent! If one takes only discretionary spending of $1.3 trillion then the cut is 1.6%. And my guess is that this cut is not to be taken to the actual budget but to the "inflation adjusted budget" which will be up about 3%, so there is probably a net increase planned for the discretionary budget of over 2% and an increase of the entitlement budget of over 5%. So the whole thing is smoke and mirrors. All of the rest of the changes are back loaded to "later" or to "after there is a committee agreement'.. The theatre will continue.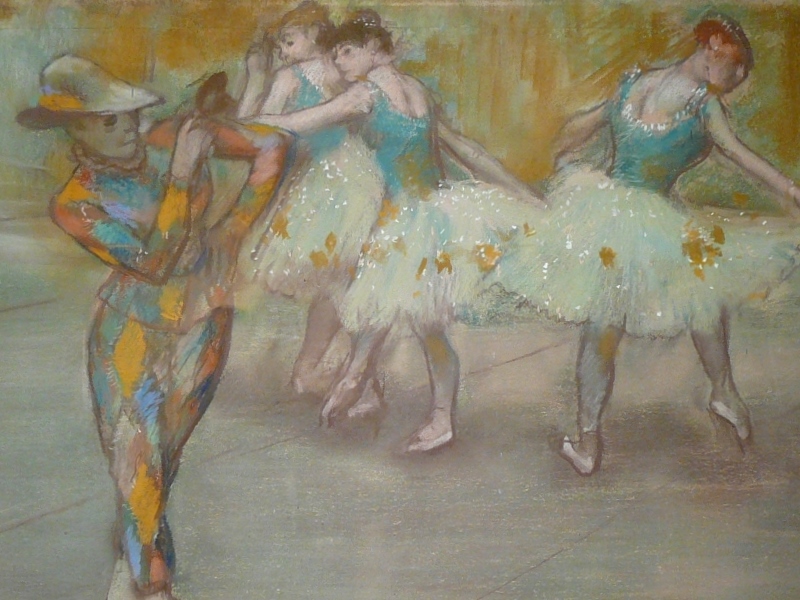 I have not checked these numbers myself — I don't have the arithmetic sheet from this source, only his conclusion.  But it tracks the CBO analysis (link to the CBO analysis (PDF) at the bottom of that page), and it is being incorporated into green-eye-shade-jaundiced  views of the economy.
I might go so far as to say as that Obama fellow may not be quite so dumb as he looks. Doesn't alter the message problem, nor the inherent danger-and-tragedy of double digit unemployment (viewed from the wider perspective).  But given the hands as dealt, it does not appear that our President is quite the terrible poker player that some of us — myself on occasion certainly included — have believed him to be.
Image:  Edgar Degas, Arlequin danse, c. 1890