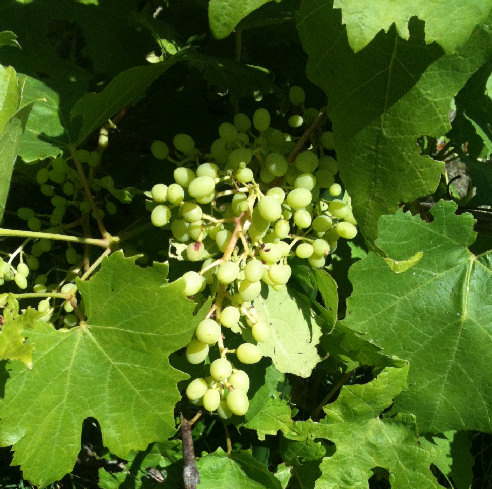 From commentor TheOtherWA:
This spring was so cold and wet in the northwest, I just couldn't get into gardening mode. Never planted the usual tomatoes and herbs. The raspberries did pretty well, they like cool weather (& were eaten before any photos were taken), but the grapevine is pathetic.
__
The photo is a bunch of black table grapes in mid August. I should be munching a few of these by now, waiting for most of them to get nice and dark. It's weird, we basically didn't have a summer this year. Most of the country was sweltering in extreme heat and drought, we've hardly had enough. Only people with greenhouses are getting good produce.
__
I'm not whining about our weather, really. Just explaining the situation.
***********
There's a feel of fall in the air here, and it's not just the torn leaves & downed branches. The immediate microclime was very, very lucky with Hurricane Irene… and when I see video from places like Vermont, upstate NY, northern New Jersey or the Carolinas, I'm hardly gonna complain about my tomato towers leaning askew. (We didn't even lose power, despite the half-splintered oak branch hanging over the powerline that Northern Grid has been refusing to remove for the past 18 months.)
What's it like in your gardens, this week? Anybody have hurricane / wildfire / drought / plague-of-locusts stories to share?