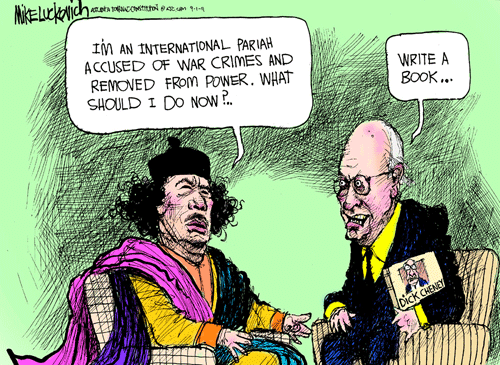 (Mike Luckovich via GoComics.com)
__
Srsly:
"From our first encounter," writes Dick Cheney, "when I woke him up by stepping on him, Cyrano and I became close friends." Cyrano is—sorry, was—a beloved family dog, a basset hound, accepted by the family when Cheney was working at President Richard Nixon's Office of Economic Opportunity… "I think that Cyrano and I had an understanding."
__
The last time a retired vice president wrote a memoir, when Dan Quayle gifted the airport book-buyer with Standing Firm, the goal was to prove he was serious. That's not Cheney's problem. The purpose of Cheney's memoir, In My Time, is to prove he is human.
__
So the reader of In My Time gets a few stories about dogs. He gets snapshots of Cheney and his mentor, Donald Rumsfeld, having wacky adventures… These little stories are meant to humanize Cheney, which is necessary, because no one else is going to accept that mission…
You read it here first: Willard "Let me tell you a heartwarming story about strapping the family dog to the roof rack, and how it greatly reduces the annoying noise level from the kids in the back seat, too" Romney is going to solicit Mr. Cheney's endorsement… big time.