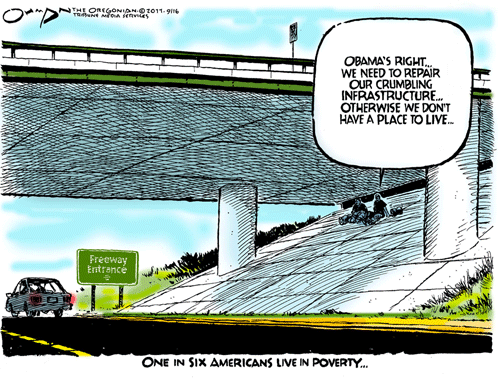 (Jack Ohman via GoComics.com)
__
Our political teams have also been busy this weekend, so here's some links to tide you over between the Sports thread and the Dr. Who thread. Greg Sargent at the WaPo on "The Big Disconnect":
Okay, we now have a fourth national poll revealing this striking disconnect: Americans strongly disapprove of Obama on the economy, and are deeply pessimistic that it will get any better — even as they strongly approve of the actual fiscal policies the President is championing.
__
The new New York Times poll finds that Obama's numbers on the economy are awful. Only 34 percent approve of his handling of the economy. Only 40 percent approve of his handling of jobs. Seventy two percent think the country's on the wrong track. A plurality thinks we're heading into another recession. But the poll also finds that Obama's new jobs plan, and the provisions within it, have clear public support…
__
What we're seeing here, again, is more evidence that Republicans benefit from blocking policies Americans support. As long as the economy remains abysmal, the public is likely to strongly disapprove of Obama's overall performance, even if Republicans are the ones blocking job-creation ideas the public itself thinks will reduce unemployment…
__
Is there a way out of this trap? Perhaps. As Aaron Blake and Chris Cillizza noted the other day, the fact that the public still gives Obama's individual policies high marks suggests that despite all the overall disapproval of Obama on the economy and jobs, the public is still prepared to hear him out on the topic. Even if things look very bleak right now, there's still an opportunity for him win this battle, by getting some actual policies passed — they are popular, after all — or by driving home to the public who's responsible for goverment paralysis in the face of the crisis.
Steve Benen at the Washington Monthly expands on the Republicans "Picking and Choosing on the American Jobs Act":
… As David Axelrod put it this week, in reference to members of Congress, "We want them to act now on this package. We're not in a negotiation to break up the package. It's not an a la carte menu. It is a strategy to get this country moving."
__
Yesterday, House GOP leaders sketched out a response in a new memo. Wouldn't you know it, Republicans aren't inclined to embrace the whole package, as is…
__
It's quite a challenge for the House majority. On the one hand, they want to undercut the president, reject his relatively popular plan, undermine public confidence in political institutions, and hold the economy back until 2013. On the other hand, they don't want to look like they're doing any of this. Indeed, they're being awfully polite, perhaps mindful of the public's revulsion towards Capitol Hill lately.
__
So what are we left with? Republicans are largely on board with most of the president's tax-cut plans. But that's about it. Aid to state and local governments to prevent layoffs to teachers, police officers, and firefighters? Republicans find this unacceptable, despite strong public support. Funding for school construction and repair? Republicans find this unacceptable, too. In fact, the memo suggested this isn't even an area the party considers open to negotiation. And, of course, the GOP refuses to consider tax increases on anyone at any time to pay for anything…
__
Taken together, we're not getting a good look at Republicans approach "compromise" in the post debt-ceiling-fiasco era. They're open to maybe cutting taxes if Obama asks nicely … and that's about it.
If you're curious about how the Greedy Old Perverts plan to thread this particular needle, Alex Pareene has alerted us to the shiny new catchphrase:
The Wall Street Journal today has a column by Hoover Institution fellow Paul E. Peterson reframing the concept of aid to cash-strapped states as a "blue-state bailout," because "bailouts" are unpopular and it is more fun to imagine that Obama is rewarding his "most fervent supporters" with free money than it is to think that the president just wants to help big states avoid massive layoffs.
__
It is sort of brilliant. Just imagine how thrilled the memo-writers at Fox News must be to have this talking point. "Blue-state bailout." "Federal money for healthcare and education" versus "blue-state bailout." Which one makes you madder?
__
Peterson and co-author Daniel Nadler argue that the aid is a handout to liberals because of a study that shows that states with heavily unionized public-sector work forces pay slightly higher interest rates. Therefore, the aid money will … help these states more than it will help "red states," which means that the aid to all states is actually only supposed to secretly help liberal states, QED. It's dumb, but in an academic-sounding way, which is why it's on the WSJ editorial page instead of RedState…
__
This is a brilliant new way of framing an issue that conservatives have been unable to make much headway on since Reagan found himself unable to slash state aid spending to the degree that he wanted to. The problem has always been that states need the money to do good things that people in those states want them to do. Conservatives can convince people that state aid is bad in the abstract, but Medicaid does actually need to be paid for, by someone. The Republican governors who lined up to beg President Bush not to slash Medicaid funding would probably reject the notion that they were requesting a "red state bailout," but Republican governors tend to be more pragmatic than Republican members of Congress.
__
Keep your ears open, because I guarantee "blue-state bailout" will be a new and popular talking point from now on.