Here's this Friday's links sent by readers.
* Nancy encourages you to donate to a big cat rescue organization.
* Joan wants you to know about Occupy Education, "a collection of adults and children's messages that challenge public school to become something more than it is – messages that dare public school to serve students' passions instead of politicians and vendors' coffers."
* Victor sent a notice about an event that happened earlier this week for this worthy cause, where you can donate Amex points or Continental miles as well as greenbacks.
Finally, not really a pimp, but commenter hitchiker sent this comparison of the message NY Mag put on a protester's chest versus his message (click to embiggen):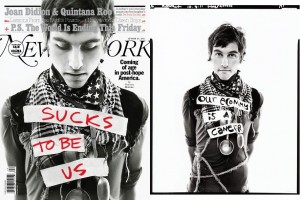 I pimp all to serve all on Fridays – my email is at the upper right, send me your links.
Update: How could I miss our own ABL's Fall fundraiser? Here it is.