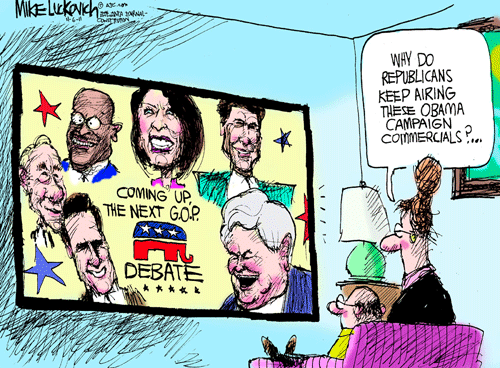 (Mike Luckovich via GoComics.com)
The "good" news, per CNBC: "Oakland University in Rochester, Michigan, will be hosting eight GOP candidates tonight for the CNBC "Your Money, Your Vote" debate focusing on the economy and jobs. Tonight's event is only 90 minutes compared to previous GOP debates, featuring eight candidates, which have been 2 hours in length."
Mr. Pierce at Esquire doubts the candidates' ability to stay focused on the C.R.E.A.M.:
Tonight, in the 3245th of 9876 scheduled debates between the candidates for the Republican presidential nomination, the topic is very likely to be OMG, SCARY IRANIAN NUKES! FECKLESS! NAIVE! HIDE UNDER THE BED!!! Of course, nobody in the field except Jon Huntsman, the Incredible Vanishing Mormon, has any serious experience at dealing with foreigners. Michele Bachmann has negotiated with nobody except the voices in her head for 10 years, and Rick Perry believes there are only two countries in the world — America-Fk-Yeah! and Meskinland. Newt Gingrich's most memorable overseas experience was bitching about his seat on Air Force One, and all Ron Paul knows about people in other lands is that we shouldn't give them any money. (He feels much the same about other Americans, too, so that's a wash, I suppose.) Mitt Romney's experience in foreign affairs is limited to bobsledders, and Herman Cain's experience in foreign affairs is — please, god in Heaven, let this be so — merely limited.
__
The debate — in Michigan, where the unemployment rate is 11.1% and has yet to fall below 10% since Barack Obama's election — is supposed to be about the economy. Nevertheless, the whole thing's likely to turn into a geography bee among eight half-bright students who studied a globe in the hour and a half before the cameras and the lights came on. So far, their performance has not been promising….
Click the link for further details, and gird yourselves for the livestreamening.