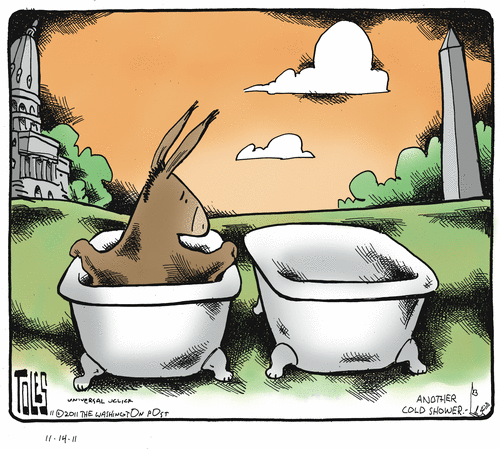 (Tom Toles via GoComics.com)
The Washington Post has a blog on Occupy the Highway:
Last Wednesday, 21 protesters left Zuccotti Park, the center of the New York protests for Occupy Wall Street, and set off down the highway — on foot. The protest pilgrimage hopes to arrive in Washington on Nov. 23, the day Congress will vote on extending Bush-era tax cuts. Elizabeth Flock joined the group in Elizabeth, N.J. She's been with them as they battled fatigue and injuries, rumbled with Princeton students, enjoyed the largess of supporters along the route and attempted to articulate why they walk in protest…
Historians now tell us there was no such thing as a Children's Crusade — just a bunch of dispossessed serfs wandering the highways demanding some kind of ill-defined redress, for which they were dismissed by their social betters as "pueri" (boys), irresponsible wastrels. The Supercommittee and its supporters are using a very old template.